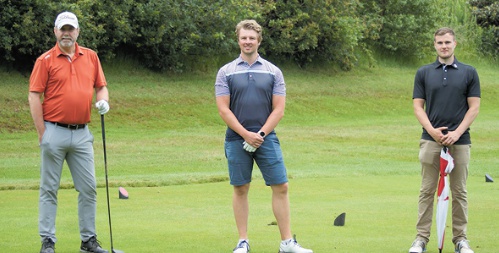 Golfer Ben Thompson enjoyed a great day at Sale as he played 100 holes supporting the NHS and CRY.
Ben is a former junior at Werneth Low Golf Club, where he also did a 100 hole challenge ten years ago.
He is now the assistant professional at Hazel Grove Golf Club, prior to taking up his role as club manager at Sale.
He said: "We began the marathon at about 5am and finished at 7pm and I carried my set of clubs for the full distance for the NHS and CRY (Cardiac risk in the young) which is the Sale captain Iain Shaw's chosen charity.
"The weather was drizzly for most of the day, but wasn't too bad as we only had a few showers
"We have raised £3,946 so far, but I expect that number to rise to £3,500 after I chase down the betters to give me the birdie money.
"I had eight members play with me and also a good friend of mine Shamus Martin, who came all the way over from Royal Lytham GC to play the last 28 holes with me.
"I would like to thank all the members who supported me on the day and have since offered their congratulations and donations.
"I would like to thank Captain Iain Shaw for his support throughout, Lady Captain Christine Johnston and her husband Howard for their generous donation and complete support throughout the full day and keeping me going and also a big thank you to my mate Ed Mallinson for keeping me supplied with drinks and food throughout the day and doing his best to keep me dry when the rain came.
"Finally, another big thank you to Shamus Martin (assistant professional Royal Lytham), the 6ft 8ins BFG of golf, for coming all the way over to play the last 28 holes with me.
"I just want to add a thank you to the people who donated anything from money, time or golf round vouchers to help the charity, it is much appreciated and will go a long way with CRY.
"I would also like to add that since the 100 holes, I have been challenged to play 150 holes in one day… a challenge I plan to accept!"
l A BB Stableford at Saddleworth was led in by Lee Rowbotham and Mark Abbott with 47 points, taking them clear of Lee Thompson and Mark Spratt 46 and Phil Leg and Jordan Taylor who won a cpo on 45 from two other pairs.
A Sunday BB medal at Saddleworth was won by Maxine and Liam Parfitt with 63, one less than Andy Dunster and Stephen Pullen and Mark Orme and Lee Blainey.
In a Pro's Stableford at Saddleworth, Paul Brammer was out on his own with 45 points from Joshua Pegler 43 and Andrew Li 42.
l The Twilight Stableford at Ashton was won by Karen Sherlock with 23 points, one more than Gary Finan.
The Tuesday Cup at Ashton was played in three divisions and top of the divisions were Martin O'Keefe after a cpo on 67 with Glyn Andrew and Sam Carroll, John Smethurst 66 and Arthur Marshall 72 with the Yellow Tee winner being Chris Doyle with a best-of-the-day 65.
The coveted 'major' War Trophy at Ashton was won by Mark Newman with 64, two less than Andrew Jameson.
Ashton's international star Louisa Brunt returned from the USA to win the second round of the Hall Cup and playing off +1 returned a fine 70 to finish well clear of Susan Barlow 77 and Elaine Penning 79.
l A Pro's Stableford at Brookdale was won by Andrew Lowe with a big haul of 43 points, one more than George Alt.
There was good scoring also at Brookdale in the Third Captain's qualifier led by Thomas Reeves with 65, one less than Phil Brownlow and Peter Lloyd.
l Crompton and Royton junior star Emily Halstead was the proud winner of the Marks Cup with her neat 69 taking her five shots clear of Janet Wright and Carolyn Williamson.
C and R's men played a medal for the 'major' Long Handicap and Anthony Cook led in with 71, one less than John Kerrigan, Scott McBride and Stephen Pass.
The subsidiary medal divisional winners were Richard Offerton 65 and Richard Flynn after a cpo on 68 with Jonathan Harrison.
l Dukinfield Lady Captain Helen Wooliscroft led from the front in a singles Stableford with her 36 points taking her well clear of Sally Lester 29 and Helen Slattery 27.
Stephen Brown was also in a league of his own in a singles Stableford for Duki's men posting 42 points to finish three clear of Adam Davidson junior, Steven Maguire and Bret Collins.
l The 'major' Gold Medal at Stamford was won by Sam Hudson with 67 from Steve 'Majestic. Moores 69 and David Cheadle 70.
The Rawson Cup at Stamford saw Philip Montgomery on top with a sizzling 64 from Sam Hudson 67 and Ian Starkie, Trevor Hulton and The Captain, all 68.
Stamford ladies were also in 'major' action for the Lowe Trophy and Kimberley Mulvaney was a clear winner with 73 from Nikki Pimlott 77 and Marjorie Harrop 78.
l It was tight at Denton in the third round of the Wednesday Bowl with Ryan Cropper winning a cpo on 66 from Michael Gill and Anthony Earnshaw.
The victory takes Ryan to the top of the Aggregate with 133 closely followed by David Sibanda 134 and James Leeson and John Stapleton, both 135.
Denton seniors played a singles Stableford and Gary Singh enjoyed his new generous handicap to cruise to victory with 42 points from Duncan Calder 37.
Graham Pollit showed his class at Denton with a neat 66 taking top spot in the John Booth Trophy by two shots from Frank Goodwin, Michael Griffin and Ian Lakin.
A Yellow Tee Stableford at Denton had the divisions topped by Martin Shore 42 points and Sam Daniels with a stunning 44.
l The monthly medal for the Green Blazer at Fairfield had the divisions topped by Alex Stevenson 65 and Tony Fry after a cpo on 65 with Andrew Harlow.
In a bogey for the Jubilee Putter the divisional hot shots were David Heathcote on a superb +6 and Antony Joynson +4.
There was a tense finish for Fairfield ladies in a singles Stableford with a cpo on 33 being won by Norma Wrigley from Lindsey Powell-Mason and Eliane Egan, one more then Julie meek.
l Cheshire Union of Golf Clubs President David Durling (Shrigley Hall Golf Club) has enjoyed some downtime in the corona virus lockdown to read the Cheshire Centenary Book.
David said: "The book is a great read and covers the history of the county, with wonderful anecdotes and pictures of the county's great players through the years."