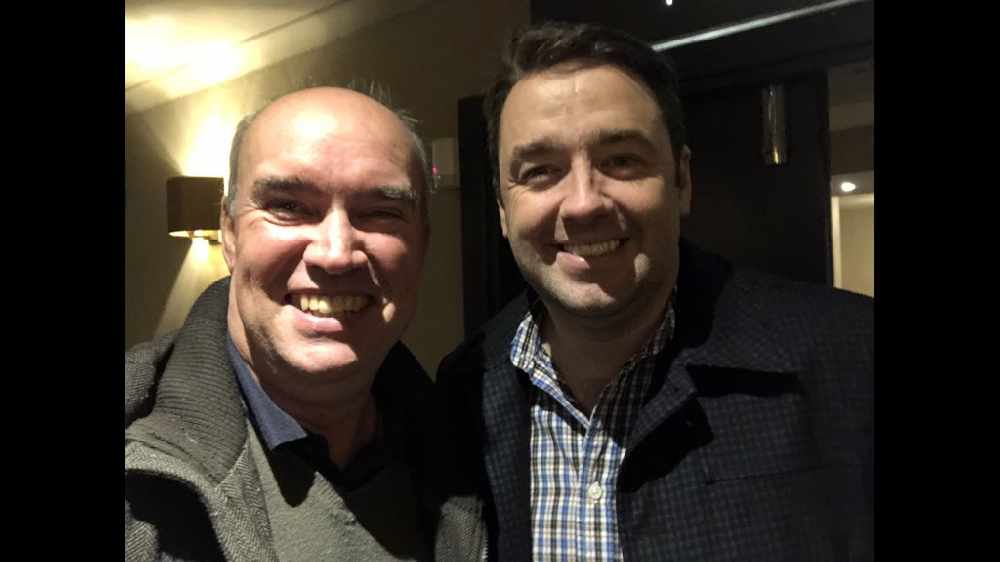 In this week's edition, broadcaster and journalist Ian Cheeseman talks to comedian Jason Manford and former Stalybridge Celtic and Hyde United player Fred Eyre.
Jason Manford is a Manchester City fan, just like the rest of his family. I remember spending the evening with his Dad and brother Colin in a Munich bierkeller one evening ahead of a Champions League game in the German City. The Manford's are great company and really down to earth.
Once you know the family, a little bit, you see them differently, so when I watch Jason doing a standup or as a panellist on "Would I lie to You" or on stage in a musical I feel like I'm watch a friend. Even though, in reality, I don't know him that well, I'm sure I'm not the only person who feels that way. When Jason won the Masked Singer weren't you proud of him? I certainly was.
I've interviewed Jason a few times now and he's an absolute charmer. Towards the end of last year he was the lead performer in Curtains, a musical that was being performed at the Palace Theatre in Manchester, and before that I'd seen him as Caractacus Potts in Chitty Chitty Bang Bang at the Lowry Theatre in Salford. His performances are always full of passion, humour and professionalism. He's a performer who gives everything and brings the stage to life.
Once the country, in fact the World, went into lockdown, I was looking for guests for my Saturday afternoon show on Tameside Radio and Jason immediately popped into my mind, though I wasn't certain he'd want to give up so much of his time, especially when I read that he was hosting online quizzes to help pass the time with a laugh and a joke for everyone. He's a full time, conscientious parent and I saw that he'd applied to be a supermarket delivery driver when the country was desperate. What a selfless thing to do. I wonder how many other high-profile celebrities would have done that?
The supermarket vacancy had been filled, but rather than wait to hear he'd already started volunteering to help vulnerable people get from A to B. I admire his passion and humility even more, and yet he still found time to chat to me for 40 minutes about his life and career.
One person I can claim to be a longtime friend is Fred Eyre, my former commentary sidekick on Manchester City games when I was working for the BBC. Fred started his football career at Manchester City but after growing up alongside Neil Young and cleaning Bert Trautmann's boots his career didn't go the way he'd hoped. His career was mainly in non-league football and among the many clubs he appeared for were Stalybridge Celtic and Hyde United.
He wrote a million selling book about his journey through life called "Kicked into Touch" and it's full of anecdotes from his fascinating life, including the time Denis Law helped his blossoming stationary business by carrying heavy furniture up a staircase as a favour.
This Saturday from 1-3pm you can enjoy my chats with these two funny, fantastic guys when "Ian Cheeseman talks………to Jason Manford and Fred Eyre" on Tameside Radio 103.6FM or via the App which is free to download.
You can listen to all of Ian's previous chats via the following link: https://www.questmedianetwork.co.uk/on-air/podcasts/ian-cheeseman-talks/