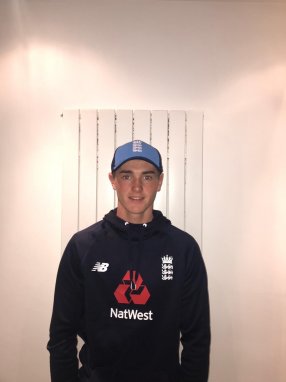 Hyde Cricket and Squash Club's George Balderson has the honour of being England's official 'Twelfth Man' on day one of the fourth Ashes Test at Emirates Old Trafford today (Wednesday).
Club secretary John Buckley said George was "honoured" to receive the call-up to be the drinks carrier and general dressing-room helper, while there's also the prospect of him being actively involved in the proceedings on the field.
"Should George be asked to take the field as substitute fielder, he too could be in a position to make a real difference," Buckley said. "No pressure then George..."
It's the latest achievement in what has been a memorable year for the young all-rounder, who was selected to captain England's Under-19s earlier this summer, receiving his first professional contract with Lancashire County Cricket Club and his continued excellence for Hyde in the Cheshire County League.
John continued: "Seriously we are all proud of George. 2019 has truly been a year to remember for the young all-rounder. Good luck George from everybody at Hyde Cricket and Squash Club - enjoy the experience."