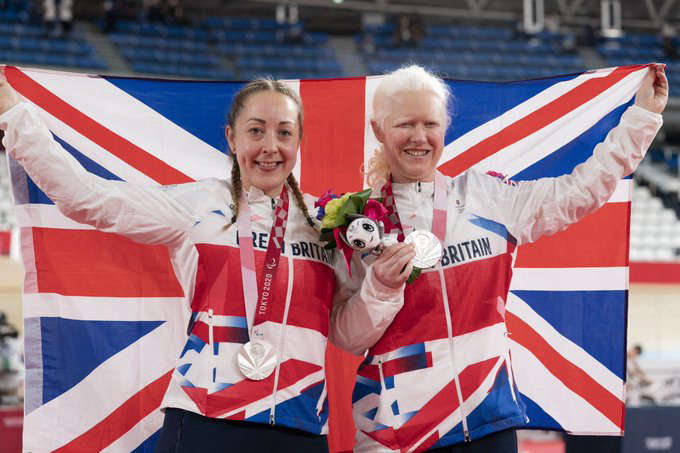 Aileen McGlynn was a child who loves to ride her bike, yet she knew nothing about para-cycling and the journey she would be taken on.
In 2002 she eagerly watched Sir Chris Hoy winning his medal at the Commonwealth Games and began to wonder if there was a way for her to be involved in this level of sport.
As a visually impaired athlete, Aileen had never been introduced to the vast representation in para-cycling. After conducting some research into cycling, she contacted British Cycling in the hopes of an opportunity.
She was then invited to attend a trial day in Manchester on the tandem.
"I had never ridden a tandem before and I'd never rode in a velodrome either.
"When I arrived, I was paired with Barry Storey and after two days on the track we broke the world record for the mixed tandem pairing," she said.
This really was the start of a heap of success for Aileen, who then went on to perform at various Paralympic Games.
She competed in the Beijing 2008 and London 2012 Paralympics before being dropped from British Cycling in 2013. Scottish-born McGlynn then continued to race for Scotland in the Commonwealth Games.
Not long after, she decided to stop competing all together and just rode her bike for enjoyment.
With the news of Sophie Thornhill's retirement in 2020, Helen Scott was left without a partner and suddenly Aileen found herself with the drive to get back into the velodrome.
"I was contacted in July to say they were holding a stoker testing day and I knew if I didn't go down then I would always wonder what could have been.
"Me and Helen then started to cycle together in the lead up to the Games, giving every session 100% effort," she said.
Aileen and Helen were then chosen to perform at the Tokyo 2020 Games after just 12 weeks of cycling together.
Approaching the games, the pair were excited for what may be, especially with success as a pairing in London.
They then made history, securing a silver medal in the 1000m time trial with a personal best of 1:06.734. This achievement came as a huge accomplishment for Aileen, who said she was 'delighted' to have taken second place.
"I could not stop smiling. We did such a good ride and we were able to come away with a silver. We were so impressed with our time in such a short preparation period."
Aileen is now a resident of Mossley and finds the area amazing to cycle through.
She is hoping to face the music again at the Commonwealth Games, in which she hopes to ride with Jenny Hall and bring home a medal for Scotland.
Want more local sport stories?
Head to https://www.questmedianetwork.co.uk/news/sport/ to see more of our coverage - from community and non-league football to local and county cricket, boxing, athletics, basketball, Esports and golf.