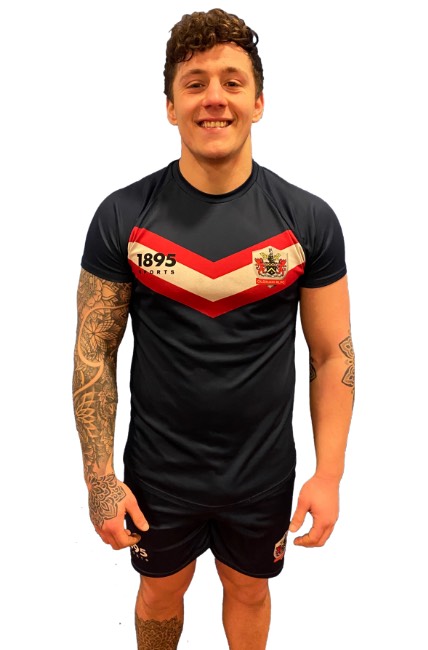 Oldham Rugby League Club have made a dream come true for 23-year-old Oldham St Anne's wing or centre Joe Hartley.
A born-and-bred Oldhamer, Joe is no stranger to Roughyeds, having trained with the club throughout the 2019-2020 pre-season and again over the last few weeks, since training started again in readiness for the 2021 campaign.
Having done all that was expected of him in his first experience of professional training - and more - Hartley has signed a contract for his home-town club until November 30 with an option for another year.
He becomes the sixth Oldhamer in the club's 28-man squad, standing side by side with Gareth Owen, Phil Joy, Danny Bridge, Matthew Fletcher and another new boy, James Barran.
Said head coach Diskin: "He's been training with us on a development plan which allowed him to continue to play for St Anne's. He's not the biggest lad, but he's good in stature, mentally tough and he really understands the game. We are delighted for him.
"There's a lot of development in him. We are not expecting miracles, but he has certainly earned his chance and we expect him to grasp it with both hands."
Hartley has been at St Anne's since he was nine and acknowledges that he is privileged to get the chance of pro rugby at his age.
Diskin and his coaching assistants Brendan Sheridan and Jode Sheriffe have clearly spotted something in Hartley, like their predecessors Scott Naylor and Peter Carey when they saw potential in former Oldham centre Zack McComb, who had a similar introduction to Roughyeds and at a similar age.
McComb was in the English Students' set-up, while Hartley represented Lancashire, the North of England and then the full England Colleges side against both Scotland and Wales when he was in his late teens.
He said: "I was thrilled to get a phone call from Matt Diskin more than a year ago, inviting me to training, and even more delighted when I got the good news a few days ago that I was to be offered a contract.
"Not many opportunities like that come along for somebody who's been at a community club as long as I've been at St Anne's. I had never been anywhere else, so I didn't know what to expect when I went to Oldham. It was a real big thing for me.
"The other lads immediately made me feel welcome and I've enjoyed every minute of my time at Roughyeds, where I hope to get a chance to show what I can do.
"I was coached at Saints by Sean Whitehead and Paul Ashton, who have both had big connections with Roughyeds, and I think Sean had a word with them about me. I feel excited and really proud to have signed for Oldham, my town.
"I'm thrilled to bits, but I owe a lot to St Anne's for all they've done for me over many years and it would be remiss to leave them without a huge thank-you.
"Now, I just want to do my best for Oldham. I'm chuffed to be in such a high-level environment; to be learning new things all the time; and to being pushed to reach new levels by the other lads.
"I feel really comfortable with these lads and at this level and I like to think I'm ready to grasp the opportunity I've been given."
A plasterer by trade, Joe currently lives in Huddersfield with his Leeds-born partner, but he's always glad to get back to Oldham whenever he can.
Said club chairman Chris Hamilton: "We are delighted to sign Joe and, in so doing, to increase the local contingent in the squad. He trained with us in pre-season last year and then came Covid. We invited him back for pre-season training this year and, glad to say, he was keen to come back too.
"He has done all we asked of him and the contract is his reward. He's backed himself and now he gets a chance in the pro game, which is what he wanted."