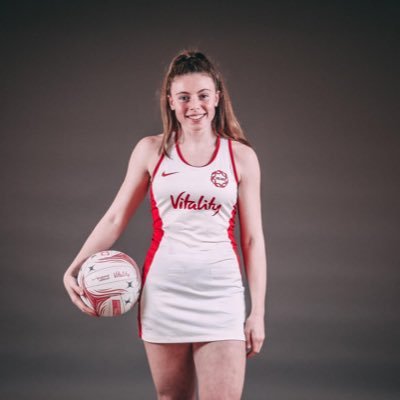 Oldham netballer Hannah Diamond is relishing the return of the Vitality Superleague on Friday.
Hannah, who shares her time between playing for Oldham Netball Club, Manchester Thunder's Under 19 squad, and the England Roses Academy, feels the season will be an exciting one with all teams fielding strong squads ahead of the curtain raiser between Celtic Dragons and Leeds Rhinos on at 5.15pm, which is followed by defending champions Manchester Thunder taking on Strathclyde Sirens at 7.15PM.
Thunder will be bolstered this season by the return of Oldham captain Kerry Almond, who has come out of retirement following an injury to defender Loreen Ngwira. Hannah feels Alomnd's return will serve Thunder well, as Karen Greig's side look to secure their fourth title since joining the league in 2006.
And Kerry isn't the only familiar face returning to the Thunder camp this season, with former England Vitality Roses head coach Tracey Neville, who coached Thunder from 2011-2015, re-joining in a dual role as a specialist coach and performance operations director.
Speaking to Reporter Sport about the forthcoming season, Hannah said: "I am immensely excited for the Superlague to start on the 12th and think it will be an amazing season as all teams look very strong.
"I do believe Thunder stand a great chance and have a brilliant squad, especially with the recent addition of my childhood hero and Oldham club captain Kerry Almond back out of retirement."
Hannah, who has played for Oldham since the age of eight, is hoping her efforts on court will lead to the same success as Almond and Neville in the future, as the former Blue Coat School pupil hopes to one day represent England at senior level and potentially even play in the leagues in Australia and New Zealand.
But for now, Hannah, who attributes her early success in netball to the support of her mum and dad, is concentrating on improving her skills and hopes to make an impact with the England Roses Academy Long Squad after a successful 2020, in which she was part of the Under 17 squad that won the Netball Europe Championships in March. Hannah, who is utilised in the goal attack and wing attack positions, said: "Netball Europe went ahead as it was early March but with additional measures in place, such as hand sanitising and not shaking hands after the game.
"In the first lockdown my netball training stopped completely and I was training alone from home, but towards the summer we began training outside with social distancing in place. However, with Oldham being in Greater Manchester, tighter restrictions were put in place which meant training stopped again. I trained from October until Christmas with Thunder but that has since stopped again due to the ongoing lockdown."
In the absence of action on court, Hannah and her Manchester Thunder teammates have been striding out to maintain fitness but, more importantly, raise money for mental health charity, Manchester Mind. Hannah said: "At Manchester Thunder since lockdown 3, the U19s and U21s have decided to try and keep motivated by undertaking a challenge but to also raise money and awareness for a charity which is much-needed at the moment with many struggling with mental health in lockdown, Manchester Mind.
"We have now completed the challenge running collectively from John O'Groats to Land's End and then back to Manchester - a total of 2468 miles - raising £1242 in the process.
"Sport and exercise is hugely important for improving mood and mental health. This is especially important now as it is one of the only things that can be done. I would not have coped in lockdown without exercise as it boosts my mood and gives me something to do in the day, even if it was a walk or low intensity ball work it still helped."
Every match of the Superleague season will be available on Sky Sports (Sky Sports Arena & Sky Sports Mix), the Sky Sports YouTube channel or England Netball YouTube channel.