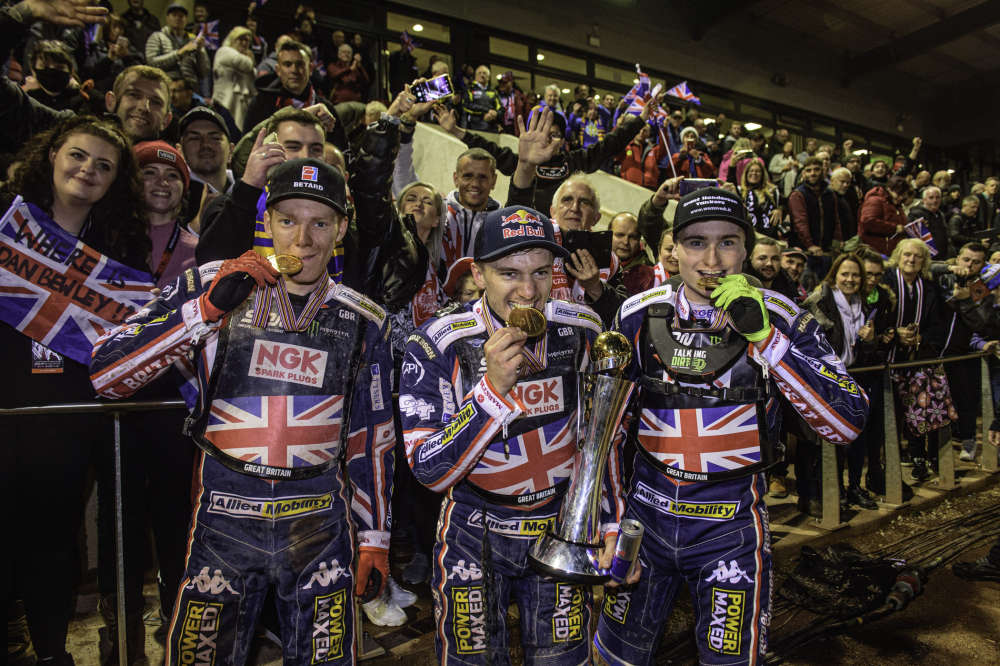 Belle Vue star Dan Bewley became the unexpected hero of the Speedway of Nations tournament as he stepped in at the last minute to guide Team Great Britain to gold medal success and end their 32-year wait to be crowned World Champions.
The Aces No.1 was called into action at Belle Vue's National Speedway Stadium just a few hours before the start of day 2 of the weekend's two-day World Cup event, replacing British skipper Tai Woffinden, after the three-times world individual champion was ruled out of further participation following a horror crash during Saturday's opening meeting.
Bewley was drafted in on Sunday morning to join 23-year-old Robert Lambert and under-21 reserve Tom Brennan – also of Belle Vue – to stun odds-on favourites Poland, as Great Britain became World Champions for the first time since 1989.
However Bewley was a mere spectator as Woffinden and Lambert opened Saturday's event with a heat 1 win over Latvia.
They followed that up with a maximum 7-2 win over highly-fancied Denmark, to share the lead with Poland after each nation had completed two rides.
Sweden meanwhile, saw their hopes ended in heat 6, when Jacob Thorsell hit the back wheel of Australian Jason Doyle, and was sent sprawling across the track, also bringing down teammate Pontus Asprgren. Neither Swede was able to continue and, with no back up rider named, it fell to under-21 rider Philip Hellstrom-Bangs to battle on the remainder of the two days alone.
Britain and Poland met in heat 8, but it was the Poles who stamped their authority on the race with a 7-2 win.
Further points were dropped when Lambert was disqualified for failing to meet the time allowance for the start of the race against France, but Britain were boosted when Tom Brennan came in to take a compulsory under-21 ride and teamed up with Woffinden for a maximum win.
However Woffinden's tournament came to an end when he crashed heavily into the third-bend airfence whilst chasing Australian Jason Doyle, suffering rib and leg injuries.
At the end of day one, Poland led with 40 points, from Britain on 30 and Denmark 29. Latvia, Australia and France had 24 with one-man Sweden way back on 16.
Bewley faced a World Cup baptism of fire as Britain started day 2 with the crunch battle with favourites Poland, but the Lions pair packed the minor places to take a 5-4 win.
Another 5 points followed against France, but Team GB slipped into third place when Denmark defeated them 6-3.
Tom Brennan brilliantly passed the lively Hellstrom-Bangs in his compulsory under-21 ride to join Lambert for a 7-2 win over depleted Sweden, and Britain finished strongly with maximum wins over Latvia and a disappointing Australian side.
At the end of the 42 heats Poland qualified straight into the Grand Final, whilst Denmark and Great Britain faced the race-off.
As Leon Madsen led for the Danes, all eyes were on Bewley at the back, needing to avoid last place to send Britain into the Final. And the Aces star used all his knowledge of his home track to power around Mikkel Michelsen into third. The sell-out N.S.S. crowd were brought to their feet as Lambert grabbed the win on the run in to the line, to send the home country into a head-to-head with Poland for the World title.
Bartosz Zmarzlik led the opening lap of the Grand Final for Poland, but there was a dramatic finish as teammate Maciej Janowski – coming under pressure from the British pair – went wide on the final corner of the first lap and fell.
Though Janowski quickly remounted, the Lions were gone and on their way to becoming World Team Champions for the first time since 1989.
Afterwards Bewley said: "Once I saw Janowski had fallen, I knew we'd done it. But I still had to stay on for three laps. I must admit it felt like I'd forgotten how to ride a bike. My arms went weak knowing we were on the verge of gold".
Lambert said: "We have had a hard weekend with Tai getting injured. But obviously we had a strong guy to come into the team in Dan. I was born in 1998. It's the first time in my lifetime that I have seen Great Britain as world champions. It's a great feeling and I am going to treasure this gold medal for as long as I live. We did it with such a young team as well. Dan and I went out and did the business against the two best Poles in the world. It's such a great feeling for us and also GB. I am very, very proud of everyone involved."
Belle Vue bring their season to a close on Saturday when they stage the prestigious Peter Craven Memorial Trophy individual meeting at the National Speedway Stadium.
The Aces' World Championship winning heroes Dan Bewley and Tom Brennan will be amongst the star-studded 16-rider field vying for the title.
Words by Graham Goodwin
Images by Ian Charles