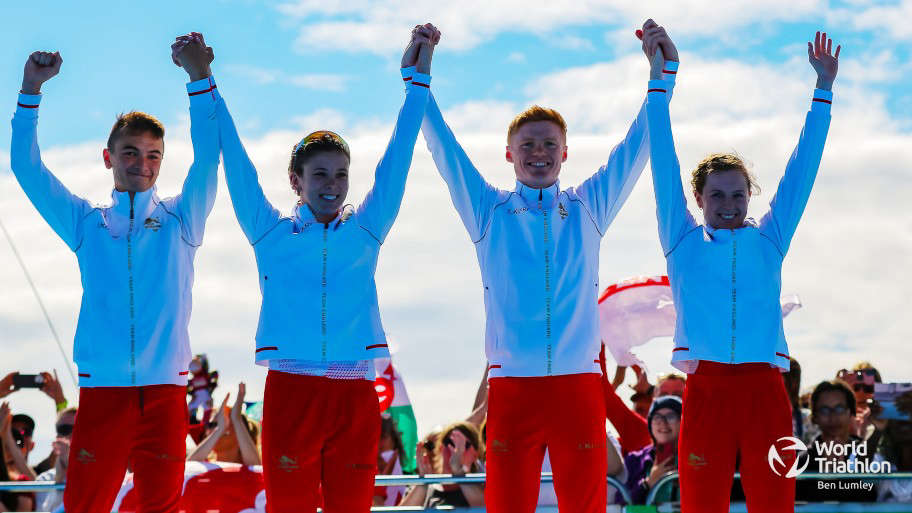 Teamwork! Image by World Triathlon, Ben Lumley,
Proving powerful in the world of triathlon, Team England have secured another gold medal after an unbelievable mixed relay performance.
Achieving gold at last year's Tokyo 2020 Olympic Games, Tameside's Georgia Taylor-Brown and fellow triathlete Alex Yee were hoping to claim another successful podium this year.
Joined at the Commonwealth Games by Sophie Coldwell and Sam Dickinson, the team championed through the swim, bike and run to receive a well-deserved 1st place.
With Georgia in the fourth leg, she was given the optimum chance to finish a solid performance, something which she mastered perfectly.
Speaking after the event, Georgia said, "the team set me up perfectly for that final leg. I've enjoyed doing that final leg because everyone in front of me are so strong, they do all the hard work.
"It's a lot of pressure after they've done everything right. I tried to enjoy it and I was smiling the whole way round.
"I put my head down on the bike because my running hasn't been great, especially on Friday. I was taking all the noise in on the run, once I got over the hill, I knew we'd got it, so I smiled my way to the finish line."
The former Fairfield High School student has had an exceptional spell at her debut Commonwealth Games, once again making the borough incredibly proud.
Want more local sports stories?
Head to https://www.questmedianetwork.co.uk/news/sport/ to see more of our coverage - from community and non-league football to local and county cricket, boxing, athletics, basketball, Esports and golf.