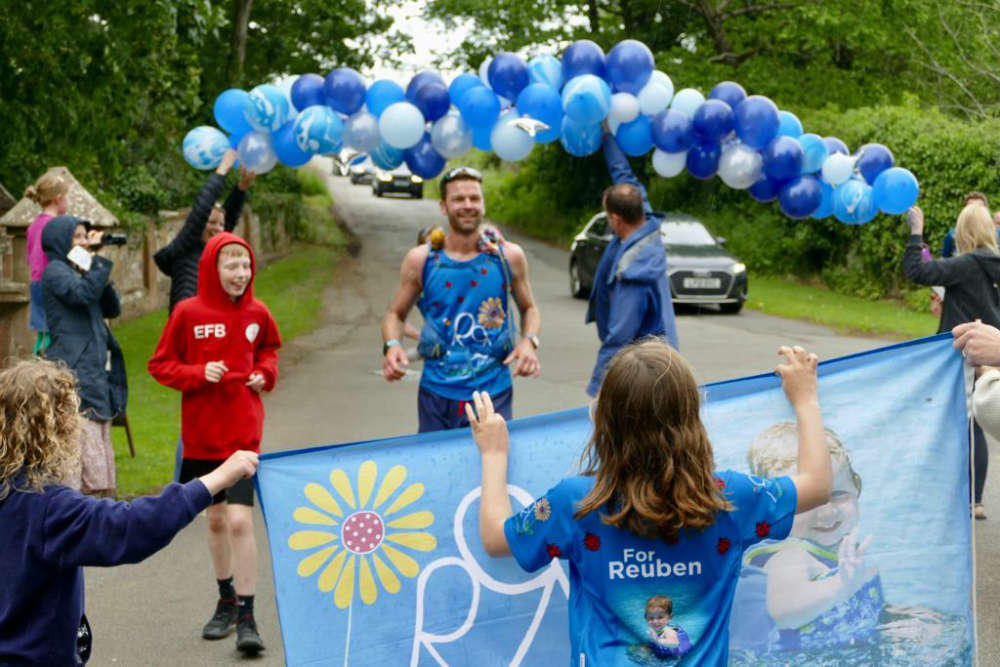 Feeling overwhelmed, accomplished and immensely proud, David Pilbury has completed his coastal running challenge, raising thousands for Reuben's Retreat.
Setting himself the ultimate challenge, David vowed to complete 140 miles in three days, travelling around the perimeter of Anglesey.

The Glossop runner was joined by friends and family galore as he ventured around the Welsh coast, picking up new faces as he went.
He was joined by his brother-in-law for a large amount of his distance, someone who David regularly runs with.
"My brother-in-law ran much further with me than he intended too. I think I was a bit grumpier with him because I'm used to running with him, I'm never grumpy so that must've shocked him!
"But I'd been stung and scratched and there were points where you could see the destination 100m in front of you, except you had to do a mile loop to get there," he said.
David regularly visits Anglesey and the coastal areas but found that he discovered so many beautiful areas during his run.
"There were massive stretches that I didn't know about at all before I ran and it's really pretty.
"It was so nice to see the seals on the rocks and discover places that you can't perhaps drive too, and I would've never known about them otherwise."
The support of his family and friends really did mean the world to David during this mammoth challenge. He was joined by his sister-in-law for a half-marathon distance as well as his father-in-law, who suffered a stroke last year, to run a 1.5-mile distance.
To conclude his momentous efforts, David ran the last 400m stretch surrounded by his family. His children stood at the top of the road, kitted out in their Reuben's Retreat t-shirts and creating a balloon arch for David to run through.
Cheers and smiles greeted him as he passed through, as well as a glass of prosecco that was handed to him as he crossed the finish line.
He then celebrated with dinner and drinks and loved being able to spend time with the people that mean the most to him.

"I got a little bit emotional at the end and a bit tearful because I was really appreciative of what everyone had done to come along and support me," he said.
Driving back home afterwards, David turned to admire the island he had just ran around, bewildered to the fact that he had managed to complete the 140-mile trip.
David says he would love to run the Bob Graham Round eventually once he has recovered.
But for now, he can celebrate in the fact that he has ran an impressive challenge, as well as raising vital funds for Reuben's Retreat.
"I've raised just over £3000, and I went to see Reuben's, and they were so grateful and thankful. It's amazing knowing that the money will be used well for people that really do need their help and support."
Read more from the Glossop Chronicle
Click here for more of the latest news
Click here to read the latest edition of the paper online
Click here to find out where you can pick up a copy of the paper