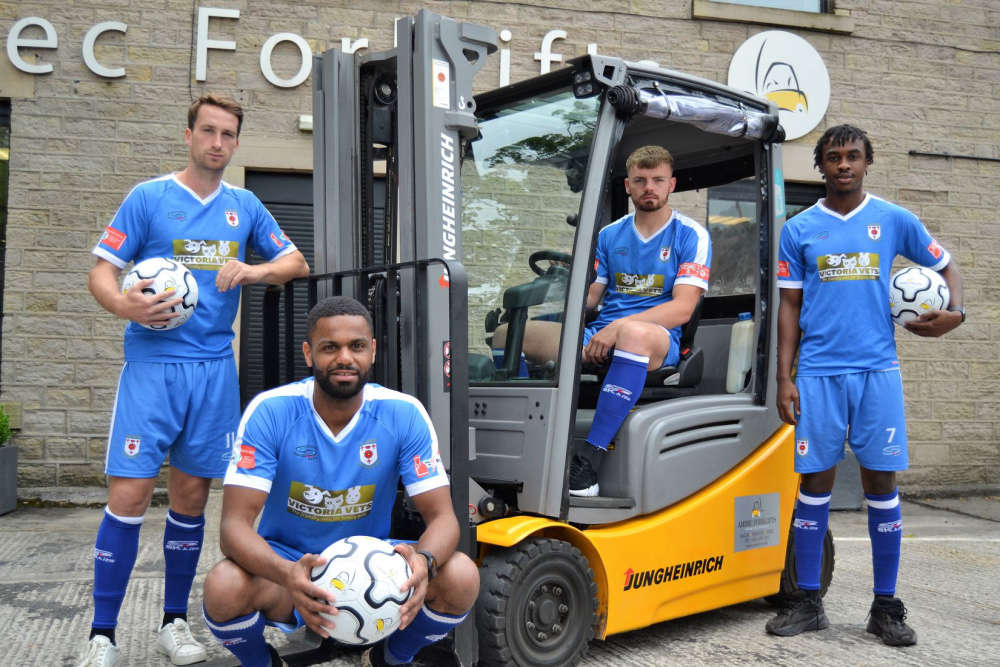 Glossop North End have announced the renewal of a partnership with their local stadium sponsor, Amdec Forklifts.
Amdec will continue their sponsorship and naming rights of the club's stadium, formally known as Surrey Street and The Arthur Goldthorpe stadium, for another season.
To celebrate the renewal, GNE & Amdec teamed up for a photoshoot In Amdec's new forklift showroom, with manager Stuart Mellish, GNE players Lee Wilshaw, Rory Fallon, Shakeel Jones-Griffiths & Bevan Burey helping out, along with Alistair Marsden Managing Director and Mark Clare Sales Director of Amdec Forklifts.
Amdec Forklifts are now the leading independent materials handling company in the North West of England, and are committed to lifting the local community here in Glossop and the surrounding areas. Amdec can assist with not just fork lift sales, but also with aftermarket support and servicing, fork lift training, and fleet appraisal services. Be sure to give them a visit at www.amdec.co.uk
Upon the announcement of the news, GNE football secretary & director, Dan Bates said, ''To have Amdec Forklifts on board as stadium sponsors for another season is absolutely brilliant for the Club. We are delighted that they see such value in Glossop North End that they are prepared to enter into a partnership of this magnitude. We are looking forward to a great season, with continued, mutual success both on and off the pitch, at a time when financial accountability and self-sustaining revenue generation is more important than ever in non-league football''.
Amdec Forklift's Sales Director, Mark Clare said, '' We are proud to be associated with Glossop North End and working with the local community. Glossop remains close to our hearts and we have chosen Glossop for the home of our new Super Depot which is now under construction. The new depot will consist of 16,000 sq foot of showroom, Work Shops parts department and under cover storage. We wish Glossop North end all the luck for the coming season''.