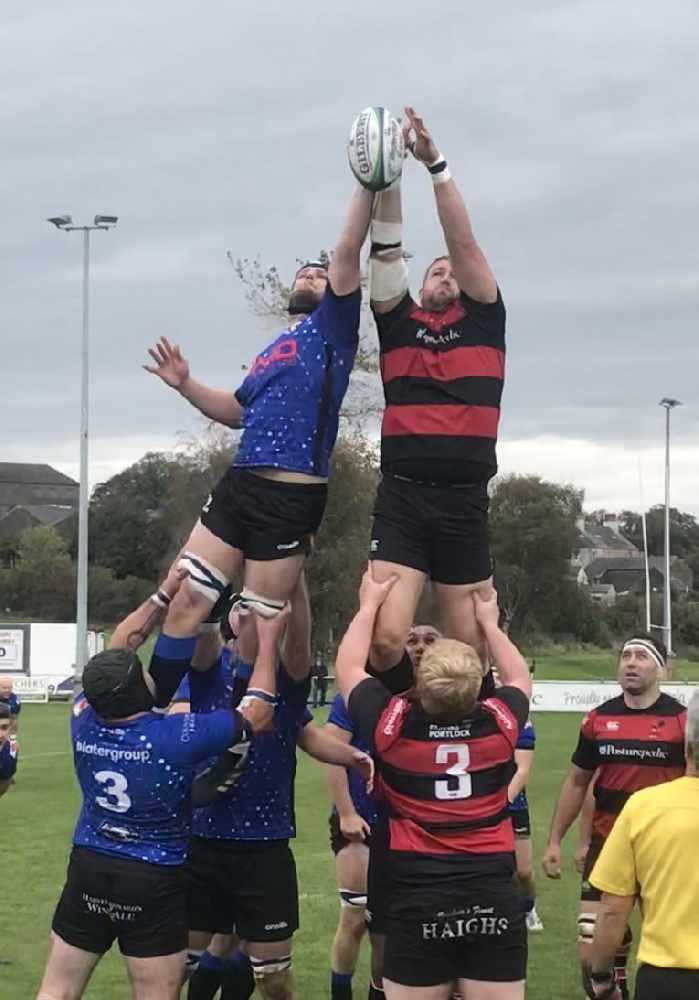 North Two West: Aspatria 24-31 Glossop
Glossop made the long journey to Bower Park in Wigton, Cumbria, for a first league meeting with Aspatria.
The Cumbrians have had a mixed start to the season, with a couple of narrow losses but their last home outing saw them comprehensively beat a De La Salle side who were plying their trade in North 1 West last season.
A tough and physical battle was anticipated and the hosts more than played their part in a competitive match, with no quarter given by either team in what would develop into a feisty encounter.
Six tries were evenly shared by the two teams on the day, but it was Aspatria's indiscipline that would cost them, as The Hillmen were able to kick four penalties to keep the hosts at bay.
Glossop started well, and looked in good shape when registering a try when Damien Chabas broke through the home defence after 10 minutes. Tom Dearnaley converted to make it 0-7.
On 20 minutes a break by scrum half Tennant following a strong scrum saw him release No.8 Dave Stanley, who romped home to extend the Glossop lead to 0-12.
Aspatria got onto the scoreboard on the half hour mark when the visitors strayed offside and fly half Clegg made no mistake with the resulting penalty to make it 3-15. Two minutes later Tom Dearnaley cancelled out the Aspatria penalty with one of his own, to reinstate a twelve point lead for The Hillmen.
With half time approaching things began to heat up between the players when a tackle by Glossop prop Jack Bailey resulted in the home centre Watson having to leave the field injured. The referee deemed it to be only a penalty offence but the home players were unhappy with his interpretation and this sparked a period of ill-discipline from both teams and several altercations would follow.
This seemed to galvanise the Aspatria team and they responded well with a try down the left flank by winger Noutch. Clegg converted to bring them within one score at 10-15. Just before the interval Dearnaley landed another penalty to extend the Glossop lead to eight points. Half time 10-18.
Two minutes after the restart, Glossop drove well from a line out in the Aspatria '22 and "Man of the Match", Chabas was on hand to break through and register his second try with Dearnaley converting to make it 10-25.
From here, the home team responded well again and began to play their way into the game. A fine solo try from Aspatria fly half Clegg, which he then converted brought them back into the game at 17-25 but on 55mins yet more indiscipline from the Cumbrians meant that Glossop were awarded another penalty. Rob Sonczak took over the kicking duties and converted the penalty, as Tom Dearnaley had left the field unfortunately with a broken foot.
Heading into the final ten minutes, the visitors pushed hard to try and find a fourth try and with it a bonus point. The Aspatria defence absorbed all that was thrown at them, even when reduced to fourteen men following a yellow card. On 75 mins Glossop were awarded another penalty, which they used to take themselves two scores ahead, as Rob Sonczak was again on target to make it 17-31.
Glossop were unable to register the bonus point try in the dying stages with the clock in the red there was still time for a fighting Aspatria to score a converted try and earn themselves a losing bonus point. Final score 24-31 and Glossop were happy to head back down the M6 with their 100% record still intact, ahead of a very tough game next week at home to Anselmians.
Elsewhere in the club, Glossop 2nd XV had a very close game against Burnage 2nd XV beating them 16 -15. The try scorers were: Dyson and Tom Robbie and Robbie also kiscked two penalties.
Also Glossop 3rd XV played at Marple beating Marple 3rd XV a convincing score of 12 – 36. The "Man of the Match" for the 3rd team was Jack Clegg. Try scorers were Dave Marchlewski, Dale Mclean; Jack Clegg x 2; Will Reddington. Clegg converted 3.
We are also pleased to report that Glossop had two additional games on Sunday, both of which we won. The first was in the morning when the Under 16s beat Bury 20 – 12 with Dylan Johnson and Louis Maltby being joint "Man of the Match"
The second was in the afternoon when the Glossop Ladies team (called Amazones) played Rotherham Phoenix Ladies beating them 42 – 37.
Report by J Wilkinson