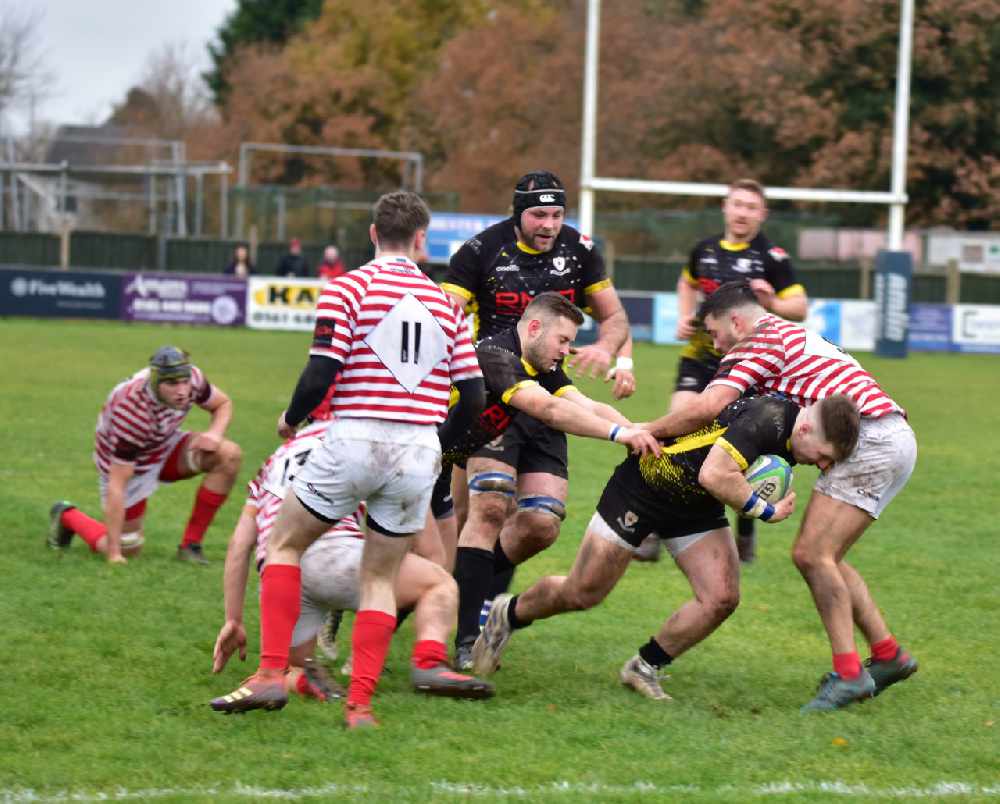 North Two West: Manchester 32-35 Glossop
This was a highly anticipated clash between second and third in the league, and as the final score would suggest, the fixture did not disappoint.
Throughout the match the large crowd of home and travelling support were treated to a relentless battle between two strong forward packs, and two back lines who looked to attack at the earliest opportunity which provided some excellent running rugby in the wide channels.
Glossop started brightly, receiving kick off and playing their way up to half way before Zak Round kicked well deep into Manchester territory. Glossop piled on the pressure and were rewarded with a penalty but Rob Sonczak was just off target with the kick at goal. This didn't deter the visitors and soon after they were in the lead when good hands between the forwards and backs released Lewis Winterbottom who scorched away to score a fine try. The conversion was missed but Sonczak made amends two minutes later with a penalty making the score 0-8.
For the next ten minutes both teams battled hard and tested each other's defence, until on the 20 minute mark Glossop made another breakthrough, scoring a brilliant team try, finished down the left flank by Max Horsfall. Sonczak's conversion came back off the upright but the Hillmen looked good value for their 0-13 lead.
From here, Manchester sprung into life and Glossop were forced to dig deep in defence. A number of penalties against Glossop gave Manchester good field position and another penalty gave them a chance to reduce the deficit, Manchester fly half Lingwood obliged to make it 3-13. The Glossop lead was then reduced to five points, when a clever kick over the defence was chased down the right wing for an unconverted try out wide, 8-13.
On the half hour mark, Glossop were really under the cosh and their case wasn't helped when skipper Edwards was shown a yellow card which would side-line him until half time. With the Hillmen on the back foot and temporarily reduced to fourteen men, they showed great character to ride the red and white storm, impressively keeping Manchester out with dogged defence. They forced a penalty and were able to clear their lines.
From this position, Glossop somehow found another gear and launched an assault of their own deep in Manchester territory. Good ball retention and composure from the pack culminated with the ever impressive Damien Chabas crashing over for a try next to the posts which Sonczak converted. This drew an end to the first half and Glossop turned around leading 8-20.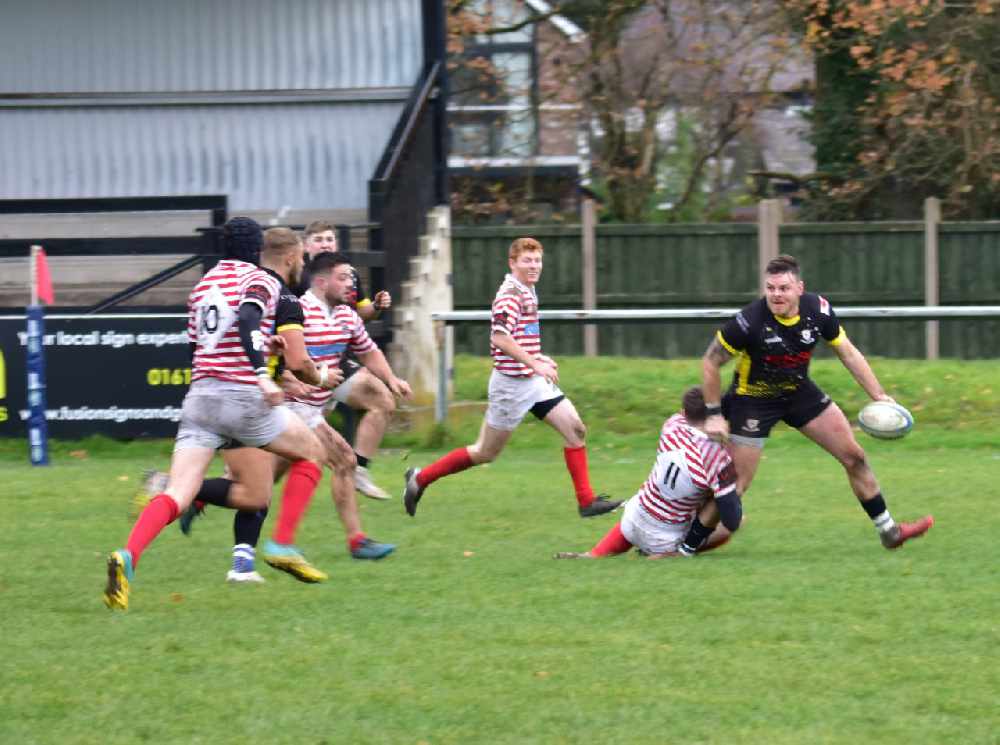 As in the first half, Glossop started the second period on the front foot and within five minutes Greg Moran had scored wide on the right to extend the Glossop lead to 8-25 giving them some breathing space. However, the home team were not prepared to capitulate, and they came back strongly.
The men from Derbyshire were getting on the wrong side of the referee, with the penalty count rising, prop Ben Chadwick was shown a yellow card so Glossop would have to play a further ten minutes at a numerical disadvantage.
This seemed to act as a catalyst for Manchester and from here they would enjoy their best spell of the game. They conjured up two tries in quick succession, one of which was converted. All of a sudden, the Glossop lead had been cut to just five points at 20-25.
In keeping with the pattern of the game, Glossop would score next and again extend their lead.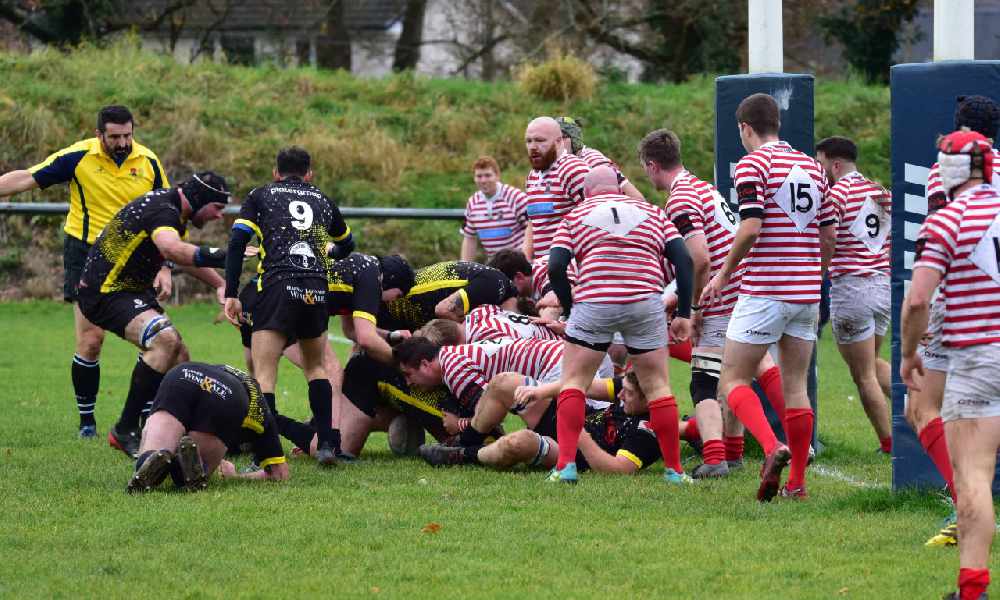 With less than ten minutes to play and Manchester having all the momentum, Glossop were pressing hard with desperate defence but were rewarded when Edwards intercepted a pass and sprinted home unchallenged for a try next to the posts. Sonczak converted and Glossop had breathing space again at 20-32.
With five minutes to play, Glossop weren't about to rest on their laurels against this dangerous opposition and redoubled their efforts in attack. Their impressive attacking play was epitomised by prop Chadwick who made a barnstorming run from his own half, which resulted in a Glossop penalty, with Sonczak impressively slotting it over from long range. 20-35 was the score with only two minutes to play, surely Glossop were home and dry. Manchester, however, had other ideas.
They responded almost immediately with a converted try after some slick handling to make it 27-35. There was just enough time for the restart from which Manchester were awarded yet another penalty.
They used this to take play into the Glossop half in search of a losing bonus point. Glossop defended resolutely and in the final play it looked as though they had done enough but the ball was knocked on by Chabas whilst making a tackle. However, the referee deemed this to be an intentional act, so brandished yet another yellow card giving Manchester a final roll of the dice penalty which they kicked. The Hillmen, to their credit, exhausted themselves with their defensive efforts and Manchester's great never say die spirit was rewarded with a fine try down the left flank to leave a final score of 32-35 after an exhilarating eighty-odd minutes of play.
The result puts Glossop one point behind Manchester but with a game in hand.
Glossop Head coach John Openshaw said after they game;
"This was not a must win game but could prove pivotal towards where we want to be. Manchester did not disappoint and threw everything at us but we proved too much for them. The quality from 1 to 15 was too much for them to contain. There were some fantastic individual performances, however this was a real team effort and the whole squad can be proud of this result. We have worked hard as a squad and there are real signs of us pushing on to even better performances and results".
Report by M Dawson.