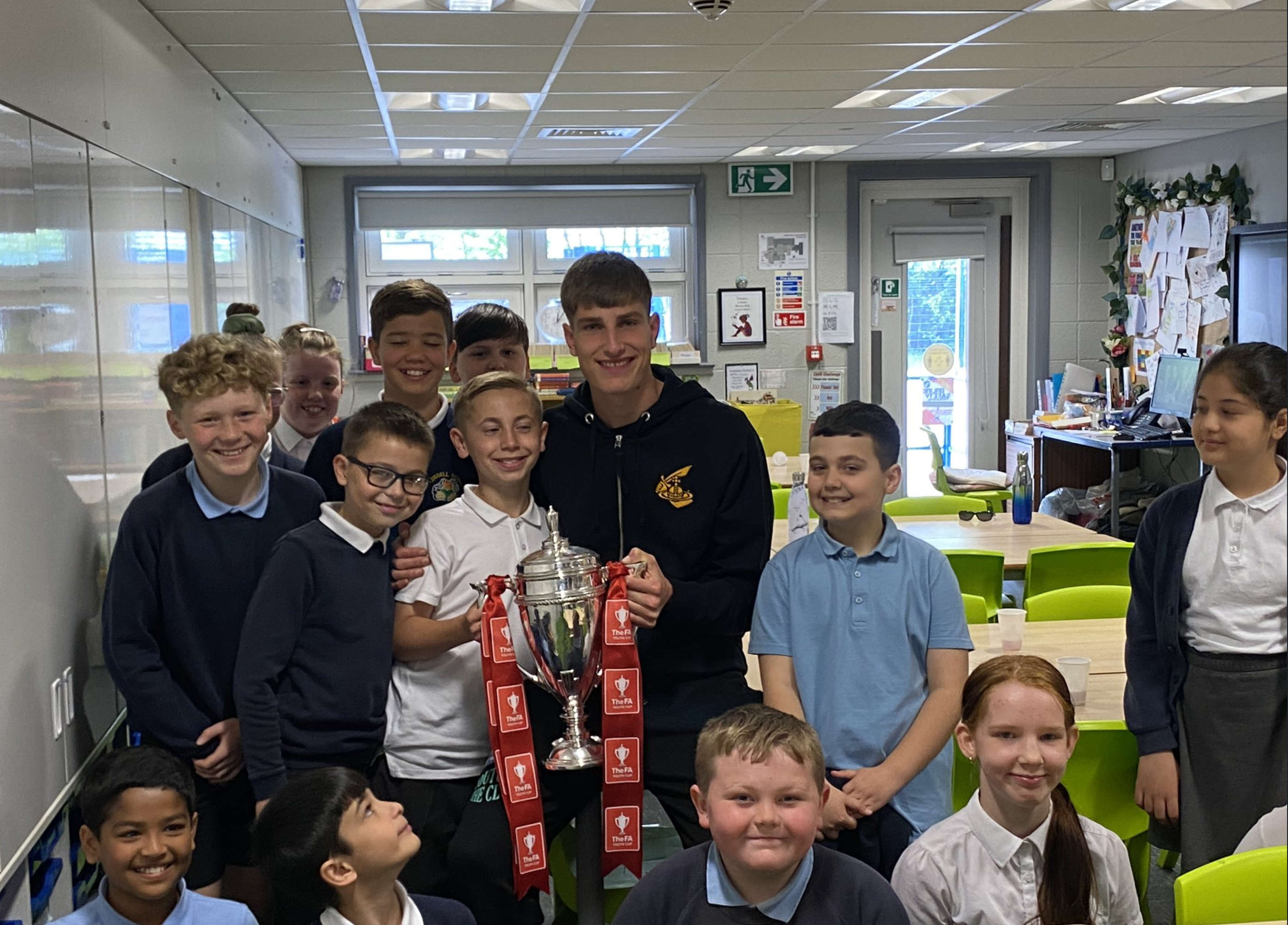 On Wednesday night, Rhys Bennett fulfilled his childhood dream by scoring in front of 67,000 people at Old Trafford whilst captaining Manchester United's Under 18s to FA Cup glory.
The 18-year-old, from Denton, scored the opening goal in the Red Devils' 3-1 victory over Nottingham Forest at the Theatre of Dreams, thus securing the trophy for an 11th time.
Given the first team's troubles this season, the achievement has lifted the doom and gloom around Old Trafford and has, in turn, provided the United faithful with belief that a bright future lies ahead.
Rhys and his team mates have etched their names into the history books for all the right reasons, yet despite the adulation from thousands of fans, Rhys still made time to return to his roots the following morning, Russell Scott Primary School in Denton, to showcase the trophy and speak to members of staff and pupils about the achievement.
Headteacher Steve Marsland, who identified Rhys as an all-round sportsman during his period at Clare Street, was delighted to see the teenager excelling with one of the biggest clubs in the world. He tweeted:
What does the Capt of @ManUtd victorious #MUCAcademyU18s FA Cup Youth Winners do to celebrate? He visits his primary school @RScottPrimary @RScottSport to share the moment with the children and whole school. Such humility from such a fine young man, we're so proud @tamesidessp pic.twitter.com/vYZpfJvKif

— steve marsland (@marzy120) May 12, 2022
What an inspiration @rhysbennett66 his first port of call visiting @RScottPrimary as the Captain of @AcademyManUtd with the FA Youth Trophy won last night in front of 67,492 at OT watched by the children @RScottSport who copied his celebration in the playground!!! pic.twitter.com/m4IWqTI1Q1

— steve marsland (@marzy120) May 12, 2022
Rhys, who also attended Audenshaw High School and played for Stalybridge Celtic Juniors, is one of many stars to emerge from Tameside and establish themselves as quality footballers, with fellow Manchester United player Anthony Elanga, now a first team regular at Old Trafford, learning his craft at Hattersley FC, whilst Arsenal defender Rob Holding attended West Hill School and also played for Stalybridge Celtic Juniors, and Zach Clough, a former Audenshaw School pupil, enjoyed a career with Bolton Wanderers, Nottingham Forest and Carlisle United, but now finds himself halfway across the world playing with Adelaide United.
Rhys spoke of his delight following the game and said the following to Manchester United's official website:
"It's the best feeling I've ever had in my life," captain Rhys Bennett said when asked about lifting the cup.

"It's stuff I've dreamt of since being a kid, since I started at this club, it's all I've ever dreamt of. To win the FA Youth Cup is just a massive achievement.
"To be honest, I don't think I'll ever stop watching that! It was the best feeling I've ever had in my life, it's unbelievable."