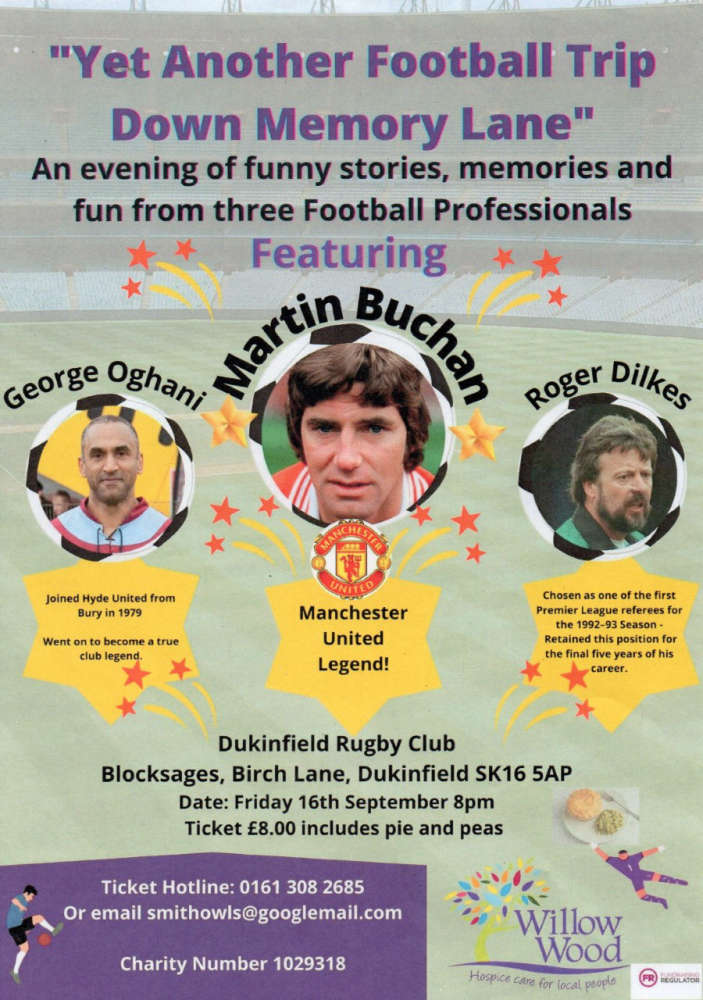 Tickets are now on sale for the third Annual Willow Wood Hospice Football night.
Taking place at Dukinfield Rugby Club on Friday, September 16 (8pm), this year's line-up is better than ever with Hyde United all-time favourite George Oghani, and former Premiership referee, Roger Dilkes and topping the bill is Manchester United legend Martin Buchan.
Tickets, at £8.00 (including pie & peas supper) are available from organisers Brian Wild and Chris Smith by phoning 0161 308 2685 or emailing smithowls@gmail.com
Organiser, Willow Wood Hospice Ambassador and former TMBC councillor, Brian Wild, said: "We've raised £1000 each time we've run this event and we certainly hope to beat that amount again. The evening is always great fun and the football fans in Tameside are always very generous.
He added: "Willow Wood Hospice needs urgent help to continue to develop high quality care for the people of Tameside and Glossop".
For those unaware of the special guests' background, here are some details:
Martin Buchan
Manchester United legend and classy central defender who captained United to their 1977 FA Cup win over Liverpool. Signed from Aberdeen in 1972 for £125,000 and still considered one of United's best-ever signings. Played for Scotland in the 1974 World Cup in Germany and the 1978 World Cup in Argentina. Finished his career at Oldham Athletic. An all-time favourite at Old Trafford.
George Oghani
Arguably the greatest player ever to pull on a Hyde United shirt, George remains a firm favourite with the fans 40 years later. Starred in the Tigers team that won the Cheshire League treble in 1981-2. Signed for Bolton Wanderers in 1983 and played for several other Football League clubs and remains a club legend at Burnley FC.
Roger Dilkes
Man, who made it from Mill Lane, Hyde, to the Merseyside derby via Mossley. When Roger's hopes of being a professional footballer with Huddersfield were dashed, he took up the whistle. Officiated in the Premier League and old first division. One of the most respected referees of recent times.