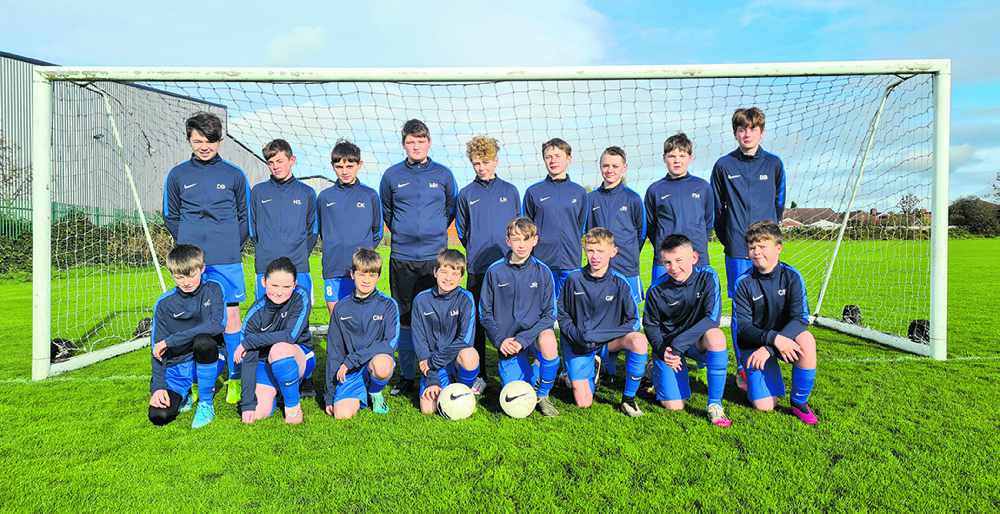 Youngsters from a Glossop football team will be running out in a brand new kit thanks to kind-hearted donations.
Glossop North End Juniors were struggling to buy a new kit after outgrowing their old ones.
But thanks to the hard work of coaches and parents and the generosity of The Bulls Head pub in Glossop, the players have a brand new kit to wear on match days.
Glossop North End Juniors Greys have had a tough time since lockdown first began in March.
The team was due to be crowned league champions in their first season of competitive football, but lockdown was implemented and put a stop to all grassroots football for six months.
If missing out on being crowned champions wasn't bad enough, the team was also due to play a cup final against local club Hollingworth, which was also cancelled.
Throughout lockdown the team participated in daily challenges set by coaches Mat Dewsnap and Tom Maddocks, where the main purpose was to keep up spirits, relieve boredom and to keep the friendship ties for the players.
The team also planned for the new season in September which would see a new adventure for the Greys as it was their first time playing 11-a-side games home and away.
They recruited four new players and also their identity was changed to U13s Reds.
After several seasons of securing sponsorship with Mottram McDonald's where the Greys were lucky enough to be gifted with a brand new kit every season, in 2020 the sponsorship finished.
The team then began the search for a new sponsor, but with the current climate, securing a new sponsor was a lot tougher than expected.
Mat said: "I spent countless amounts of hours exchanging emails to local companies around Glossop and further afield to try and drum up sponsorship for the team as the players had all outgrown their current kits and moving to 11-a-side they were desperate for a new strip.
"A few companies were very interested but unfortunately couldn't commit to the amount we required to provide the players with what they needed, which was understandable with everything that's going on recently.
"Luckily I had a lot of help from a few of the parents - Emma Clough and Chris Mountfort were a massive help as they also spent so much time speaking to local businesses."
Sponsorship seemed bleak so the parents started a football card to raise money for a kit and half of the amount was raised.
Blaise Winstanley and Ian Harrison from The Bulls Head in Glossop then arranged to put forward the rest of the money to secure not only the kit, but also provided every single player with a brand new Nike training jacket with their initials embroidered on.
Added Mat: "This generous act of kindness really meant so much more to everyone involved in the team than I believe Ian, Blaise and The Bulls Head realise.
"It just shows that a local football team being helped by the oldest pub in Glossop really shows what this community is about by sticking together in unprecedented times."
Main image:
HAPPY: The team in their new kit.