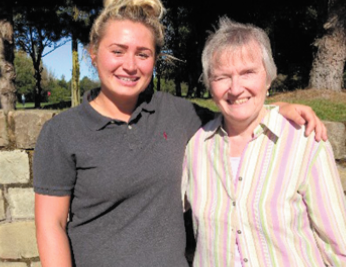 Denton Golf Club's Lady Captain Edith Rooney and Francesca Bougen made history for their club by reaching the Daily. Mail Foursomes finals at Slayley Hall.
The Daily Mail Foursomes is the largest amateur tournament in the world and this year's competition began in February with 3,260 pairs entering and playing seven knock out matches and it was a fantastic achievement for Edith and Francesca to win through to the last 32 pairs.
Teams from England, Scotland and Wales were represented at finals weekend at Slayley Hall in Northumberland and it was the first time in Denton's history that they have had a team through to this stage.
They did not win their first final but then played over the next two days in the Champagne Tournament to complete a fantastic experience and they would like to thanks all of their friends and everyone at the club for their support and congratulations.
Back at Denton their ladies were in Stableford action and Laraine Gordon led in with 21 points four more than Trish Ferguson.
An American Greensome medal for Denton's men was won by D Hughes and P Coulter with 52.4 from M Alexander and A Worswick 52.6 and S Currier and P Hulme 53.
A Modified Texas Scramble at Denton was led in by M Riding, V Smith and W Lord with 54.1 taking them clear of Geoff Thomas, Steve O'Shaughnessy and C Smith 54.5 and S and P Gregory and G Ousey 54.6.
Wednesday Stableford action at Denton saw Graham Pollit show his class with 30 points taking him well clear of N Coburn 26 and A Portman 22.
A Pro's competition at Crompton and Royton needed a cpo on 35 points in division one to see S Blainey lead in from N Turner.
In division two JM Booth was first past the post with 37 points, one more than P Hammond.
A Pro's Stableford at Saddleworth was won by Pete Beswick with 46 points from Phil Bennett 45 and Glenn Wilkinson 44.
In a Pro's Three Man Team Stableford at Saddleworth a close contest was led in by Phil Laverty, Steve Harrington and Phil Ramsker with 86 points from Phil Bennett, Ross Suton and Matt Chapman 85 and Kevin Bradbury, Mark Orme and Steve Baron 84.
Saddleworth ladies played a 12-hole Turkey Shoot and the old firm of Sonia Dunn, Sue Kenbel and Rosemary Brierley showed their class with 41 points, two more than Anne Fitton, Eileen Simpson and Kath Lacey.
Big birds were also on the menu at Saddleworth in a Sunningdale Turkey Shoot with a cpo on 68 going in favour of M Abbott and M Farrimond from J Owen and T Williams, one less than A Rowbotham and D Hewitt.
The latest Race to the Strat at Brookdale needed a cpo on 42 points to take Michael Murray into top spot from Steven Armstrong, two more than Mike Taylor and James Linehan. It also needed a cpo in a BB Batterball on 46 points with D Baird and A Robson getting the nod from G Lever and P Hall with J Hughes and D Unsworth winning a cpo on 45 points from K Miller and S Todd to take third spot.
A Three Man am am at Ashton was won by the formidable trio of Andy Lomas, Steve McGee and D Clarke with 74 points from M Walker, W Spencer, M Schooler and B Birrtles, R Lomas and A Marshall and A Lambert, W Sanderson and I Stott, all 42.
A Remembrance Day Scramble at Ashton was led in by C Sherlock, J Kennedy, J Lowden and S Smith with 57.4 from Andy Lomas, P Harrison, D Lawton and D Mackinnon 57.8.
A 15-hole Stableford at Ashton had the divisions led in by Michael Longworth after a cpo on 33 points with Sam Carroll and Glyn Andrew, Paul Eddlestone 37 and Duncan Eastham after a cpo on 35 with Steve Browne.
The Manchester Alliance returned to play at Whitefield Golf Club after a ten-year absence and a good field of players enjoyed the challenge of their well-presented course which played its full length in some persistent rain.
Whitefield professional Chris Bibby was the sponsor for the competition and he was given great support in the clubhouse by the friendly Whitefield staff.
Jamie Howarth (Davenport) had the outstanding round of the day posting a four-under par round for 40 points to lead in the individual pro section from Alastair Waddell (Chorlton) 38 and Matty Kay (Ashton-under-Lyne), Scott Jackson (Disley) and Ollie Smith (Ashton-on-Mersey) all 37.
Alliance professional Order of Merit leader Phil Archer (Poulton Park) found an excellent partner in Mark Pasquill (Leigh) to win the pro am section with 45 points, two more than Matty Kay and Ashton-under-Lyne colleague James Taylor who won a cpo from Chorlton's dynamic duo of Alastair Waddell and Mike Lynch.
It was close in the am am section with three pairs locked on 39 points and getting the nod were Kevin Yardley and Phil Spencer (Horwich) from Don Milligan (Chorlton) and Andy Halliwell (Ellesmere) and Stand's perpetually unlucky Norman Haslam and James Parton.
By Geoff Garnett