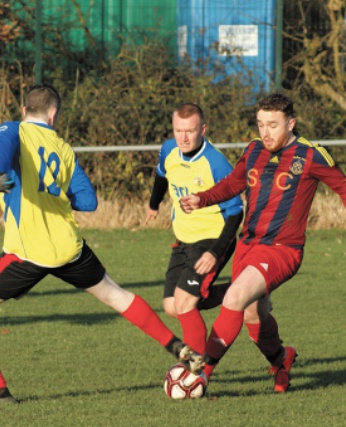 The coldest night of the season to date saw a few games postponed, but the majority of the county cup and league games played produced a real goal fest.
In the Manchester Amateur Cup, Manchester Polonia proved to be too hot to handle at Denton Town reserves as they cruised to a comfortable 6-0 win.
Joining them in the draw for the next round are Village Manchester, who are enjoying their season and they won 2-1 in a close contest at Irlam Tiger Rangers by 2-1.
But it was the end of the cup trail for Oldham Vics, who went down 4-1 at Eastlands.
In the Stockport Senior Cup, there were few problems for High Lane who were emphatic 9-2 derby winners at Mellor.
In the Premier Division, Waterloo had a chance to close the gap on the non-playing top two, but were beaten 3-2 in an excellent game by Dom Doyle to miss their opportunity.
The other game in the division saw Abacus Media win their local derby with Milton by 3-1 to move into fourth place in the table.
The top two teams in Division One preserved their 100 per cent record to stay well clear of the chasing pack.
Leaders Radclyffe FC had few problems in accounting for Newton by 8-0 to take their goal difference to an impressive 52.
Second-placed AFC Oldham stay six points adrift of Radclyffe, but have two games in hand, and they were taken all the way by a determined Old Stretfordians before emerging with a vital win by the odd goal in five.
Chorltonians were also in hot form as they won 9-2 at Signol Old Boys to move into third place.
Urmston Town are also in the mix after a 4-2 win over Bury Ams as strikes from Danny Charlesworth. Arrey Tabetheo (two) and Akine Pinder took them 4-0 clear.
But Bury showed their fighting spirit as a brace from Nathan Lightfoot kept them in the game.
It's tight at the top of Division Three with just four points separating the top five teams.
Dukinfield Athletic retained top spot after a nerve jangling 6-5 win over Stoconians.
The victory keeps them a point clear of North Walkden, who also had to work hard for a 6-4 win over Rochdalians seconds.
Bedians and South Manchester reserves played the top game in the division and Mike Spark and Recce Douglas gave Bedians an early two-goal advantage which gave them enough momentum to go on to a 4-2 win which moves them into fourth spot, two points behind South with two games in hand.
The other game in the division saw Hadfield Athletic keep up their recent hot streak of form as they cruised to a big win over Chorltonians reserves.
Chadderton Cott extended their lead at the top of Division Three to four points with a hard-working 2-0 win over Spurley Hey, as second-placed Signol Athletic were held to a 1-1 draw by Chadderton Park.
Elton Lib Hargreaves had their biggest win of the season by 8-2 at Milton reserves and Hooley Bridge Celtic are still looking for their first win as they drew 2-2 with Stoconians reserves.
The other game saw Salford Vics reserves climb nearer to the safety of mid-table as they were impressive 6-3 winners hosting Aldermere.
Mellor thirds missed the chance to draw level with Division A leaders non-playing Stockport Sats as they were held to a 2-2 draw at Salford Storm.
Wythenshawe Wanderers were the hot shots in the division with a 10-3 win at Rochdale Galaxy to keep in the promotion chase.
Trafford United reserves returned to winning ways with a 4-1 win at Moston Brook reserves and AFC Oldham reserves were emphatic 6-0 winners hosting Dukinfield Athletic reserves.
Parrs Wood Celtic extended their lead at the top of Division B to nine points with an efficient 2-0 win over Bury Ams reserves as their main rivals AFC Oldham reserves drew 2-2 in a local derby at Chadderton Cott reserves.
Moston Brook thirds stay in third spot with a 4-0 win at Spurley Hey reserves and Heaton Mersey and Chorltonians Athletic shared the spoils in a 1-1 draw.
The top two in Division C were not in league action and Chadderton Park reserves closed the gap on them with a fluent 6-1 win at Moston Brook fourths.
Whalley Range seconds were again in celebratory mode with a second successive win with a frantic 5-4 victory at Stoconians fourths which moved them into mid-table.
Altrincham Hale are also settling into a winning mode as they won 2-1 over Bury Ams thirds to move into the top half and the final game had Oldham Vics reserves cruising to a 5-2 win over Staly Lions.
By Geoff Garnett