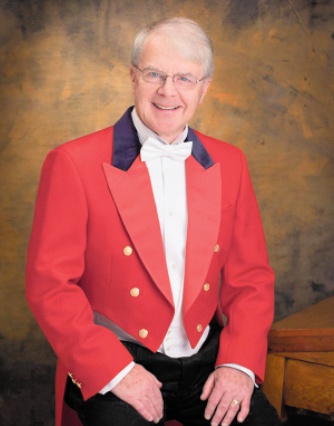 David Durling, a stalwart member of Shrigley Hall Golf Club, is delighted to be the President of the Cheshire Union of Golf Clubs for their centenary year in 2020.
David said: "It is a great pleasure and a privilege to be the Centenary President of the Cheshire Union of Golf Clubs.
"Through a friend I became a member of Kidderminster Golf Club and when my wife and I moved back up to the north west, I joined Tytherington Golf Club. After a year or two, I switched to Shrigley Hall Golf Club.
"I had a desire to improve my knowledge of the rules of golf and in 2012, while attending a Rules School, it was suggested that I might like to qualify to become a referee. This I did and then as a result, I was invited to become a director of the Cheshire Union of Golf Clubs in 2013.
"When the county decided to set up the Cheshire Golf Development Group in 2015, I was asked to become its first chairman and for four years, with the assistance of members from the Cheshire County Ladies Golf Association, the PGA and two excellent club support officers from England Golf, we worked hard to increase the number of ladies playing golf.
"The group then started work on introducing more young people to our wonderful game and we were selected as one of England Golf's Priority Junior Counties.
"The work of the Development Group resulted in our being shortlisted for the County of the Year at the England Golf Awards.
"I would like our centenary year to be a celebration of the wonderful game of golf in Cheshire and we cannot achieve that without our clubs, who we invite to join us at one of two centenary conferences in April, to provide a representative for the Centenary Tournament Final in September and to attend our centenary dinner in October."
l A BB Stableford at Denton saw S Boyd and M Shore on top with 40 points, one more than D Counsell and D McDermott and D Murray and soccer legend Darren Beckford.
In a Sunday Two From Three Team Stableford, T Hale, M Unsworth and Alan Painter, with a gloss finish won a cpo on 69 from S Bracken, L Thompson and J Stapleton.
l The Tuesday Stableford at Crompton and Royton had division one won by B Stafford after a cpo on 34 with M Willmore.
In division two, M Nicholson posted 35 points, one more than S Wright.
l There was plenty of Winter League action at Saddleworth with a singles Stableford being won by Graham Bearpack with 43 points from Steve Asquith 41 and Kenneth Shadford 40.
In a BB medal, Nick Marner and John Givvons won with nett 60 from Ian and Dave Charnock 61. Steve Harrington and Martin Heap won a cpo on 62 from Dave Stephens and Jeff Platt.
Finally in a BB Stableford Chris Cunniffe and Andrew Li were the main men with 49 points, two more than Matt and Dave Chapman and Mark Orme and Lee Blainey.
l The calculators were out at Ashton in a terrific finish to a Two Shot Greensome with six pairs locked on 39 points.
Getting the nod in a breathless cpo were B Birtles and R Lomas from M and I Hughes, D Shenton and N O'Keefe, P Bacon and S Heeley, D Morris and A Ives and S Lee and G Garside.
Next day in a singles Stableford, the three divisions were led in by Bill Croston 39 points, Alistair Whitehurst with a stunning 43 and Darren Jones with an impressive 41.
l A BB Stableford at Brookdale saw some impressive scores led in by C Evans and M Whelan with 49 points from D Hurst and D Callaghan 47 and B Taylor and G Bayley, A West and J Bassey, D Prince and J Reeves and S Foy and S Chalmers, all 46.
l The latest Winter League Stableford at Fairfield saw Captain Stewart Proffitt ruling the roost with 33 points from Mark Topping 32 and Robert Pownell, Francis O'Brien and Paul McKee all 31.
l It was also Winter League action at Stamford with Ryan Jones cruising to victory with 45 points from club legend Tony Smith 42 and Matthew Merson, Duncan Hough, Phil Easter, Scott Barker and Chris Montgomery, all 41.
l The Manchester and District Ladies Golf Association runs several competitions throughout a busy season for well over 80 clubs.
The top competition is the Inter Club match-play knock out for the Bell Cup which featured the top seven players in the club.
The clubs in 2020 will be aiming to make finals day at Wilmslow Golf Club on Friday, September 4.
Wilmslow is the home club of the MDLGA President Sue Milroy and she has drawn the preliminary and round one matches.
In the preliminary round, holders Delamere Forest face a tricky trip to Fairfield.
Our local clubs in action in the preliminary round are: Greenmount v Denton, and Ashton v Sandiway.
In round one the ties featuring our local clubs are: Dukinfield v Bury, Winners of Ashton and Sandiway v Saddleworth, Oldham v Wilmslow, Mellor and Townscliffe v Crompton and Royton.
By Geoff Garnett