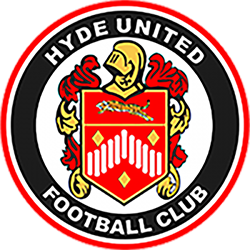 Hyde United's home fixture against Whitby Town this Saturday has been postponed due to a covid-related issue.
A statement on the club's website read:
Unfortunately, we have received news of 2 positive tests for Covid19 involving the First Team playing/backroom team.
The correct protocols were followed and cases reported to the NHS. The 'Track and Trace' unit has now issued 14 day isolation instructions to other members of the squad and management team that were deemed to be in close contact and consequently, all First Team activity, both scheduled training and matches, are postponed up to and including October 24th. We will advise further dates for postponed matches once re-arranged with respective Clubs – Whitby Town (H), Witton Albion (H) and Nantwich Town (A). Anyone who has purchased e-tickets for the Whitby & Witton matches will be directly refunded.
NB – This situation does NOT affect pitch bookings or other activity at the Football Club.
Hyde United FC have put significant procedures in place to ensure the safety of all players, staff and visitors to the Club to minimise risk and our assessments are constantly reviewed (see latest – https://hydeunited.co.uk/wp-content/uploads/2020/10/Hyde-United-Covid-RA_Full-Register-V1.7.pdf). Unfortunately, this can only minimise risk and not eliminate it completely.
This is another opportunity to remind everyone that anyone displaying symptoms should self-isolate and obtain a Covid-19 test immediately. Also, please follow the NHS guidance regarding hand hygiene, the wearing of face coverings and observing social distancing; keep yourselves, your family and your community safe.