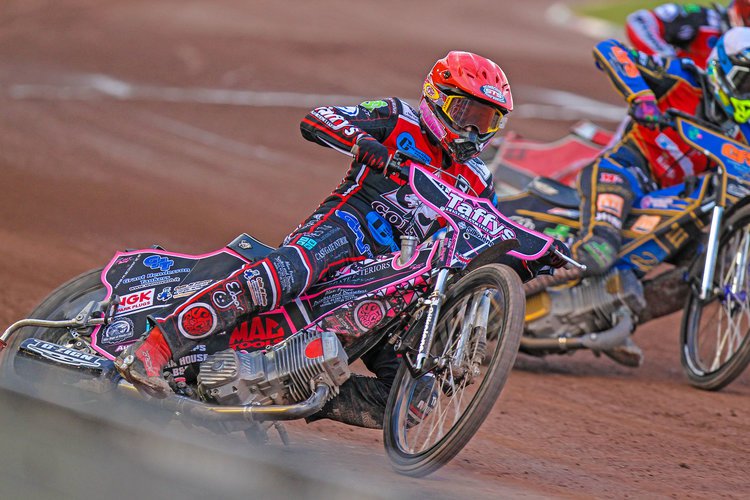 National League Play-Off Semi-Final Second Leg: Kent 53-36 Belle Vue Colts
Belle Vue's Colts stars bowed out of the National League play-offs with a 53-36 defeat in the Kent rain on Monday night.
The Colts went into their play-off semi-final second leg at Sittingbourne holding a slender 4-point advantage from their home leg last Friday, but were unable to defend their lead in a meeting run in atrocious conditions as they slid out 96-83 on aggregate.
Heavy rain throughout the match hindered a Colts side renowned for their exciting racing, and played right into the hands of the fast starting home side, on a night where gating was absolutely vital.
Belle Vue had got off to a bad start in their home leg as Connor Bailey suffered an engine failure on the first corner, hampering team-mate Jordan Palin, which allowed Kent to start the tie with a 5-1 advantage on a track which had been made heavy by overnight rain.
But the Colts bounced back with advantages from Ben Rathbone and Ben Woodhull, and then Danny Phillips and Kyle Bickley, to level things after 3 races.
Both sides traded blows, struggled to gain an advantage, until a dramatic heat 8.
Jordan Jenkins led for the visitors with Ben Woodhull in hot pursuit until Jenkins' bike stopped mid-corner forcing the young Colt to take instinctive avoiding action.
That relegated Woodhull to the back as Jenkins' bike burst back into life, but referee Craig Ackroyd correctly called a halt to the race, disqualifying the Kent man for the incident.
The re-run saw Belle Vue gain a 5-1 to open up a 4 point lead.
After 3 more shared races, Kent again pegged the deficit back to 2, but Leon Flint completed a superb night to win the final race and finish on 14 points, whilst Jordan Palin took the vital third place to restore a narrow 4 point lead going into the second leg.
However the Colts hopes of reaching the Play-off Final evaporated on Monday as the rain started to fall at Sittingbourne half-an-hour before start time.
The first leg advantage was wiped out in the first race with Kent taking a 5-1 after Connor Bailey slid off in the slimy conditions, damaging his No.1 bike in the process.
The reserves shared heat 2, but Danny Phillips was a faller in the next as Kent took the aggregate lead at 12-6.
Bailey was disqualified for missing the two-minute time allowance for heat 5 as he attempted to fix his damaged machine, and Kent romped to another 5-1.
The Colts knew it wasn't to be their night in heat 6 as Flint led until Kent No.1 Anders Rowe lost control, lifting up on one wheel, leaving Flint with no option but to take avoiding action and surrender the lead.
The rain became torrential during heats 8 and 9, and Flint and Rathbone were forced to just cruise round in heat 9, unable to see, as Kent continued to plough on at 36-18.
By now the Colts were just riding for pride and as the rain eased, Bickley and Phillips pulled two points back in heat 10, and Palin won heat 11.
Flint and Palin looked set for a maximum 5-1 in heat 13, until the 15-year-old went just too wide, hitting the slime, and falling.
Danny Phillips took a nasty fall after being hit from behind by Kent's Jake Mulford in heat 14. Mulford was disqualified as the cause of the crash, but Phillips was unable to take his place in the re-run.
A miserable night was completed in heat 15 when Flint was a faller in acrobatic style as he locked up to avoid a rider in front.
Although disappointed to miss out on the league title, the Colts can still finish an impressive season with silverware as they will face Leicester in the Knockout Cup Final, on dates yet to be agreed, after the Lions eased through their cup semi-final against Stoke on Saturday.
By Graham Goodwin
Picture by Ian Charles