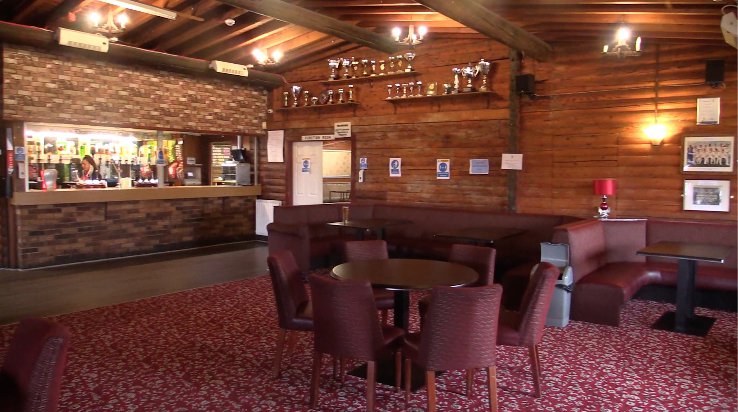 Pubs and restaurants opened last weekend as part of the Government's latest relaxation to lockdown measures.
It was a welcome decision for the management team at Denton Cricket Club, who are now hoping the introduction of recreational cricket this weekend will also usher in a new wave of players, friends and family members.
However, if the current safety measures remain in place for the foreseeable, club barmaid Anna Turner believes pubs across the country will face an uncertain future.
Denton's main revenue is currently out of bounds, as the function room which hosts birthdays, christenings and weddings, can't be used due to the Government's latest measures regarding large gatherings in social settings.
It's a bitter pill to swallow for Anna, who feels the latest measures don't make sense and believes the Government should reconsider their approach before irrepairable damage is done to businesses across the country.
Speaking to Reporter Sport, Anna said: "We've been working behind the scenes to set up all the safety procedures to make sure it's safe for us to reopen and to ensure the safety of our members.
"Our tables have a two metre distance between each other, we've installed hand sanitising stations around the club, we have a one way system and table service.
"We operate due to our function room, and we're not allowed to have parties so our numbers are drastically down at the moment, and if it carries on nobody knows if we'll remain open.
"You've been allowed to go into supermarkets with hundreds of people, so why aren't we allowed to trade properly in our premises safely? The club would shut and we would lose our jobs, so something definitely needs to be done.
"We've got a lot of room and a lot of outdoor space, including a big field, so as long as numbers are down we won't make a profit.
"We have overheads and wages to pay, so we need to trade properly."
It's hoped that with the return of recreational cricket this weekend, footfall will increase and business can return to some kind of normality.
As we went to print, further information on the procedures being put in place to make the sport safe had yet to be announced.
But the Greater Manchester Cricket League, which Denton compete in, provided the following statement: "Guidelines are already prepared for the return of recreational cricket and following the Prime Minister's comments, will now be finalised and published in the coming days.
"It's great news. We await the guidance with interest. Once reviewed we will then ask clubs if they are able to meet the conditions and how many teams they wish to enter."
Reporter Sport will bring you the latest updates, as and when they materialise.