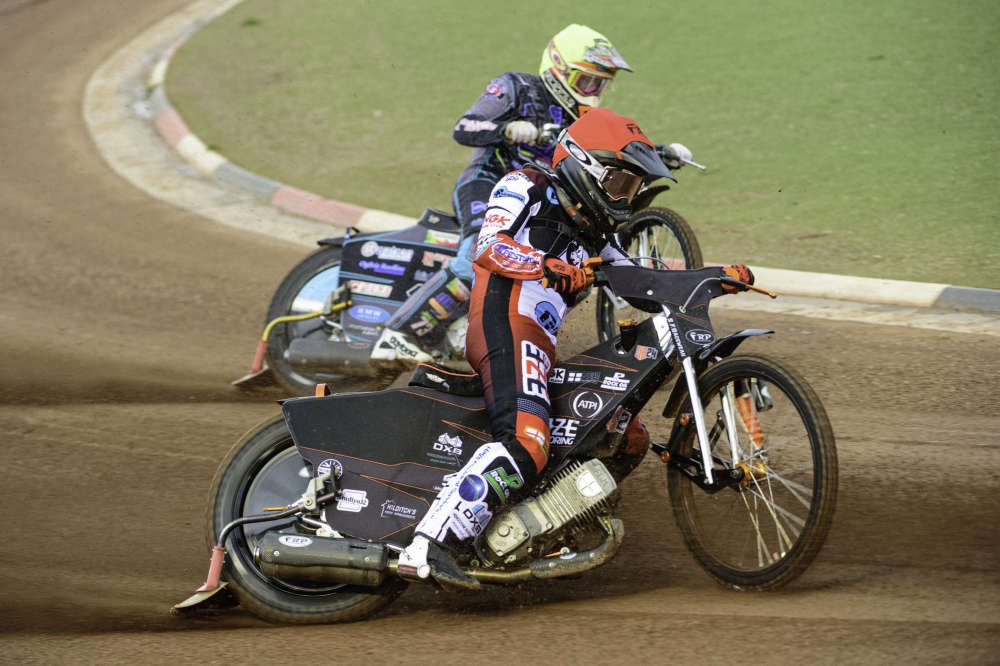 Belle Vue Colts maintained their 100 per cent home record as they sent league leaders Berwick home pointless with a 50-40 victory at the National Speedway Stadium.
The visitors went into the final race needing just to share the heat to snatch a valuable consolation league point, but home stars Jack Smith and Harry McGurk combined in a brilliant race to finish the night with a 5-1 maximum which sent the Northumberland side home empty handed.
Berwick skipper and former Belle Vue Colts Kyle Bickley went into the final heat on 11 points from a possible 12, and he led heat 15 from the gate.
But Smith, in determined mood, launched a big blast around the outside before neatly cutting back to pass Bickley up the inside as they completed the first lap.
McGurk then began his attack on Bickley, with the pair passing and re-passing before the Belle Vue teenager made it stick and pulled away.
It was Bickley who had got the Bullets off to a good start in heat 1 winning the race in a 4-2 advantage, and things looked bad for Belle Vue when Freddy Hodder was disqualified for breaking the tapes in heat 2.
But Hodder was re-introduced on a 15-metre handicap, and came through to take third place, whilst teammate Archie Freeman won the race to level the scores.
Belle Vue took the lead in heat 4, and went six points head in the sixth race when Sam McGurk produced a brilliant ride from the back to come through and join elder brother Harry in a 5-1 maximum.
The Colts looked to be heading into a 12-point lead when the younger McGurk repeated his last-to-second dash in heat 8 to join leader Freddy Hodder at the front, but there was heartbreak for Hodder as his engine went, gifting Berwick a share of the race.
That seemed to inspire the visitors as 4-2 wins in heats 10 and 11 pulled them back to within six points of the Colts.
Three further shared races, meant that the Colts had won the meeting, but set up the thrilling final race with the Bullets needing to stay within six points of the Colts to pick up a consolation league point,
Colts scorers: Harry McGurk 16+1, Jack Smith 15, Sam McGurk 8+2, Nathan Ablitt 5+1, Archie Freeman 4+1, Freddie Hodder 2.
National Development League: Belle Vue Colts 50. Berwick Bullets 40
Picture by Ian Charles