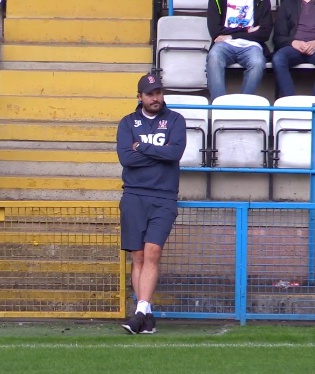 Stalybridge Celtic have the opportunity to advance in the FA Trophy and collect £2,450 in prize money this evening - but standing in their way is a tough test against South Shields.
The game was originally meant to be played on Saturday but, owing to the recent bad weather, was postponed on Friday night due to a waterlogged pitch at Bower Fold.
However the two sides will lock horns this evening in a game which has all the ingredients to be a cracker. Celtic enter the clash having claimed an impressive 2-1 victory at promotion-chasing Warrington Town in the BetVictor Premier Division, while Shields maintained their position as league leaders with a 1-1 draw against Grantham Town at Mariners Park.
Before the season began, Celtic manager Simon Haworth made the prediction that Shields, with their healthy budget and big crowds, would be challenging for promotion. And so far it seems that Graham Fenton's side are on course to do just that, with ten wins, two draws and two defeats from their opening 14 games.
One of those victories came against Celtic at the start of the month - Robert Briggs dispatching a controversial 90th minute penalty to deny Celtic a much-deserved point.
Following the victory at Warrington, Haworth spoke to Celtic's media officer Taran Dhamrait and said the pressure's off against Shields tonight.