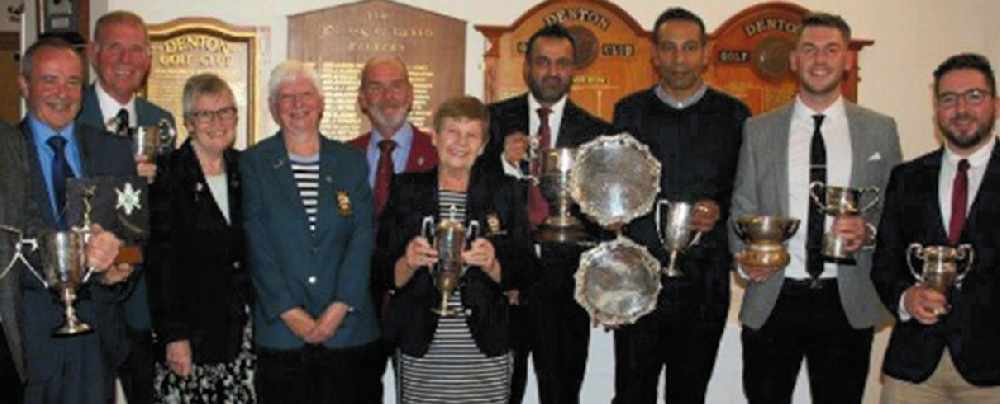 Denton Golf Club enjoyed an excellent presentation evening when the season's major trophies were handed out by their officers with several of the knockout finals having been delayed by some inclement weather in recent weeks.
Amir Nazir was one of the stars with a major double, having won the Victory Cup beating Jordon Wood in the final.
He made it a double as he partnered Mohammed Nadeen to victory in the Foursomes Knockout as they beat Graham Pollit and Bob Bardsley in the final.
The Mixed Champions were Gary Bennell and Sandra Marston who beat Dean and Sharon Murray and in the Ladies Doubles Pat Southall and Wendy Pollit beat Norma Boott and Trish Ferguson.
In the Ladies Singles Knockout, Angela Ellam was the champion and took the coveted Whittaker Bowl beating Wendy Pollit and in the Men's Vets Trophy David Hughes was the winner over Geoff Boott.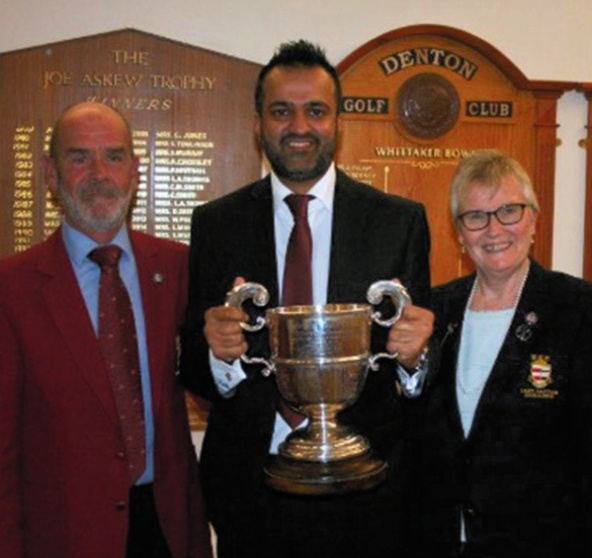 In the weekly competitions at Denton, Jim Cox led in the Wednesday Stableford with 34 points from J Hathaway 33 and M Riding 32.
A Sunday Stableford was won by A Naismith with 33 points from G Owen 32 and T Maggs 31.
A ladies 10-hole Stableford needed a cpo on 25 points to take Angela Ellam home from Sue Thompson.
l Ashton's Monday Club had Martin Easthope and soccer legend Micky Haughton leading in with 37 points and the front nine was taken by Ian Sherlock with 19 points and Peter Haq was on fire winning the back nine with 22 points.
The Sunday Stableford at Ashton had the divisions won by Andy Maher with 40 points, Neil Birchall 40 and Steven Hart 35.
l A pros' competition at Crompton and Royton had division one won by J Bottomley-Clift with 33 points from J Borthwick 31.
In division two, C King led in with 31 points, one more than C Kumeta.
l Ashton ladies enjoyed a Team of Three Shalough and top of the shop with 57 points were Kath Watson, G Trow and D Williams, one more than the powerful trio of Sarah Pownell, Sue Barlow and Lady Captain Christine Bennett.
l Brookdale's men played for the Millennium Trophy and in a tense and tight finish, Paul Goulden posted 37 points, one more than Paul Fox, Brian Storey and Michael Mulcahy.
l Ladies Knockout finals at Saddleworth saw the Committee Cup won by Cheryl Eastwood, who beat Louise Hinchliffe in the final.
The Marion Cunningham Ladies Doubles' title was won by Maxine Parfitt and Lady Captain Barbara Shuttleworth who beat Kay Orme, who put up a great fight having to play on her own as her partner Deborah Cockburn was unavailable due to a broken leg.
The Mixed KO champions are David Chapman and Linda Kenworthy who beat John and Kath Lacey.
l It was a close contest in a Mixed Open Turkey Shoot at Stamford with the biggest birds being won by Chris Exton and B Thomas with 45 points.
There were four pairs just a point off the pace and S and A Hamer won the cpo from R Bardsley and M Smith, N Rabbeth and W Morris and M Hewitt and P Rodgers.
l After some morning mist High Legh Park Golf Club emerged to provide a rare sunny day, a well-presented course with excellent greens and the usual superb clubhouse services to inspire some great golf from another full field for the Manchester and District Golf Alliance..
It was certainly a day for Davenport pro Scott Howarth to remember as he enjoyed a great double win.
In the individual pro section he joined Lymm's assistant pro Graham Cox on top spot with 40 points, one ahead of Alliance Order of Merit leaders Phil Archer (Poulton Park) and Andy Palmer (Chorley).
It was also close in the pro am section with Scott Howarth finding a very useful partner in Chris Alexander (Mellor and Townscliffe) to post a top score of 47 points leaving them clear of Graham Cox and Doug Main (Lymm) 46and Andy Palmer and Vinny Doyle (Blackley) 45.
In the am am section, Ellesmere's Brian Hindle showed where his son Steve (Marriott Worsley Park) had got his golfing genes and inspiration from as he partnered club colleague Dave Scott to 47 points to win the am am section.
Next in on 46 were Stand's dynamic duo of Norman Haslam and Gary Greenhalgh, three more than Sale's Cheshire Senior County star Mobi Rawthore and his Cheshire junior star partner Adam Carr.
Alliance President Ian Brooks and Captain Steve Finan thanked High Legh Park for their superb hosting of the event and HLP's proud Captain Brian Allatt responded on behalf of the club.
By Geoff Garnett