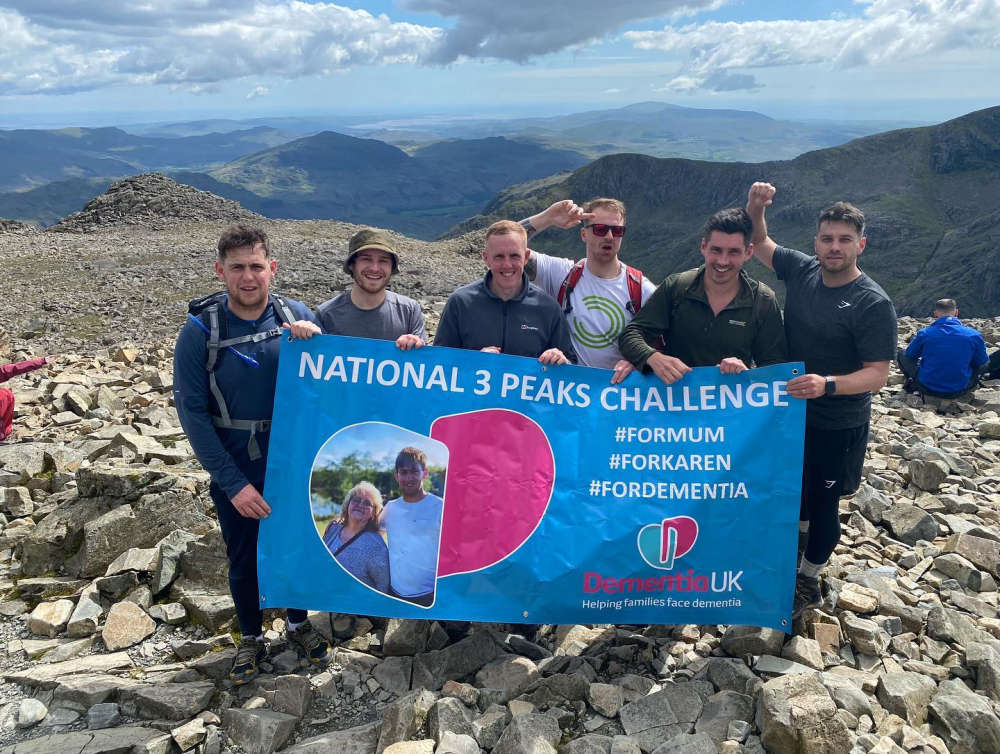 A primary school teacher from Ashton says he's overwhelmed by the support shown from family, friends, colleagues, and the wider community after completing an epic feat to raise funds for a cause close to his heart.
Ben Richardson, who teaches at Canon Burrows Church of England Primary School, completed the National Three Peaks Challenge at the end of May, alongside six of his friends, to raise vital funds for Dementia UK - a disease his mother, Karen, was diagnosed with in October 2020.
The challenge, which involves climbing the three highest peaks of Scotland, England and Wales - Snowdon, Scafell Pike and Ben Nevis - was described by Ben as one of the hardest things he's ever done, however the former Mossley AFC and Glossop North End defender managed to complete the feat with just 36 minutes to spare, after touching base following a 23 hour and 24 minute expedition.
Although the challenge was gruesome, Ben says the pain was worth it and is over the moon with the response and donations on his Justgiving page.
The initial target of £1,000 has been smashed, with current donations now totalling an incredible £2,680.
Such has been the response to the group's efforts, Justgiving notified Ben that the fundraiser was one of the most successful last month and even classed in the top five per cent.
Speaking to Report Sport following the challenge, Ben said: "It's probably the hardest thing I've ever done, just in terms of how relentless it was and the lack of sleep I had.
"I got a bit emotional coming down Scafell thinking we wouldn't complete it, especially with the amount of sponsorships that we had beforehand and during the challenge itself.
"We were posting updates on social media and the donations were flying in, so that spurred us on to complete it.
"One of the lads struggled as we were going up because he started to become a little bit dizzy with the altitude change and he couldn't shake it off. But we all dug deep and helped each other out, and we're buzzing to have completed it for a great charity which is close to my heart."
At times last season, Ben struggled to commit to Mossley due to personal reasons, and despite leaving the club recently he has thanked the Lilywhites for their support. He said: "I'd like to thank Mossley because they were great with me last season, especially during hard times when I couldn't play due to personal circumstances. At the moment I won't be playing football in the near future as I have bigger priorities, however there's still life in the old dog and so I won't rule it out."
You can donate to Ben's cause via the following link: https://www.justgiving.com/fundraising/ben-richardson16