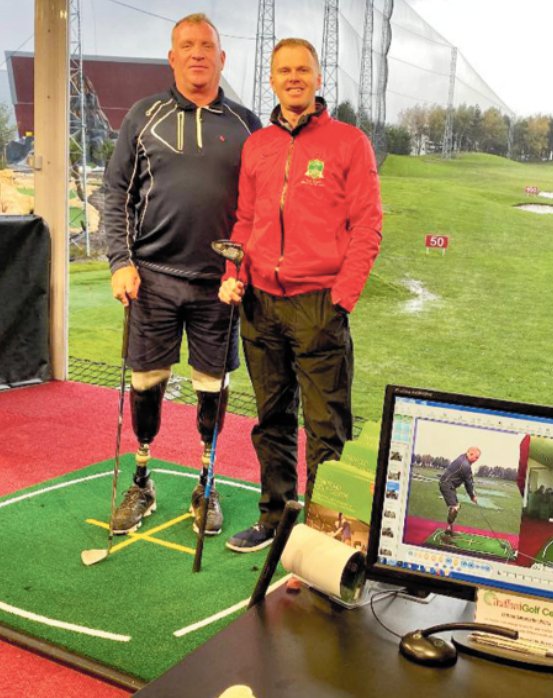 The Academy at Trafford Golf Centre has partnered with Battle Back Golf, a programme which utilises golf to enhance the recovery of wounded, injured and sick service personnel, to offer life-changing coaching.
Each of the eight PGA golf professionals at The Academy have offered six one-hour sessions to eight injured service personnel linked to Battle Back Golf which is closely connected to past Invictus Games captain, Bernie Broad, a member at Ashton-under-Lyne Golf Club.
Now the UK's busiest driving range, Trafford Golf Centre is also providing £100 of ball credit to each participant to facilitate the winter coaching programme, which will conclude with a springtime Ryder Cup style competition, due to be held at Worsley Park Marriott Hotel and Country Club, between the coaches and the pupils.
Pete Styles, director of golf at Trafford Golf Centre, said: "Bernie Broad, Vice Chairman of Battle Back Golf, has long been a friend of Trafford Golf Centre and it's been my desire to work together to create an opportunity for injured veterans.
"Battle Back is a fantastic charitable organisation supporting some incredible men and women and we're proud to be a small part of the rehabilitation journey."
The feedback from both the golf coaches and veterans has so far been incredibly positive with both sides claiming the sessions have been very educational and rewarding.
Bernie Broad said: "Trafford Golf Centre is heaven for any golfer.
"The facilities, high standards and technology available really focus the mind to play and enjoy the sport of golf.
"The intent of the Battle Back golfer is to improve their game and beat the amazing coaches next year at Worsley Park Marriott.
"We are as competitive as ever and so grateful for the opportunity. We hope the golfers enjoy it."
Pete added: "Watch this space for more updates on our social media channels tracking the progress of the golfers during the winter coaching programme and, of course, the result of the big match in April."
l There was plenty of Winter League action at Saddleworth with a BB Stableford being won by B Lawton and S Lowe with 49 points, two more than B and G Simpson, J Bradbury and N Hughes and I and D Charnock.
An American Foursomes Winter League needed a cpo on 61 to see P Sheerin and W Mundy home from Nick Marner and D Chapman, with J Howarth and A Milnes and A Dorrington and N Mills a point off the pace.
The Tuesday Winter League was won by Nick Evans with 39 points from Neil Mooney who won a cpo on 38 from Carl Davidson.
l A team Stableford at Crompton and Royton had the fab four of M Carter, G Boyle, M Whitehead and A Fletcher on top with 90 points from R Ashworth, D Capper, S Sharrock and M Sinfield who won a cpo on 89 from S Blainey, JP Booth, D Harrison and N Martin.
A Tuesday Stableford at C and R was won by B Davies with 34 points, one more than John Truelove.
l The final Turkey competition at Saddleworth was won by Nick Edwards and Charlie Nicholson who won a BB Bogey on plus-11 after a cpo with I and D Charnock with Graham Hall and Gary Chadderton next in on plus-10.
l Wednesday Stableford action at Denton saw P Griffin lead in with 35 points from N Coburn 33 and P Talks 32.
A Texas Scramble at Denton was won by M Alexander and A Worswick with 52 from B Waterfall and C Hardy who won a cpo on 52.7 from G Overend and Terry Pottage.
l A BB Stableford at Ashton was won by C Qualters and M Beard with 41 points from S Lee and G Garside and N and P Sidebotham, both 39.
In a Sunday Stableford at Ashton the three divisions were led in by Neil Pragnall 39 points, Paul Harrison 41 and Nicholas Clayton after a cpo on 40 with Joshua Moores.
The Tuesday Stableford at Ashton had division one topped by Michael Longworth after a cpo with John Rice, one more than the unlucky Antony Lambert.
In division two, Henry McSorley was the main man with 43 points from Mike Cooke 42 and Barrie Peters 37.
l In the latest Race to the Start at Brookdale, Thomas Barlow posted a huge haul of 47 points to finish ahead of Mick Scrivens and James Linehan, both 44 and Stuart Naismith 42.
l It was close in a Winter League Stableford at Stamford with Wayne Morris winning a cpo on 42 points from Gregg Schofield, one more than Duncan Hough and David Rawlinson.
l The draws have been made for the preliminary rounds of the Manchester and District Alliance Inter Club team knock outs which will conclude on the various finals days in September and October.
The top one is the blue riband Dunham Forest Trophy which features the club professional and the top six amateurs playing for their clubs and has nearly 100 clubs in the mix.
The current champions are Nelson, who won the coveted trophy for the first time in 2019 beating Denton in the final.
They are straight into action with a tough home draw against Wychwood Park.
Our local teams also in preliminary round action are: Manchester v Ashton-under-Lyne, Stamford v Warrington, Leigh v Fairfield, Alderley Edge v Brookdale, Vale Royal Abbey v New Mills, Crompton and Royton v Withington, Chorlton v Blackley, Heyrose v Saddleworth, Knutsford v Werneth Low.
Getting through to round two with byes are: Denton, Dukinfield, Glossop, and Werneth
In the City Glass Men's Foursomes, which features seven pairs of varying handicaps, the final will be at holders Walmersley who begin their defence of the trophy at Disley.
The other local clubs in the preliminary round are: Stamford v Houghwood, Regent Park v Crompton and Royton, Bramhall v Fairfield, Davenport v Werneth Low, Westhoughton v Saddleworth, Eaton v Blackley, Lowes Park v Denton.
Through with byes are: Ashton-under-Lyne, Brookdale, Dukinfield, Oldham, Werneth and New Mills.
Geoff Garnett