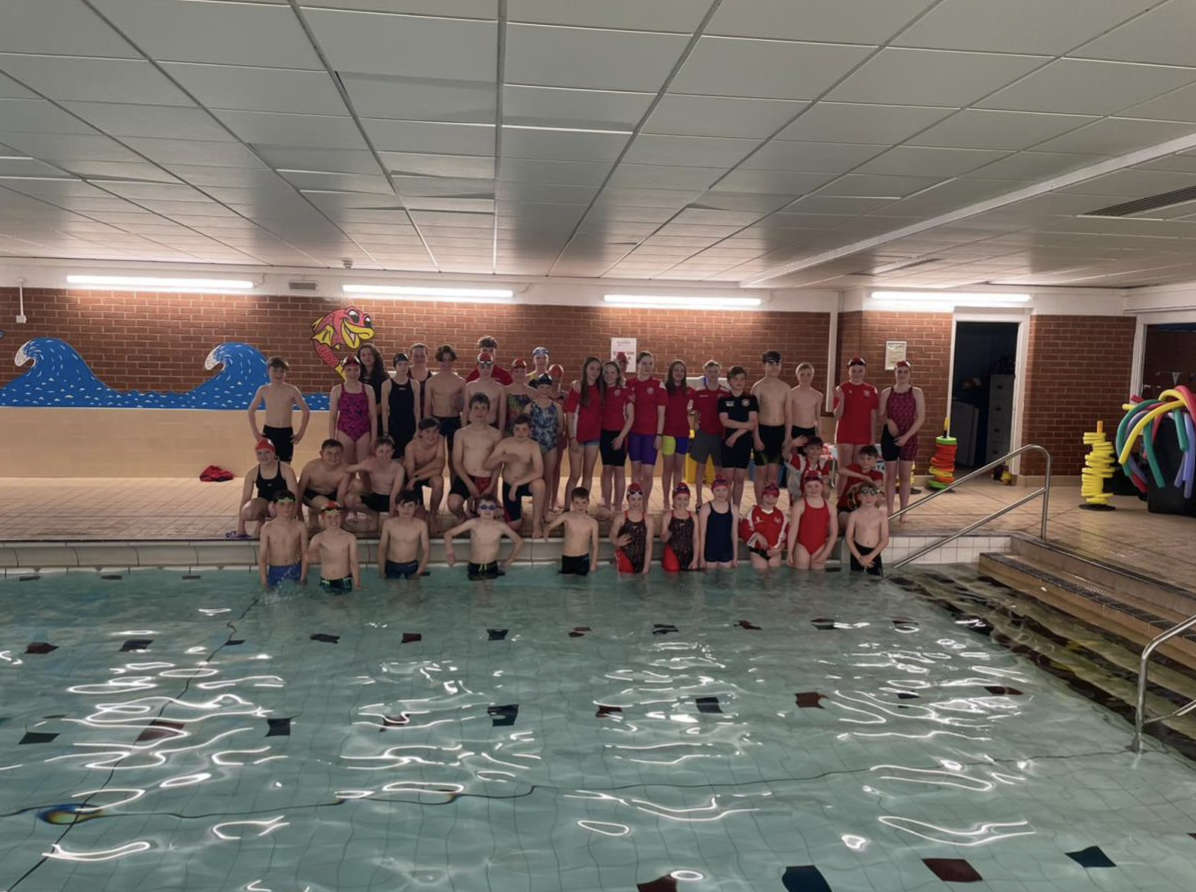 Ashton-u-Lyne Swimming Club held its first team gala for over 2 years last week, welcoming Radcliffe in the new look Junior League.
With the league being suspended for 2 years, this was an eagerly anticipated return to competition for the Club and excitement amongst the swimmers was high. For this gala, swimmers aged between 9 and 13 years old were representing the Club, over a number of individual and relay races.
Out of a total of 25 swimmers an amazing number of 14 were swimming for the Club for the very first time – an unprecedented number of debutants!
First to race were Scarlett Lyne and Bobby Robson in the 10 and under's 25m Backstroke. Neither had swam for the team before but had earned their places with months of solid training. It was an excellent start for Bobby who got the first of his 4 wins on the night, whilst the slightly quicker Scarlett was narrowly edged out against the strong Radcliffe swimmer.
Jake Greenwood was another debutant who won his first ever race as were Joshua Rowbottom and Lucas McDermott. Amy Chaularton and Joel Nadin both recorded personal best times in 12 and 13 under races, whilst in those same races, Amy Leigh Shepley and Noah Blemmings secured personal best's and wins too.
The first relay races were up next and whilst they did not yield any wins, it was brilliant to see so many newcomers enjoying the opportunity. In the Boys 11 and under relay all 4 swimmers were competing for the very first time, so well done to Alex Birch, Seb Cornwell, Jaxson Rowbottom and Joshua Towell.
Scarlett Fagan and Iona Ellis recorded excellent personal best times in 50m Freestyle and Backstroke races and next up the first double win came from Scarlett Lyne and Bobby Robson in the 25m Breaststroke.
The Girls 13 and under relay came soon after and it was the turn of Olivia Hunt to compete under Ashton colours for the first time. There is no doubt that this would be the first of many races for the Club over the years to come.
In the corresponding Boys relay, Owen Coulthard and Archie Bennett both won their first of 2 race wins and were therefore undefeated on the night.
Newcomer Miah Hopwood swam an excellent 25m Butterfly next up in what was the first of her 3 races wins and this was followed by a brilliant 50m Freestyle win from Olivia Jones.
Elliot Singleton and Elizabeth Hogg could not be separated as they raced over 50m Breaststroke, but it was Elliot who secured the win against his competition from Radcliffe Boys. And straight after were wins and personal bests from Amy Leigh Shepley and Ben Robson over 50m Butterfly.
Having only joined the Club a week ago, Summer Poulter could not have envisaged that she would be racing – and winning – a superb 50m Backstroke race in what was the final individual race of the night before the relays to finish.
Isabella Leyden swam a rapid 25m anchor leg in the Girls 13 and under relay but unfortunately could not overhaul the competition. There then followed 3 relay wins in a row as Ashton took the lead of the Gala for the first time in a brilliant finale.
The honour of finishing the gala with a win came from Joel Nadin which capped off an excellent night for the Club. The final score was Ashton 63 and Radcliffe 57 with Bobby Robson and Amy Leigh Shepley each scoring 4 wins a piece. Along with Amy, Noah Blemmings was most improved with 3 personal best times and Amy was unanimously noted the first Swimmer of the Match since March 2020!