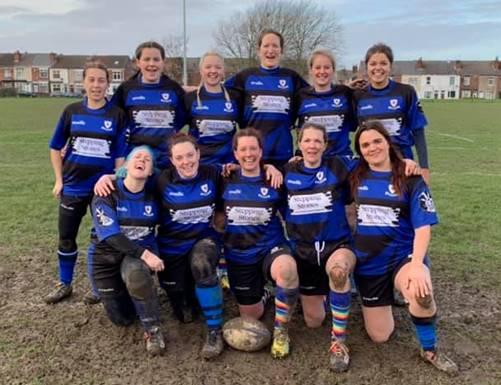 Rotherham Ladies 0 v 57 Glossop Amazones
The Amazones travelled from a damp and gloomy Glossop across the Pennines into a surprisingly sunny and barmy Rotherham for an afternoon of competitive rugby. Amazones second meeting of the season with the Rotherham Ladies and the first match was a close affair so expectations were high of another tough match.
As it's a development league the ladies compete in, making games happen is the key no matter what the numbers. Both Rotherham and Glossop were low so they ended up playing 9 aside on a reduced width pitch. The main point being that it's only in a match that you get to learn and get the experience you need to improve.
Rotherham kicked off and the Amazones were off on the front foot, gathering the ball and heading straight down the middle of the pitch. Rotherham stood strong and made some great tackles and put in some great rucks, the ball was turned over and pressure was back on the Amazones who responded like for like, the ball changed hands a couple more times before the Amazones got hold and made a break from some good forward play breaking the gain line, the ball went wide into the hands of the fall back Fiona who side stepped a couple of players and sprinted to the line for the first of her 4 try's. Conversion was missed but Glossop lead 5-0.
The first half saw lots of competitive play from both sides with good ground being made both ways but the hard work from the Amazones paid off and Fiona got two more try's before half time with debutant Robyn converting one of them. Half Time Rotherham 0 v 17 Amazones
The second half kicked off with great pressure from the Amazones forwards, Clare (coaches player of the match) making her presence felt everywhere she went and supported by the whole team. It wasn't long before Robyn was through off the back of some great passing by Fiona and opened her own account of scoring (four try's in total) which she also converted. Fiona got her fourth try and Caroline also added to the scoring again converted by Robyn.
Final score Rotherham 0 v 57 Glossop Amazones
The score again did not fully justify the efforts put in by both teams, Rotherham played extremely well but just could not get the breaks and when they did, the Amazones were just too strong for them. All the Amazones played very well and showed great team work. Well done Ladies.
Amazones Team: Katie Haley, Clare Taylor, Liz Collier, Lucie Turner, Jess Harbut, Hannah James, Caroline Thornhill, Robyn McLaren, Fiona Armstrong (capt) Subs: Amy Morgan (debutant) Phoebe Campbell (debutant) Jess Bedford
Try/point scorers: Fiona Armstrong x 4, Robyn Mclaren x 4, Caroline Thornhill x 1 and Robyn McLaren x 6 conversions
Player of the match: Robyn McLaren.