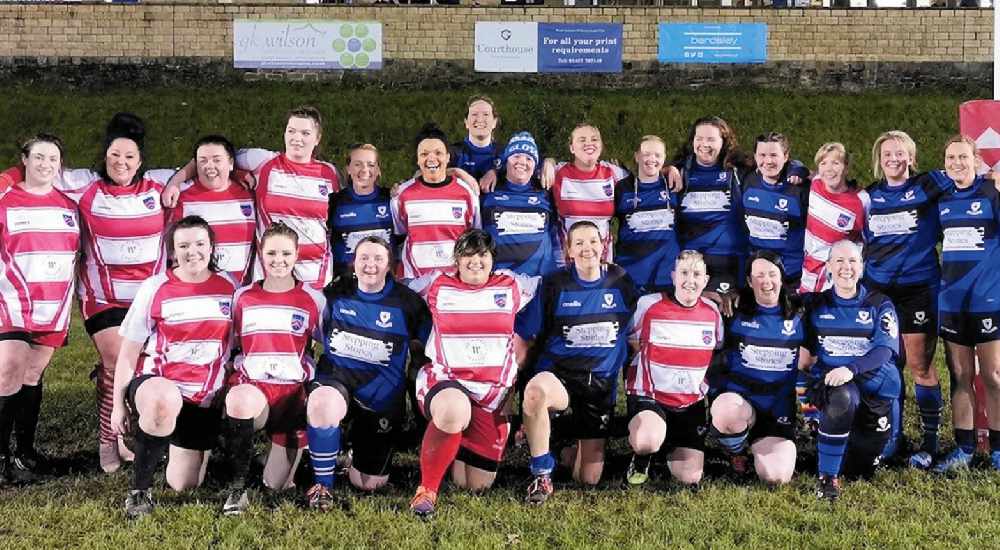 Glossop Amazones 15-80 Wirral Warriors
A friendly home fixture took place on Sunday afternoon under floodlights on the hill.
Amazones started strong with some great driving runs and support play, only to hold up on the line three times in a row. The ball was then knocked forward in play - one of the Wirral girls gathered and got it out quickly and their speedy winger made a near perfect 90 metre dash for the Amazones' try line to get their scoring underway.
Amazones kicked off again and pressed hard only to be undone again by a turn over ball and some quick footwork from the Wirral Warriors, unfortunately this was not the only time and within the first 20 minutes Wirral went ahead 26-0.
Perseverance paid off for the home side with Lucie Turner picking up from the back of the ruck and making a shoulder down rush for the line and with a little driving help from number nine Jen Neary, the Amazones were on the score board. The conversion was missed but the score was now at 26-5 and a glimmer of hope was there for a revival.
Unfortunately the Wirral Warriors had other plans and their hard work and speedy wingers soon got two more converted tries before the half- time whistle to make it 40-5.
The Amazones regrouped and substitutions were made. Wirral kicked off and with a lucky bounce and a bit of miscommunication by the Amazones, Wirral scored an unconverted try, 45-5.
The Amazones were not beaten and were determined to keep on. Good driving mauls, rucks and a great kick by Katie Haley saw Caroline Thornhill charge down the field to gather the ball and fend off a couple of dogged Wirrral defenders for the Amazones second of the match, again unconverted, to make it 45-10.
After that things just went the Wirral way, the Amazones struggled to hold a good defensive line, even with some hard fought metres gained and the Wirral ladies punched through on five more occasions converting all of them to make it 80-10.
With a never say die attitude, the Amazones dug in deep and were determined to leave the pitch on a high note. They produced some great driving forward play and then some nifty off-loading saw a couple of the ladies break through a final pass to Sarah Hyde and she skipped her way past two defenders and over the line for the final score of the match, a valiant effort by Katie Haley to convert it but alas it fell just short to make a final score of 80-15.
The Amazones held their heads high and performed well on the day. There are things to work on but they now looking forward to their next match in Leeds on December 8 where they hope to build on this performance and make the next score-line a lot closer.
Amazones: Jen Walton, Laura Edwards, Liz Collier, Lucie Turner, Emily Carter, Jen Neary, Katie Haley, Megan Pierce, Caroline Thornhill, Jess Harbut (C). Subs: Alex Gradwell Spencer, Sarah Hyde, Clare Taylor.
Try scorers: Lucie Turner, Caroline Thornhill, Sarah Hyde.
Amazones' player of the match: Katie Haley.
By James Tole