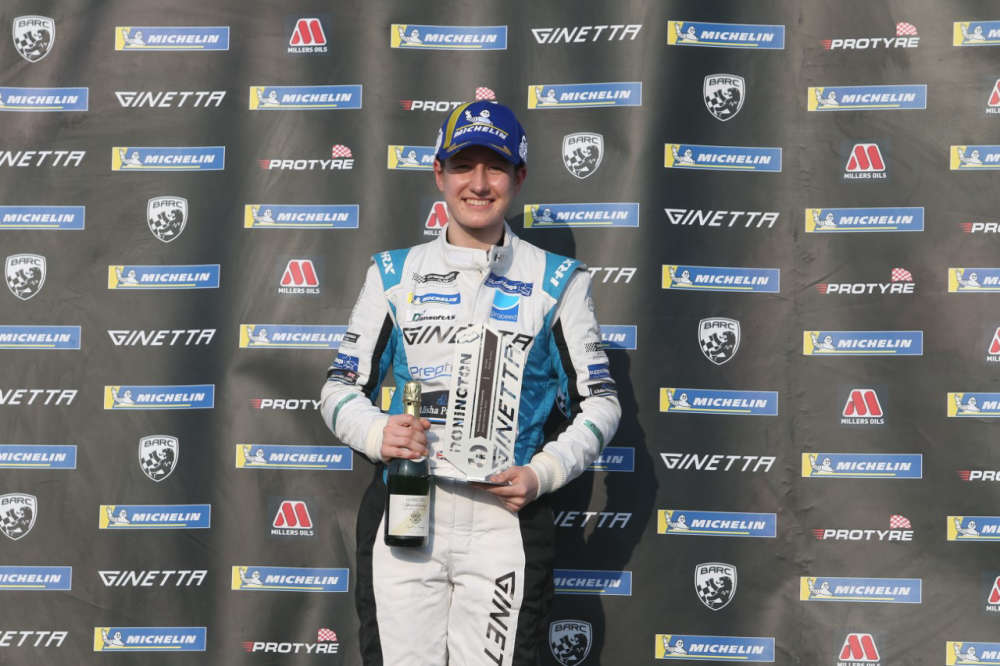 Rookie podium for Alisha! Image by Jakob Ebrey Photography.
Talented motorsport racer Alisha Palmowski has started her engine for the 2022 season after completing her first race in the Ginetta Junior Championship.
It's lights out and away she goes for young Glossop racer Alisha who has taken the huge step into the highest level of junior motorsport in the UK. Working incredibly hard throughout the 2021 season, she was awarded the Ginetta Junior Scholarship, earning her place on the Championship grid.
"To win that was an absolute dream come true and something that we never really expected to be possible.
"Being on the grid truly is unbelievable and I'm still over the moon to have won the scholarship," she says.
Heading into the first weekend of the season at Donington Park, the 15-year-old had no expectations for results and was keen to head into the race with the mentality of keeping it clean and learning to progress.
"We had a lot of highs and lows throughout the weekend. Race one and three we were making good progress and I was involved in a good battle between four or five cars in both races.
"Unfortunately, in both I got tagged at turn 1 from the rear, which in race one resulted in me spinning and dropping to the back of the grid.
"However, race 2 was amazing. I started in 17th after a poor qualifying but managed to fight through the pack and have a good race. I got through to 8th which meant that I finished as third place rookie and got a podium on my first weekend.
"This totally exceeded my expectations and it's a great confidence boost ahead of round two," she said.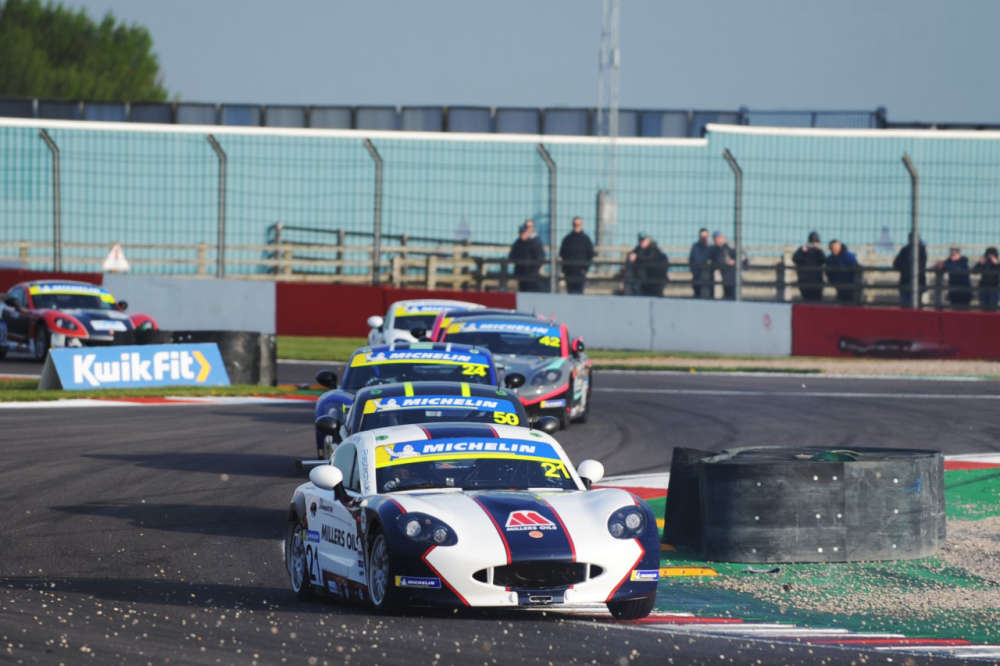 Image by Jakob Ebrey Photography.
As well as being an incredibly talented athlete, Alisha has proven to have an immeasurable amount of determination. Unlike other sports, motorsport is not something you can go outside and 'have a go at' and so you must ensure you are highly committed to be successful.
For Alisha, this means taking part in a lot of pre-season testing, during which she has been able to test out the tracks and become more confident in her car. She has also been gifted a simulator by Chequered Flag Motorsport, a system that allows her to learn tracks ahead of going to them.
"I'm so thankful for my sponsors, Proceed Group and Dansoft Aviation Services as none of the pre-season testing would've been possible without them.
"We're really pleased to have them on board as partners. They were both at Donington Park supporting me during the race, so it was amazing to see them both and I'm so appreciative of their support."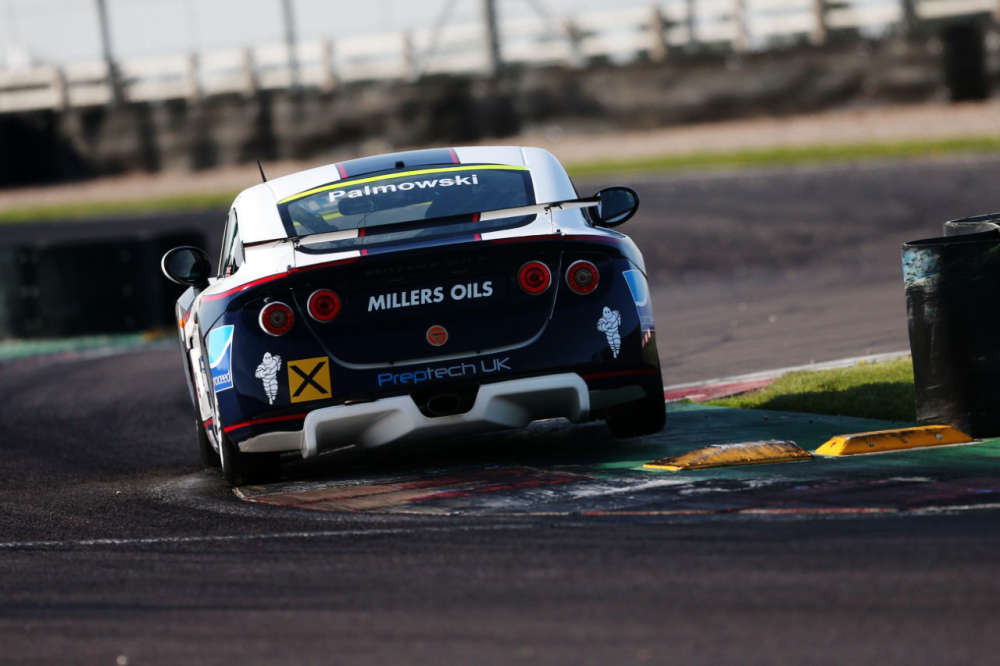 Image by Jakob Ebrey Photography.
Away from the track, Alisha tries her hardest to increase her physical training and keeping her fitness levels as best as they can be in the hopes to gain an advantage over her rivals.
The 2022 Ginetta Junior Championship is a support series alongside the prestigious British Touring Car Championship, meaning the paddock is filled with fans and drivers galore.
Coverage of the race was also provided by ITV4, an incredible opportunity during which Alisha was able to have an on-board camera.
"I had a lot of airtime which was an amazing experience and I felt so privileged to have been asked to have the on-board camera.
"I was a bit overwhelmed with the crowds at first, but it was great to be amongst the environment of the British Touring Car paddock," Alisha said.
Making her car debut this season, the St. Philip Howard student is hoping to gain a plethora of experience this year and build up the additional mileage.
As a student as well as an athlete, Alisha juggles these double lives, but says the support from her school is crucial.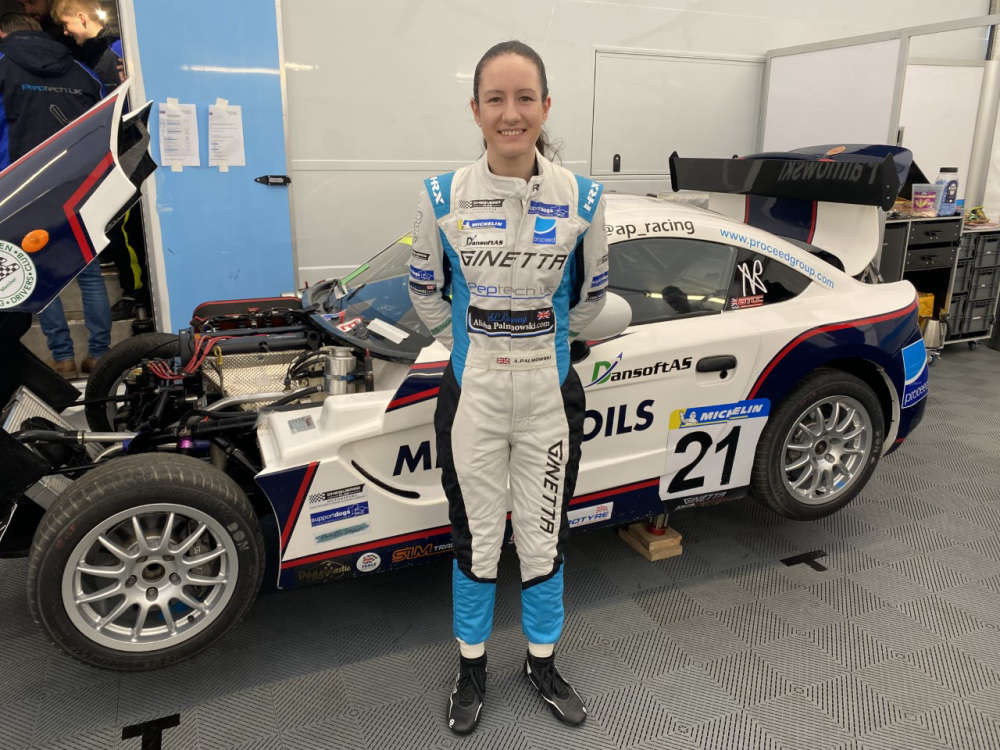 Image by Jakob Ebrey Photography.
"My school are so supportive of me, they allow me to have the time off that I need for my sport and also help me to catch back up when I am away.
"Motorsport is a huge commitment, and they understand this. It can be difficult to manage school work alongside of my sport but I'm doing well at the moment," she explains.
Alisha is guaranteed a successful and plentiful career within motorsport, potentially following in the steps of 2013 Ginetta Scholarship winner and then W-Series winner Jamie Chadwick.
She continues to apply all of her efforts to bettering herself and will hopefully be earning many more rookie podiums as the season progresses.
Want more local sport stories?
Head to https://www.questmedianetwork.co.uk/news/sport/ to see more of our coverage - from community and non-league football to local and county cricket, boxing, athletics, basketball, Esports and golf.