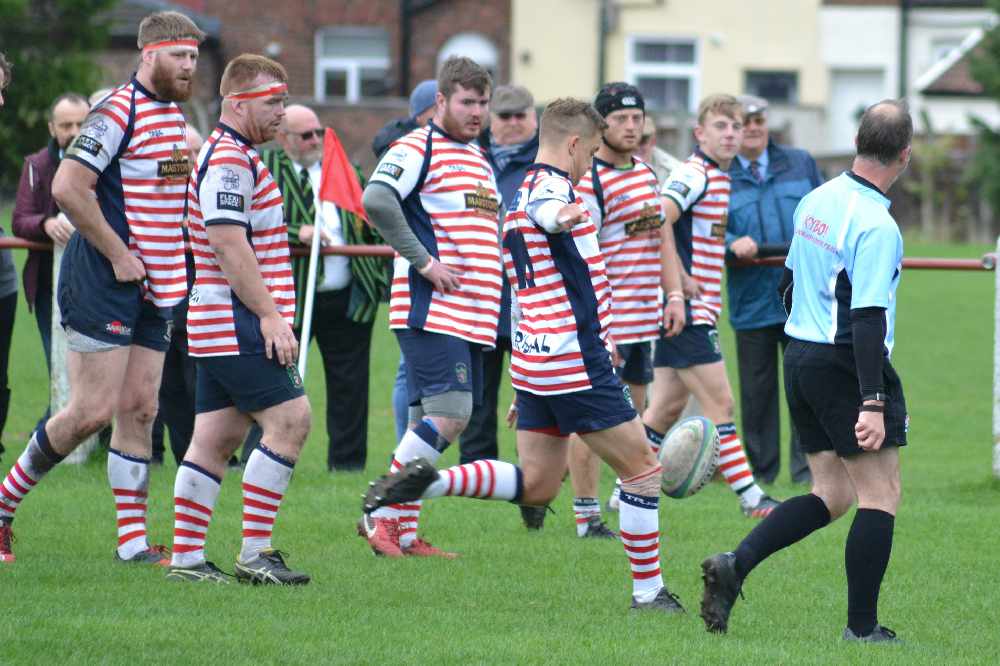 ADM Premier Division: Aldwinians 50-7 Heaton Moor
What a difference a week makes! There's plenty to shout about as Aldwinians accelerated away from their opponents with an eight-try haul.
It was difficult to foresee this result after an inauspicious start to the new season. However, there were some positive signs at Liverpool St Helens last week that gave rise to the quote that 'Aldwinians will take heart from their ability to get back into and stay in the game and earn themselves a winning opportunity'.
It was better than that - they dominated the match from the kick-off and had earned their right to the win by half-time with four tries to secure a bonus point at 24-7. Then they kicked on from there in the second half with four further tries, denying Heaton Moor any further points.
This was a team effort, led from the front by prop and captain Connor Prendergast. At the first scrum to Moor in the opening minutes, their pack were put under pressure and lost the put in, leaving Aldwinians scrum-half Dan Martin to pick up and race away and set up an attacking position, which resulted in the first try on six minutes by Prendergast from a rolling maul, with Martin converting.
Moor were not getting a look in and the Aldwinians backline were thriving in the spaces with ball in hand. Stand-off Alex Hughes was next to benefit from Martin's quick thinking and running, as Moor lost their first line out. He accelerated away into midfield over halfway and then linked with his fellow backs for Hughes to score. Adding the conversion again, the home side were 14-0 ahead on 12 minutes.
It wasn't all one-way traffic by any means, and deficiencies in back alignment and tackling height will no doubt be worked on by the coaches in mid-week training.
Some poor tackling and a dogleg defence allowed Moor the opportunity to reach the line twice - the last line of defence held initially but the visitors forced their way over on 18 minutes to reduce the deficit to 14-7.
A lull in the proceedings settled on the game for a time, but the departure of second row Andrew Ormrod to the sin-bin for 10 minutes livened things up again. However, it wasn't Moor who came out all guns blazing to benefit from the extra man, it was the Aldwinians pack.
Back-row Mike Moreland snapped up a loose ball and then earned a penalty which Alex Hughes sent into touch inside Moors' 22 area. The pressure was back on with a sequence of drives from no.8 Matt Baker and second row Harry Catlow, taking play across the Moors' 22 in a number of rucks and mauls.
Supported by fellow back row James Summerscales, it was left for Moreland to finish what he started minutes earlier to go over for the third try on 32 minutes. From the restart, and to cap off a great performance in this half, scrum half Martin showed his pace again and broke away to touch down a well-earned try on 35 minutes to end the scoring for the half.
Not sitting back on their lead, it was refreshing to see the Aldwinians players compete just as hard and as direct in the second half. When full back Tom Hughes went on a dynamic run through the Moor defence to score a solo try on 46 minutes, it seemed to have the effect of draining the resistance away from their opponents.
With the pack having done the hard work up front and in the rucks and mauls, the way was opened up for the three quarters to reap the try rewards.
Further tries came on 57 minutes from centre Callum Mcmahon, a second try for Alex Hughes who again showed great pace; and finally from wing Wade Martin on 75 minutes who picked the ball up on halfway and rocketed downfield unchallenged to bring up the 50-point haul.
The short trip to the Sale area to play Trafford MV in this weekend's league game should produce a good following of spectators. Kick-off on Saturday is at 3pm.