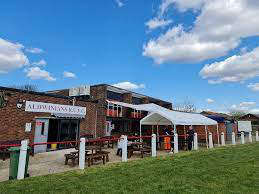 Aldwinians RUFC is celebrating a £11,484.00 funding boost from SUEZ Communities Trust for their Community Clubhouse Renovation project.
The club, whose first team competes in the ADM Premier Division, has a vision to be a community hub as well as a place of sport. It wishes to attract new community users to the clubhouse which under normal circumstances has welcomed groups such as a pensioners' group called Time of Your Life, local sports teams, Community Pay Back Team and schools. The amenity is also available for hire. Funding will allow the club to replace aging doors and windows which will make the clubhouse more attractive to potential users, increase comfort levels and energy efficiency.
Ryan Jennings, who is leading the project said: "The funding from Suez has really helped to put the final touches to our refurbishment of the club house. With the use of several other grants, government loans and the generosity of our members we have totally refurbished the function room, the members lounge and now the entrance space. This is on top of fixing the club house roof, and replacing all the windows in the function room back in February 2021. We have lots of other projects in the pipeline, and this is the first project of many. I would like to put on record our thanks to Suez for providing this much needed boost to enable us to provide our members and guests the most comfortable of experiences for when they visit the club".
Marek Gordon, Chairman of SUEZ Communities Trust added "SUEZ Communities Trust provides funding awards through the Landfill Communities Fund. We were delighted to be able to offer funding to Aldwinians RUFC."