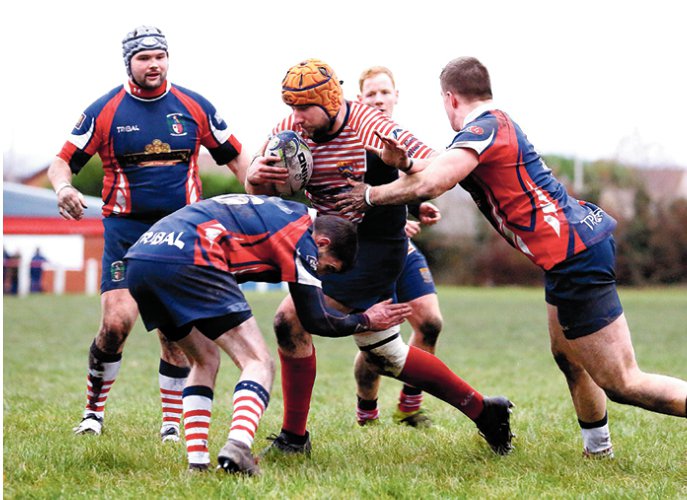 ADM Premier Division: Aldwinians 19-12 Oldham
After a first quarter absorbing constant pressure, Aldwinians steadily developed their game plan and took a half-time lead that they were able to hold on to.
Oldham had only lost one game from six this season and went into this local derby at Audenshaw Park two league points ahead of the home side, who had played two more games.
With the statistics in their favour, Oldham proceeded to subject Aldwinians to a barrage of attacking play that had them on the back foot and defending constantly.
In fact it took Aldwinians 22 minutes to develop any play outside their own half.
During this initial period, the home side had difficulties with line out throws and three-quarter alignment, the latter allowing Oldham in for a try after 10 minutes.
Fortunately for Aldwinians, the visitors wasted opportunities to go further ahead and good work by the pack led by captain Connor Prendergast closed down the forward drives.
The reward was to receive a penalty award on 25 minutes that Dan Martin sent over, but Oldham still seemed to be offered too many opportunities to mount an attack.
This time it came from a failed penalty clearance to touch that they ran back strongly towards the home 22 line.
Stopped in their tracks by the forwards again, the ball was passed out under pressure, only to be intercepted by the alert and pacy winger, Mitch Dempsey, who raced away a full 80 metres to touch down under the posts.
Again converted by Martin, Aldwinians took a surprise lead of 10-5 on 35 minutes.
Stunned by the reverse, Oldham were then confronted by another strong Aldwinians attack that took play 45 metres into their half.
Whilst the drive wasn't capitalised upon with a try, a penalty resulted and three more points were secured.
Now on a roll and with only a couple of minutes of the half remaining, the Oldham line had become a magnet for the home side.
Led by second row Harry Catlow and Prendergast, the back row of Marrow, Tootill and Ross marauded downfield, forcing the Oldham defence into another error that conceded another penalty – meaning the score was 16-5 at half time.
Since the 22nd minute, the game had gone steadliy sour on Oldham, and it showed in a breakdown of their discipline and coordinated play in the second half.
Two yellow cards and a red card during the second 40 minutes was testament to that.
Aldwinians started off brightly, with full-back Tom Hughes showing his running skills, and some neat chip kicking by Wade Martin.
The Oldham defence was tight. They rallied back into the home half but then a trademark burst of speed by Tootill from a quickly-taken penalty led to driving mauls, putting Oldham on the defensive again.
The play did become messy and disjointed for a spell as the match moved into the last quarter.
It was a frustrated Oldham that managed to get their act together for long enough to mount an attack to earn a scrum 15 metres out and show their ability with a well-taken try on 32 minutes.
The conversion narrowed Aldwinians' lead to 16-12 with eight nervous minutes left.
It was Aldwinians that had to absorb play from the restart.
They were successful and managed to develop a move down to the Oldham 22 line, where Oldham conceded another penalty on 79 minutes.
Martin made sure with the kick and a hard-earned victory had been achieved.
This Saturday, the first team travel to Didsbury Toc H for the last league game before the two-week festive break, with kick-off at 2.15pm.
By Trevor Hulmes