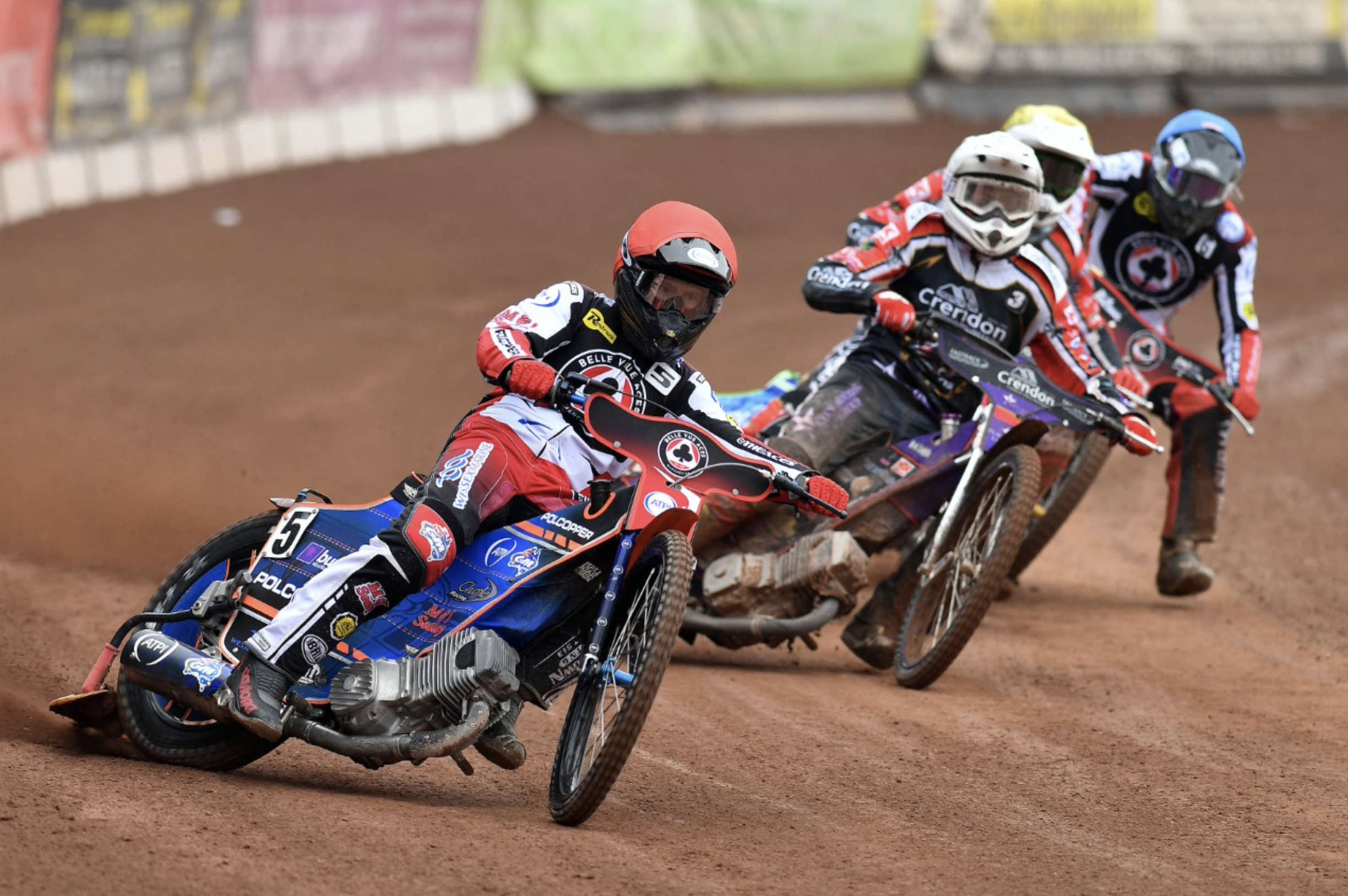 A vital 5-1 in Heat 15 from Brady Kurtz and Matej Žagar was enough to clinch the Belle Vue 'ATPI' Aces a consolation league point at Ipswich's Foxhall Stadium on Thursday [May 5] night. 
The evening was not without its challenges as the TruMix Witches set out to collect their first Premiership win of the season, and they started things off in commanding style.
The ATPI Aces were on the backfoot from the get-go, but they were determined not to let the opposition run as rampant as they had against Peterborough.
The most the Ipswich boys could extend their lead by was 8 points, and though the overall victory went their way eventually, Belle Vue still had an ace or two up their sleeve.
With the scores sat at 46-38 with one race to go, a 4-2 would've been enough for the ATPI Aces to secure their league point, but they went one step farther.
A superb move from Brady Kurtz in the opening lap allowed team mate Matej Žagar to get the better of Troy Batchelor and join him at the front for their big finale.
Aces boss Mark Lemon said: "Ipswich delivered some very competitive racing, which was anticipated considering they had just come off of four straight losses, like ourselves on Monday.
"Teams are expected to win on home shale and the Witches got off to a nice lead which we struggled to claw back initially, but in true Belle Vue style the team dug deep.
"Max [Fricke] didn't have the best of nights. His first bike just wasn't working so he change machine as he looked to improve his performance but just fell short of a win in his last two rides.
"Norick [Blödorn] is still relatively new to British racing, he's never seen Ipswich before and though he failed to score he was very much on the pace and will have learnt from his experience.
"Every point is important and can make all the difference come the end-of-season play offs and we know we have got a team here that is more than capable of winning away from home.
"We saw some very impressive riding from Matej and Brady to close the gap and deliver us the consolation league point so we are quite satisfied with that."
The Cool Running Colts have a busy weekend ahead, first racing at home at the National Speedway Stadium on May 6 against the Leicester Lion Cubs before travelling to Berwick on May 7.
Their NDL clash with the Cubs is shaping up to be one heck of a night, and tickets, programmes and parking are now on sale at bellevue-speedway.com.
RESULT – IPSWICH V BELLE VUE – THURSDAY, MAY 5 @ 7:30PM
Ipswich 'TruMix' Witches 47: Troy Batchelor 10, Danny King 9, Jason Doyle 9, Paul Starke 7+1, Erik Riss 6+1, Ben Barker 3+2, Anders Rowe 3.
Belle Vue 'ATPI' Aces 43: Matej Zagar 11+2, Brady Kurtz 11, Tom Brennan 8, Charles Wright 5+2, Jye Etheridge 5+1, Max Fricke 3+1, Norick Blödorn 0.
Premiership Points: Ipswich 3 Belle Vue 1
Picture by Eddie Garvey