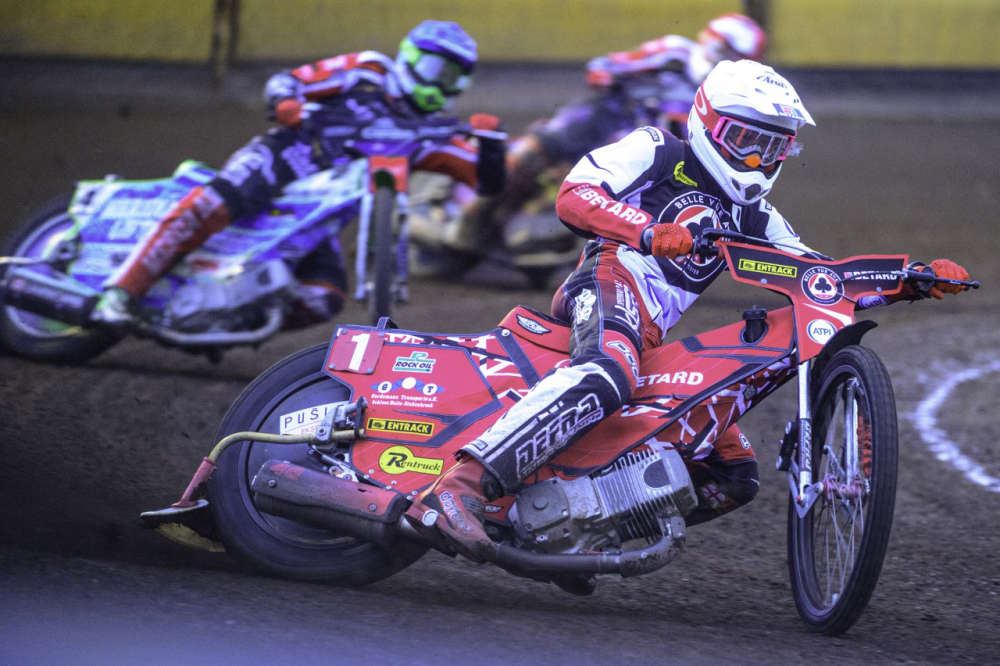 Belle Vue stormed to the top of the Premiership table as they trounced reigning league champions Peterborough 54-36 at their home East of England Arena circuit on Monday night.
The Aces followed up their 64-26 record home win at the National Speedway Stadium last week with another comprehensive victory over the Panthers, as they wreaked devastating revenge for their 2021 Play-off Grand Final defeat.
And again skipper Brady Kurtz went unbeaten by an opponent, adding to his 15-point Bank Holiday home maximum with a 14+1 full-house.
But there was solid support right through the team with all seven riders paid for at least one race win, and reserves Tom Brennan and Norick Blödorn playing a starring role with 7+2 and 8 points respectively.
Peterborough No.1 Michael Palm-Toft opened the meeting with a heat 1 win to give the Panthers a 4-2 advantage, but that was to be the only time that the Cambridgeshire side held the lead.
17-year-old Blödorn, on his first visit to Peterborough leapt from the start to take the chequered flag in heat 2, followed home by Brennan, to put the Aces ahead at 7-5.
Peterborough took a share of the third race thanks to a Hans Andersen win, but from there the Aces started to run riot, taking three 5-1 wins and three 4-2 advantages, to romp ahead 37-17.
The meeting was all but secured when Charles Wright and Matej Zagar shared the tenth race.
The Panthers made a brief fightback as Chris Harris and Benjamin Basso recorded only their second heat advantage of the night with a 4-2 in heat 11, and the home side followed that up by bringing in Tactical Substitute Palm-Toft and reserve Basso to claim a 5-1 maximum in heat 12.
But any hopes of clawing back some respectability were gone in the next as Kurtz and Max Fricke slammed home a 5-1 of their own to guarantee that all four league points would be going back to Manchester.
Kurtz completed his 5-ride maximum with victory in the final nominated race where the Aces were also able to give a ride to reserve Brennan as a reward for his impressive night's work.
After the meeting skipper Kurtz said "I wasn't expecting to win that big here, that's for sure. The whole team rode well, and it's good to see all the boys work together and get the job done".
Paying tribute to the performance of the reserves he added "Tom Brennan's had a great season so far, and it's good to see Norick bang in some points. He's been close a few times, but he looked really good tonight, and this can give him a lot of confidence".
The Aces return home to the National Stadium this Monday (16 May) when they face King's Lynn in a Premiership encounter.
Monday's scorers: Brady Kurtz 14+1, Norick Blödorn 8, Tom Brennan 7+2, Charles Wright 7+1, Max Fricke 6+2, Matej Zagar 6+1, Jye Etheridge 6.
The Belle Vue Colts went down to a 55-35 defeat at National League leaders Berwick on Saturday night, the face another tough encounter when they travel to Leicester for another National League fixture this Saturday.