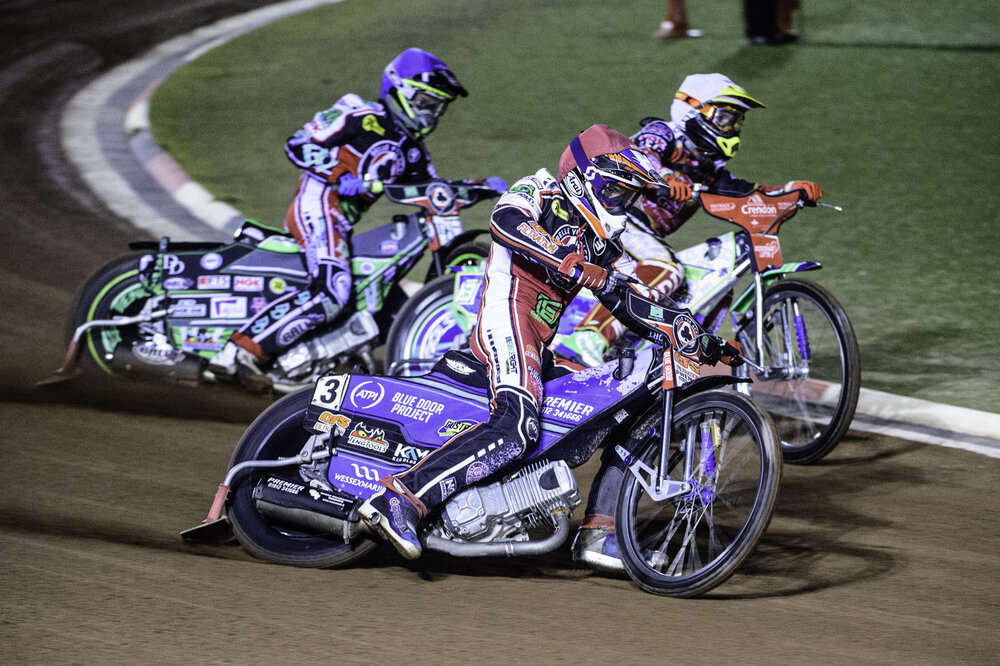 Belle Vue go into Thursday's play-off final second leg at Peterborough with the destiny of the 2021 Premiership League title balanced on a knife-edge following Monday's dramatic 46-44 first leg win at the National Speedway Stadium. 
The Aces travel down the A1 knowing that they must defend their slender 2-point lead, if they are to bring the league trophy back to Manchester for the first time in 28 years.
But they go there buoyed by the knowledge that the East of England Arena is their favourite away circuit and they remain unbeaten there in 2021 with wins of 50-40 and 52-38 in the regular league season – A third win would bring with it Belle Vue's first top-flight league championship title since 1993.
Regardless of the score, Monday's first leg provided a pulsating nail-biter for the Eurosports live TV cameras as the Belle Vue track served up a thrill-a-minute meeting.
Dan Bewley and Richie Worrall gave the Aces the best possible start as they flew from the gate in heat 1, and were roared home by a packed crowd, to a 5-1 maximum win.
But the scores were levelled in the next as former Belle Vue Colt Jordan Palin returned to haunt his old club, teaming up with ex-Grand Prix star Bjarne Pedersen to hit back for the Panthers.
Disaster struck the visitors in heat 3. As Steve Worrall led for the Aces, Hans Andersen lifted violently coming down the home straight, colliding with teammate Scott Nicholls, and was sent sprawling down the track in a high-speed crash. Andersen took no further part in the meeting and could be a doubt for tonight.
The re-run saw Steve Worrall and Charles Wright collect maximum points, and the pair repeated the feat in heat 5, with Worrall completing three wins in a row, as Belle Vue opened up a 19-11 lead.
Heat 6 provided a fantastic race. Bewley swept around the outside on the first lap with Richie Worrall coming through to join him at the front, but the visiting pair were having none of it, as first Harris, and then Pedersen found a way past Worrall, leaving the Aces man never having worked so hard for zero points.
Peterborough came back with maximum points in heat 7, but Richie Worrall and Jye Etheridge battled hard in the next with a 4-2 to regain a 6-point lead.
That became an 8-point lead in heat 9 when Steve Worrall and Wright secured another 4-2, after all four riders crossed the finishing line almost together.
Tom Brennan took a vital point in the eleventh race as Bewley won, and with the scores at 38-28 the Aces fans started to dream of the title coming home.
But they were stunned at the Panthers refused to bow down. Nicholls and Pedersen took full points from heat 12, and worse followed as Michael Palm-Toft and Harris also claimed a 5-1 with a fast start in the unlucky thirteenth as Bewley tried everything to get back on level terms.
A shared heat 14 saw Belle Vue go into the final race just two points ahead, and although Bewley won, the Panthers gave a big team ride to shut out Steve Worrall, and limit the Aces to the narrowest of wins.
Aces scorers: Dan Bewley 15, Steve Worrall 13, Charles Wright 7+2, Richie Worrall 6+2, Tom Brennan 4+1, Jye Etheridge 1.
Picture by Ian Charles