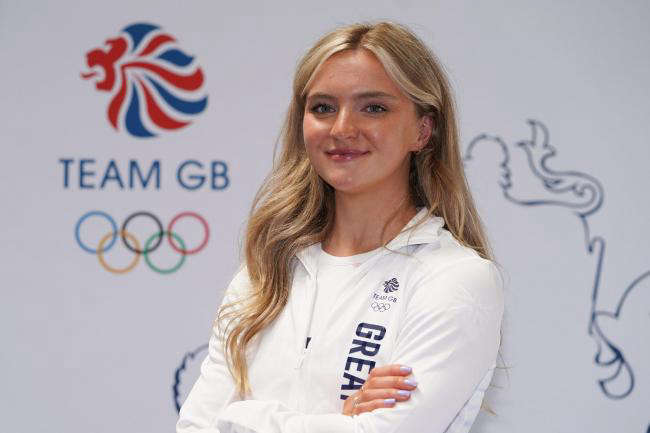 Abbie Wood - Team GB
Capturing the hearts of locals during the Tokyo 2020 Olympic Games, Buxton swimmer Abbie Wood is beyond excited to show off her talent at the Commonwealth Games.
The 23-year-old narrowly missed out on a bronze medal during her debut Olympic performance, finishing just 0.11 seconds behind American Kate Douglas.
Achieving a fantastic time of 2:08.52 in the 200m individual medley final, Abbie earned herself a new personal best time, showing her immense talent as she dove into her senior career.
Now, she is ready to head to Birmingham and build on her recent performances.
Athletes across the board have had to tackle many obstacles since the Tokyo Games, with many noticing the implications of the shorter rest period following the Covid pandemic.
"I think this year has been quite hard for a few people to get back into the swing of things. So, I'm looking forward to building on my performance at the World Championships and hopefully compete for some medals.
"I don't want to put too much pressure on myself for these Games. I'm really enjoying my training at the moment, so I'm hoping that will reflect in the pool," Abbie said.
Abbie made her debut Commonwealth appearance at the 2018 Gold Coast Games, an experience which she thoroughly enjoyed. However, she is looking forward to feeling the support of the crowd as she heads to her home games.
"When we were in Tokyo, the Japanese athletes were getting huge cheers, it's nice to know that those cheers will be for us this time, it's great knowing that everyone is behind you.
"I didn't realise how hard it was for my parents not to be at Tokyo with me too, especially when it was my first successful senior international.
"It will be so nice to have them in Birmingham, seeing me in the mix of all the racing," she said.
During the Tokyo Games, athletes were unable to support and watch other events due to restrictions in place. Abbie says she is looking forward to supporting the rest of Team England, something that she took full advantage of in 2018.
"It will be amazing to learn more about sports that I don't get to see because my head is so focused on swimming.
"There are still some huge names at these Games for me, celebrity names, it will be fantastic to watch those athletes perform at their best."
Making it to her second Commonwealth Games is an admirable achievement for Wood, who almost gave up her passion of swimming in 2017.
Thankfully, her coach saw huge potential and convinced her to carry on in the sport, a conversation that has led to such great talent from Abbie.
She says her advice is 'trust the team around you'. Working with sports psychologists, Abbie has learnt to not 'overthink everything' and has watched her confidence build. She believes the most important takeaway from a competition is to enjoy it.
She reminds herself often that 'a happy swimmer is a fast swimmer.'
Swimming 10 times a week as well as incorporating three gym sessions, Abbie has been training incredibly hard in preparation for the Games, but more importantly she is loving her training schedule.
"I've been doing some running and cycling just to feel good about myself and I think that's really been working for me.
"I've loved the last few weeks of training and I hope that will show at the Games."
Humble, Abbie says she was shocked to return home after Tokyo and receive so much support in her home of Buxton. In fact, she even asks her family to refrain from telling her who's watching on the day in order to keep her calm.
Abbie has shown immense talent and dedication to the sport of swimming. Soon she will return to the pool at the 2022 Commonwealth Games, making the community of the High Peak smile as she does so.
Want more local sports stories?
Head to https://www.questmedianetwork.co.uk/news/sport/ to see more of our coverage - from community and non-league football to local and county cricket, boxing, athletics, basketball, Esports and golf.