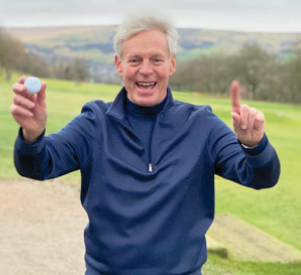 The amber nectar was flowing at Saddleworth Golf Club as members offered their congratulations to Andy Wilde who recorded a hole in one on the 15th hole in the Winter League.
He hit the perfect nine iron to the 126 yard par three, 15th hole and Andy, who has just recently purchased a new set of irons, was delighted with how his purchase has increased his distance and accuracy.
He informed Saddleworth professional Andy Earlam that his game has continued to improve since he received his new irons.
l Oldham GEMS enjoyed two team competitions with a trios Stableford being won by Steve Hunt, Trevor Cash and Allan Frost with 43 points.
It left them well clear of Brian Allen, Brian Best and Jack Simpson 35 and Dave Elstub, Steve Mills and Brian Spary.
GEMS captain Charlie Middlewood was claiming that the power of his drive on the fourth hole felled a huge tree trunk but the rest of the GEMS rated it as fake news.
In a Trios Texas Scramble Charlie Middlewood, Geoff Allen and John Smith were top of the pile with 37.75 ahead of Brian Best, John Billington and Jack Simpson 38.25 and Paul Street, Alan Taylor and John Wood 39.25.
l There has been plenty of Winter League action at Saddleworth and in a Canadian Greensome, James Fahey and Adam Pritchard were easy winners with 57 ahead of Ben Pullen and Giacomo Cavallino 61.5 and Andrew Thornton and Phil Jones, who won a cpo on 62 from Stephen Harrington and Martin Heap.
A BB medal saw Paul Rowbotham and Phil Laverty in charge with 61 two less than Steve and Ben Pullen and Darren Smith and Nigel Hughes.
Finally, a singles Stableford was won by Steve Asquith with 43 points from Nigel Hughes and Nigel Kippax, both 42.
l Yellow Ball team action at Crompton and Royton saw the fab four of H and G Dyson, T O'Leary and C Clark first past the post with 71 points.
It left them two clear of A McMunn, B Stafford, L Grogan and S Pass.
A singles Stableford at C and R saw a cpo on 37 points in division one go in favour of S Horritt from B Stafford.
It also needed a cpo on 33 in division two to see M Nicholson home from B West.
l The Tuesday Stableford at Ashton was topped by Gavin Spencer with 37 points from Robert Kenyon 36 and Ian Handy and Gary Whittaker, both 34.
The Yellow Tee Stableford had a clear winner in David Davies with 36 points.
The Saturday Stableford at Ashton had the three divisions led in by Glynn Taylor 35 points, Steve Browne after a cpo on 35 with Mick Cattlin and Roy Baker both 34.
Next day the winners of the three divisions were Neil Pragnall 42, Kyle McCannon 42 and Chris McKown 43.
l Brookdale's men played their latest Race to the Start and Paul Tunstall led in with 41 points and hot on his heels with 40 were Alan McQuaid, DE Prince and David Jones.
l It was close in the Winter League Stableford at Fairfield with Leigh Murray winning a cpo on 34 points with Stuart Garforth and Paul McKee, one more than Jason Ballinger.
l A Wednesday Stableford at Denton had Reece Hobson in firm control with 35 points ahead of David Sibanda 31 and Lee Thompson 30.
A Team Three from Four Stableford at Denton was a close contest with D Counsell, J Regan, J Strickland and D McDermott winning with 102 points.
Next in with 101 were D Smith, J Simpson, J Beeley and A Hallsworth, one more than N Hillard, T O'Neill, F Goodwin and J Taylor and B Grime, Mike Pollit, M Trelfa and K Halliwell.
The Sunday Stableford was also tight with Matthew Heap on top with 36 points from Tim Maggs 35 and Mark Riding, Wayne Lord and John Stapleton, all 34.
l The 13th Winter League at Stamford was not unlucky for Scott Barker who posted an excellent haul of 47 points to lead in from Phil Easter 45 and Mark Antolak and Craig Pete, both 44.
l The popular and busy Oldham Rabbits League has set out its programme for the coming season with a mix of league and cup fixtures.
The programme opens up on April 27 with cup matches between Ashton and Dukinfield and Oldham and Brookdale with a league match between Stamford and Houldsworth.
The main season will finish on July 27 to be followed by the cup final week beginning in the first week in August and the President's Bowl at Brookdale on September 13.
By Geoff Garnett