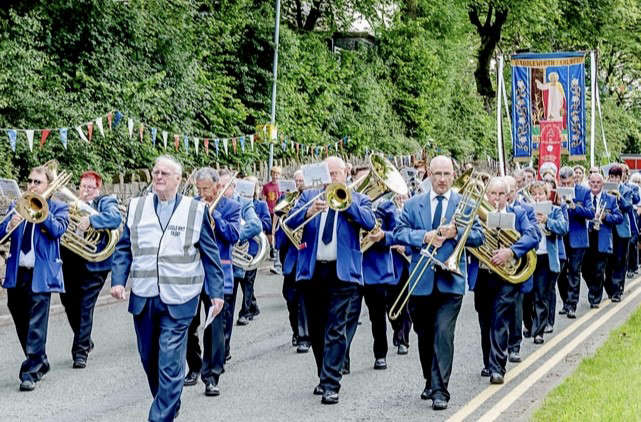 A creative way to enshrine Whit Friday memories has been rekindled in a Saddleworth village.
Two years ago, Linda Elmore, chair of the Diggle Whit Friday Committee, and John Eccles, CEO of Diggle Band Club, came up with an idea of a photographic competition to help remember Whit Friday's past and what it means villagers.
John explains: "The original completion should have run until July 2020 but lockdown prevented us from holding the event. However, but two lockdowns later, we are eventually in a position to present awards to the winners.
"The competition itself attracted more than 70 entries. A panel of judges from all the village organisations reduced the pictures to 30, all which have been exhibited at the Band Club.
"The public voted for their favourite and the winners have just been announced."
First prize of £50 went to Jammie Fletcher for photograph No 55 "Last Band On"
Joint Second Prize of £25 went to Amy Hamilton for Photograph No 56 "waterproofs and Wellies" and David Turner for photograph 76 "So Proud"
Third Prize of £10 went to Tracy Buckley for Photograph 24 "Whit Friday Mudfest"
Thanks go to the club's supporters, firstly to Linda Elmore who donated the £50 first prize, Diggle Band Club who donated the second prize and John and Ann Eccles who donated the third prize.
Evie Barnes won a special Easter egg for her picture which was used to promote the competition.
"There was a tie for second place the Band Club are making sure both competitors each get the prize money, " said John.
"We would like to thank everyone who took part, and the various organisations that voted and supported it.
'"Hopefully, we can do it for real this year and celebrate in style. We are also running the competition again this year so we can refresh the photos in the club."
Read more from the Oldham Reporter