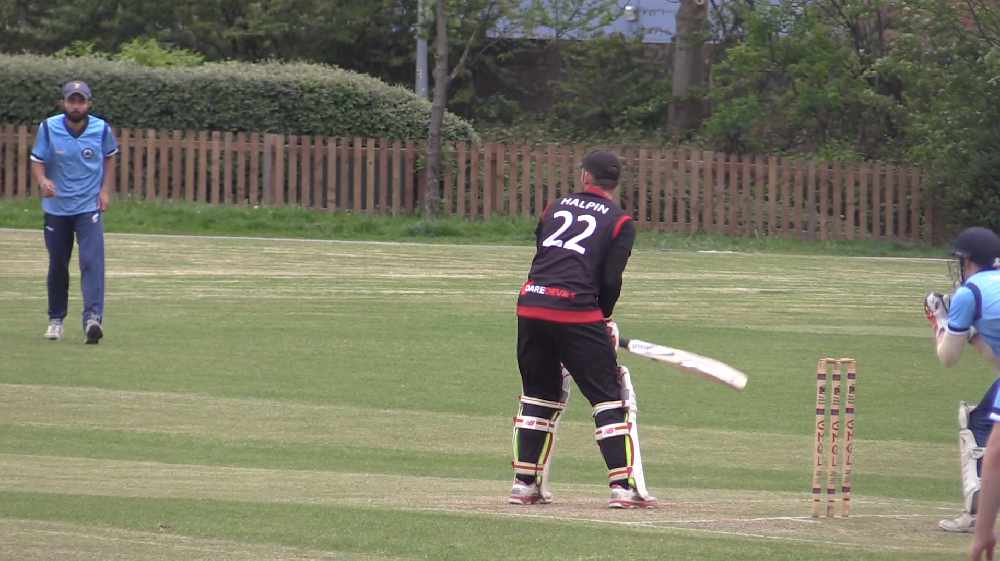 It was a dismal weekend in the GMCL as a complete wash-out on Saturday, with not a ball bowled throughout the League, was followed by a series of rain affected cup matches on Sunday where the Duckworth Lewis calculation came into play.
In the Derek Kay 1stXI Cup locally there was a DL win for Royton, (over Moorside), and they now move into the next round on 30thJune. Sadly Greenfield; came out on the wrong end of DL calculations and Heyside's went down at Unsworth after a bowl out . In the 1stXI League Cup Werneth and Shaw had DL victories over Deane & Derby and Ashton respectively, but Austerlands were on the downside of the calculation when they met Stretford. The game between Uppermill and Friarmere was affected to such an extent that the only way a result could be reached was by way of a bowl out which went the way of Friarmere. This was after Uppermill reached 175-8 in their 22 over allocation, (Ayas Tasawar 85) . The league season moves into its 9thweek this coming weekend when hopefully conditions will be better.
Looking ahead Royton will be looking to get off the mark for the season when they welcome Stand to the Paddock on Saturday. It has been a difficult start for them at the higher level but the game against a fellow promoted side who have struggled as well is an ideal chance for Royton to get winning points on the board.
Results:
Derek Kay 1stXI Cup
Whalley Range N/A Prestwich ; Denton SL 106-6 (won DL) Astley & Tyldesley 131ao; Denton 79-3 (won DL) Edgworth 80ao; Roe Green 181-8 (won DL) Stand 53-6 ; Royton 136-1 (won DL) Moorside 218-6; Unsworth 185-9 (won bowl out) Heyside 43-4; Denton West 123-2 (won DL) Greenfield 146-7
1stXI League Cup
Austerlands 146-6 Stretford 135-7 (won DL) ; Werneth 99-1 (won DL) Deane & Derby 101ao; Elton Vale N/A Oldham ; Ashton 103-9 Shaw 97-3 (won DL); Littleborough Lakeside 174ao Tottington St Johns 128ao; Micklehurst 195-6 Elton 52-3 (won bowl out); Uppermill 175-8 Friarmere 33-0 (won bowl out); Winton 67-2 Westleigh 182-9 (won bowl out)
Sunday Cup – 3rdXI (local games)
Edenfield 244-1 Heyside 242-6; Walshaw 119-5 (won DL) Royton 125ao; Ashton Ladysmith dnb (won bowl out) Glodwick 8-0; Woodbank 60-1 Springhead 57ao
Sunday Plate – 3rdXI (local games)
Glodwick 53-0 (won bowl out) Stand dnb ; Shaw N/A Littleborough Lakeside ; Friarmere N/A Unsworth
At the start of the season Reporter Sport outlined the changes to the League structure which will be put in place from 2020. The operation of two competitions in each of Divisions 1,2 and 3 will be replaced by a linear structure involving 7 tiers in total with the top 5, (Premier; Championship and Divisions 1,2 and 3), being a 12 team league. With 8 games now completed, and 14 remaining, the league tables are now forming and it is possible to see where Clubs will be placed if the tables at the end of the season reflect the current position. It also gives a clear indication to Clubs of what must be done if they are to aspire to promotion or avoid relegation.
Locally Greenfield; Glodwick and Heyside would compete in the Premier Division. Royton and Woodhouses would drop a tier into the Championship. In Division 1 Friarmere and Shaw, after promotion, would face Moorside and Uppermill. A Division lower, Austerlands and Stayley, who would be relegated from their current level renew acquaintance with Oldham. In Division 3 Werneth would face both Saddleworth and Springhead after their promotion. That may be how things stand at the moment, but with well over half the season still to go there will undoubtedly be many twists and turns before the end of the campaign. In addition there are also indications that there may be some new clubs who are looking for pastures new, and dependent on their perceived stature and quality would be placed at an appropriate level.
By Martin Frost