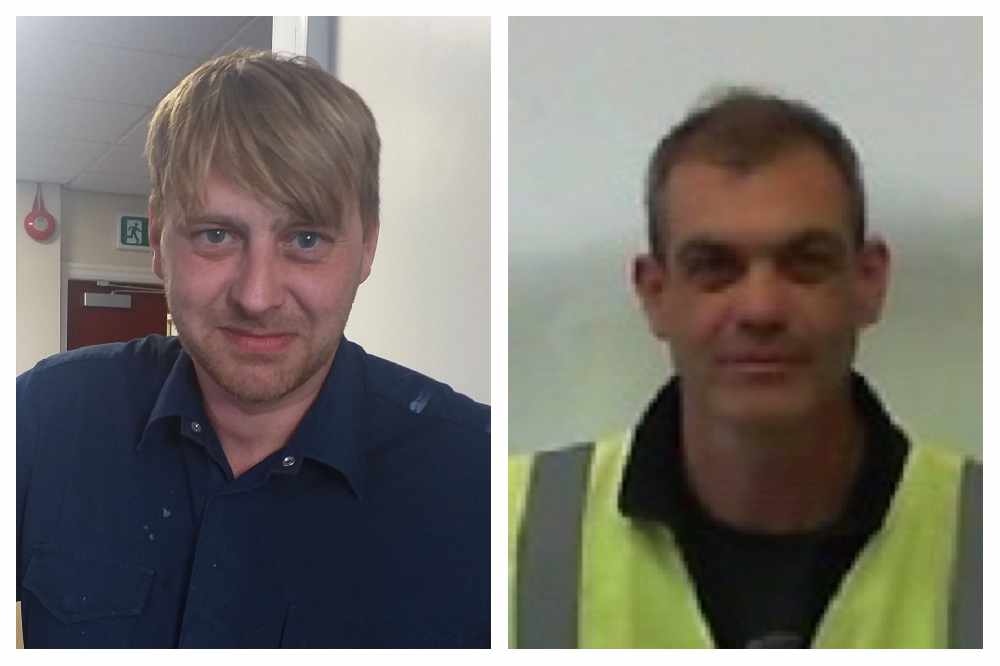 Two NHS staff members from The Royal Oldham Hospital have been recognised in this year's Queen's Birthday Honours. 
Electrician Malcolm Kilpatrick (pictured, right) and estates plumber Tony Cocker (pictured, left) are both based at the Rochdale Road hospital, but also work across the Northern Care Alliance NHS Group's four hospitals and community services.
This year's Queen's Birthday Honours were put back in order to say thank you for the work of those on the frontline during the coronavirus pandemic, with a number of recipients awarded honours in the list for their outstanding contributions for the UK's response to the virus.
Two of those awarded special honours for their work are Malcolm and Tony.
Malcolm has been awarded a British Empire Medal (BEM) in recognition for his commitment to continuously improve in his role as an electrician for the Trust, working tirelessly throughout the pandemic to support wards and departments with their urgent electrical needs.
In addition, Malcolm is also an active volunteer in a local charity. He assisted in getting PPE donations to the Trust and raising over £20,000 in donations to support the Trust charity during the pandemic.
Tony has also been awarded a British Empire Medal (BEM) in recognition for his work as a plumber for the Trust; in particular his efforts during the pandemic to ensure extra hand washing facilities were available across all wards and departments. Tony has stepped up to the front line and supported critical areas at short notice.
Meanwhile, Elaine Inglesby-Burke - former Chief Nurse at Salford Royal Hospital and the Northern Care Alliance NHS Group - has been awarded the honour of Dame Commander of the Order of the British Empire for her services to Nursing. She retired last week after 43 years in the NHS.
Julia Taylor, a nurse consultant from Salford Royal whose NHS career spans 40 years, has been awarded an MBE for services to urological nursing.
Commenting on all of the awards, Raj Jain, Chief Executive of the Northern Care Alliance NHS Group, said: "It's wonderful to see these colleagues and members of our NCA family recognised and awarded in such a prestigious way for their work. They're shining examples of champions, leaders, innovators, or have simply just gone above and beyond to continue to provide outstanding services during what has been a very difficult time in our response to the pandemic.
"All of our staff across our hospitals and community services have worked incredibly hard over the past six months with courage, commitment and professionalism to look after our patients, and continue to do so. However, these colleagues have been rightly recognised for their exceptional contribution. I am delighted for them. It is our honour to have them as part of our organisation and we are rightly proud of each of them."