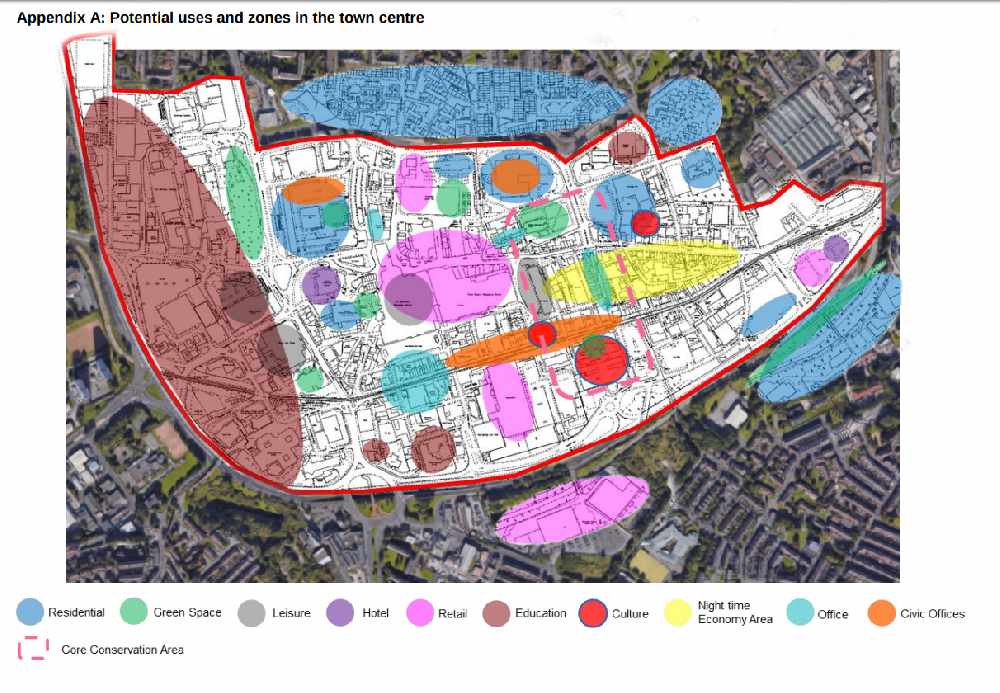 Proposed new zones and uses for sites in Oldham Town Centre. Photo: Oldham council.
Ambitious plans to build thousands of new homes in Oldham town centre could save much-loved green spaces from development, the borough's leader has revealed.
Bosses have unveiled the council's revised masterplan for the next decade and beyond, which will see new leisure facilities, residential areas, offices and green space.
Council leader Sean Fielding told cabinet members that the potential for housebuilding in the heart of the town could reduce the pressure on green belt sites included in the new Greater Manchester Spatial Framework (GMSF).
"I've been really clear that something I wanted to do was bring more residential into Oldham," he said.
"That would have the benefit of bringing people who have disposable incomes to spend in the area into Oldham but also have some implications for GMSF allocations.
"Hopefully, (it will) relieve some of the pressure on the green belt that we've been required to place by government policy via the GMSF."
Consultation has now finished on the revised draft of the spatial framework which would see around 14,290 homes built across the borough between now and 2037.
A string of new green belt sites have been allocated in Oldham for development of around 4,050 homes and thousands of square metres of employment space.
But under the council's latest blueprint, there is the potential for around 2,000 new homes in the town centre, with key landmarks redeveloped for new uses.
The Mecca Bingo site could be turned over to leisure use, while the police station off Barn Street is listed for residential development.
The area currently occupied by the Queen Elizabeth Hall and the Civic Centre is designated in proposals as being mostly residential, but also as civic offices and green space.
And the former magistrates' court is listed for hotel use, while a 'night time economy area' created around Yorkshire Street.
Coun Fielding told the meeting that if they want to buck the national trend of declining high streets, they need to have an 'ambitious vision' locally.
"We need to decide as a council how do we lead change so that Oldham town centre continues to be a sustainable destination for people," he added.
"But this is an investment in Oldham's future; it will create jobs, it will generate more income for the council and having a good quality town centre will improve the health and wellbeing of our residents.
"I look forward to getting on with the work."
The proposals were welcomed positively by the rest of the cabinet.
Councillor Amanda Chadderton, whose portfolio covers children's services, said: "A lot of us probably won't be around this table when it's finally realised but we'll still be Oldham residents with children here that will enjoy coming to Oldham and using it."
Cabinet member for health, Zahid Chauhan, added it would create a place which would attract more footfall and new residents, such as students and trainee doctors.
Coun Ateeque Ur-Rehman who leads on neighbourhood services, added it was 'ambitious but realistic'.
"I'm confident that we will be able to deliver this with our key partners," he said.
The town centre masterplan, first drawn up by former leader Jean Stretton, has been under review since Coun Fielding took over the top job in May 2018.
He explained he wanted to look beyond sites that were in the council's ownership, and create a 'broader approach' for the future.
As part of the latest proposals, cabinet members agreed to approve the use of compulsory purchase orders on land the town hall doesn't currently own to make sure the masterplan can go ahead.
While the majority of the land which is likely to be developed is already owned by the authority or its public sector partners, there are a number of smaller sites in private ownership.
It's not yet known how much the new vision for the town is due to cost, but officers say resources are available from the council's coffers – specifically from its dividend payments from Manchester Airport.
The cabinet approved the new vision and priority areas for Oldham town centre.