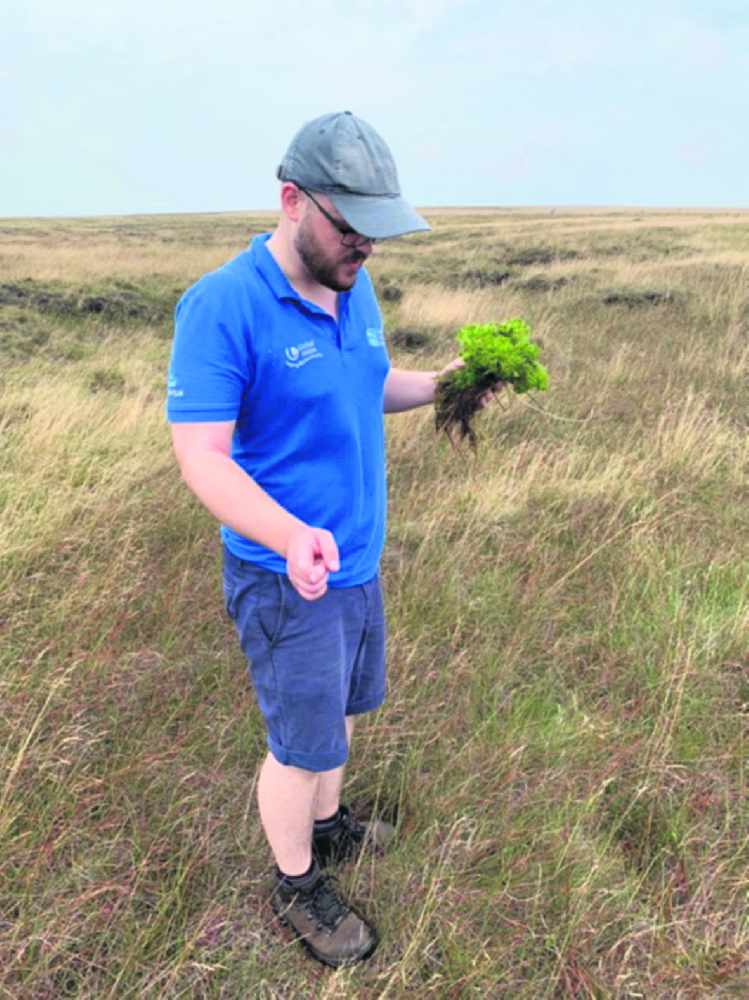 Modest James Minchin has been honoured with a prestigious volunteering award for wildlife conservation at Dovestones.
James, 27, from Greenfield, donates hundreds of hours of his time to nature conservation at the site, which sits in the Peak District National Park, owned by United Utilities and managed in partnership with the RSPB.
He will receive the RSPB's 'President's Award' next month - given to only six out of 12,000 RSPB volunteers every year - which recognised those who go the extra mile to help give nature a home.
Out in all weathers, his role includes working with the site wardens and other volunteers.
It involves planting trees and sphagnum moss, vital tasks in restoring the moor for wildlife, improving water quality, capturing carbon to combat the climate emergency, and making the site wetter and more resilient to fire.
The role includes wildlife monitoring and surveys on butterflies, bumblebees and moorland wading birds.
He helps cut fire breaks on the edge of the moor and was a crucial member of the team involved in supporting the Greater Manchester fire service last year, helping to tackle the large fire which hit part of the land managed by the RSPB.
Kate Hanley, RSPB Site Manager at Dove Stone, said: "James' hard work and dedication at Dovestone, turning up and giving 110 per cent in all weathers means it really couldn't have gone to a more worthy recipient.
"As a wildlife expert, he also does a great job helping the public to enjoy the wild spaces at Dovestones, works on guided walk events, picks litter, produces interpretation and social media posts, and helps in the office.
"James is a very special individual, but each and every one of our volunteers is important to the work that we do here.
"Their combined efforts have contributed an incredible 46,000 hours in the last 10 years, making a huge difference to our conservation work at Dovestones - a big thank you to all of them."
James said: "I've always loved wildlife and the environment and know it is under a lot of pressure, so it's great to be able to help the RSPB in the excellent work they do for nature conservation.
"I am not alone in this though, I volunteer alongside other fantastic local people who generously give their time to support this important cause.
"We also work closely with the landowners United Utilities and partners Oldham Council, the Peak District National Park, Life for a Life Memorial Forest and Saddleworth Police, all pulling together for this beautiful place."
Sarah Wilks, head of engagement at the Peak District National Park said: "This is a fantastic achievement and thoroughly deserved recognition for James.
"It's inspiring, James' award comes after Osian Wilson of the Eastern Moors Partnership elsewhere in the National Park won Young Volunteer of the Year in 2018, showing a new generation of wildlife guardians are successfully taking up the challenge of caring for our landscapes."
Philip Kersh, from the Life for a Life Memorial Forest at Dovestone said: "It's rare to find people with the dedication and passion James has shown looking after and helping to improve Dovestones.
"This couldn't have been shown more clearly during the fires last year - from talking to visitors and collecting litter in the evenings with me to manning the gate so the emergency services could get through. It's a well-deserved award."
Dovestones reservoir is owned by United Utilities and the water company works in partnership with the RSPB, who manage the estate. The partnership aims to encourage public access and recreation, while protecting water quality and wildlife for future generations.
Main image:
Special individual: James is out in all weathers protecting the moors (Picture by Ryan Lloyd)