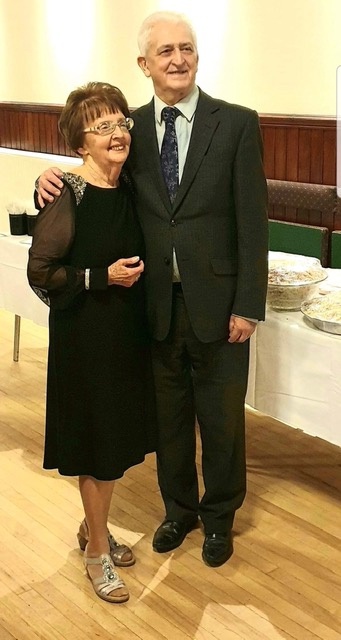 A devoted couple, who have dedicated their lives to the service of the community, took time out for their very own special celebration.
But in keeping with their caring nature, veteran councillor John Hudson and his wife Kathleen (pictured) shared their diamond wedding anniversary with around 100 friends at Uppermill Civic Hall.
And Kathleen quipped on social media: "It was a magical night with so many helping us celebrate.
"Thanks to our two wonderful daughters for sharing it with us and the Civic Hall staff who helped — we wanted to prove we are still here."
Cllr Hudson, who was 80 years old on Christmas Eve, is Oldham Council's Saddleworth South member, and has received an OBE from the Queen for his public, political and charitable services spread over 40 years.
At the time on the award, he said: "Kathleen, my family and the people of Saddleworth and all kinds of local organisations and groups are the ones who really deserve an award."
But gazing fondly at his wife at the party, he said: "Mutual respect and understanding makes a great team. I've been lucky.
"You can't make things work without it being a proper partnership. It's been a joint effort and it doesn't seem like 60 years."
Kathleen said: "We had a very full life but going to Buckingham Palace and meeting the Queen when John received his OBE was certainly the icing on the cake."
John was born in Mossley and worked at Joseph Clare's Dyeworks in Greenfield during the 1950s where he met Kathleen, before moving to Greenfield when they married in 1960.
He worked in local government at Mossley, Audenshaw and Trafford Councils before managerial roles at Littlewoods, based at Earl Mill in Hathershaw.
He first entered local politics in 1971, initially standing as a Labour councillor. After a six-year break he switched to the Conservative Party and – in 1977 – was first elected as a Saddleworth Parish councillor, a position he holds to this day.
John was also elected as representative for the former Saddleworth East ward on Oldham Council from 2002 to 2006. From 2008, he then served as a Chadderton Central ward member before coming back to represent Saddleworth South from 2012 onwards.
He was also the agent for Geoffrey Dickens, the former MP for the (then) Littleborough and Saddleworth seat and stood in the high-profile three-way marginal by-election following Mr Dickens' death in 1995.
John was elected to the office of the Mayor of Oldham for the municipal year 2013/14 and – accompanied by Kathleen as Mayoress – they put in a staggering amount of energy and time into hosting visits, attending local schools and engagements.
They raised a total of £50,468 for local charities and good causes, impressing everyone they met as ambassadors for the borough.
John has two daughters, Claire and Deborah, and one granddaughter, Courtney.
And he received a special honour to mark 40 years of continuous service on Saddleworth Parish Council with four spells as Chairman - an unbeaten record for continuous service. During this time, he has also raised a further £59,500 for the Chairman's charities.
This remarkable feat was marked at the Civic Hall with the upstairs ballroom renamed 'The Hudson Suite' in his honour, with an engraved plaque and a framed dedication.