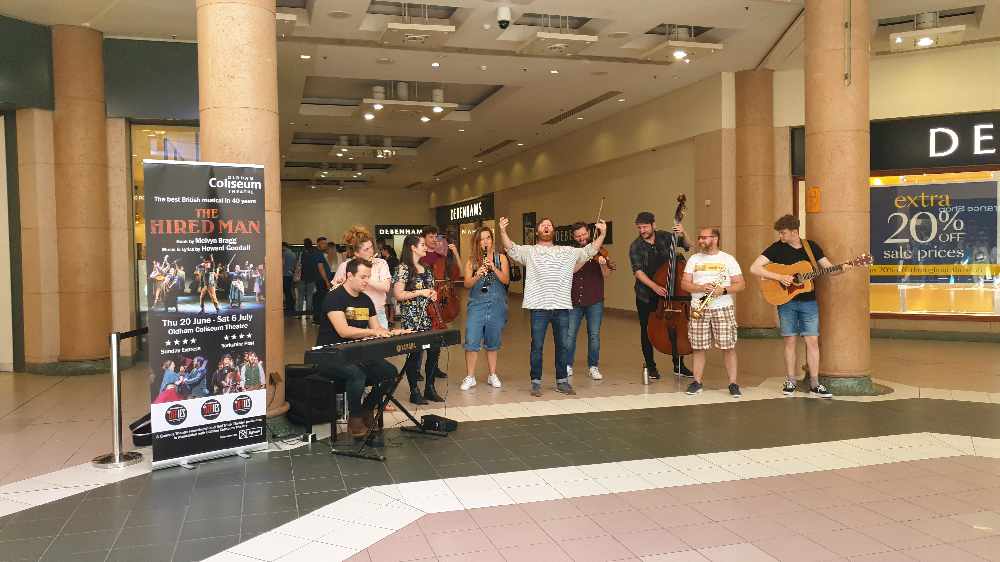 The cast of The Hired Man.
Shoppers at Spindles were in for a treat on Thursday when the cast of The Hired Man, currently on at Oldham Coliseum Theatre, performed the opening number of the hit musical at the shopping centre.
The pop-up performance comes after rave reviews for the musical which has been nominated for three awards at this year's West End Theatre Awards.
The play is a production between A Queen's Theatre Hornchurch and Hull Truck Theatre in association with Oldham Coliseum Theatre. Set in Cumbria in 1898, the play based on the novel by Melvyn Bragg, follows the moving story of John and Emily, a young married couple and their moving struggle to carve a living from the land.
An epic and heroic tale of love, betrayal and loyalty set against the backdrop of English country traditions being swept away as a new century faces the gathering storm of war.
The pop-up performance, included the cast playing instruments live and was very warmly received with people stopping on both levels of the shopping centre to listen and give a large round of applause as the song came to a close.
Press and Communications Officer, Shelly Ramsdale, said: "It is really beautiful, the songs are gorgeous, people have been coming out of it in tears because it is so moving. The play spans 40 years so the audience gets to be with the characters and see the course of their lives.
"It has been getting brilliant reviews, we have had people saying that they don't like musicals, but they like this and that it has changed their minds about musicals now."
You can watch the Spindles performance here https://youtu.be/vvFIogvlXKk
The Hired Man is on at Oldham Coliseum Theatre until Saturday July 6. For tickets visit www.coliseum.org.uk