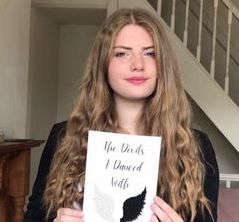 A 17-year-old from Greenfield has turned her struggles into art with the publication of her second poetry book.
Elizabeth Glover Jones has written for as long as she can remember, composing 'silly fiction stories' a child to share with her parents.
However, these silly stories began to transform as when she was 13, she began to struggle with her mental health.
"Mostly triggered by being bullied and family troubles, I was later diagnosed with depression and anxiety. I needed an outlet and a way to express myself but with no one to turn to, I resorted to a pen and paper.
"It started off as a journal and two years later I typed this up into a word document and started to condense it down into short poems.
"These poems contained my whole heart and were really important to me. I felt they needed to be shared which led me to publish my first poetry collection titled, 'Perhaps This Is Art' when I was 16," she says.
For Elizabeth, having the platform to spill her thoughts rather than bottle them up was life changing and she believes it is vital for others to have a similar means of dealing with things.
"Sometimes it's hard to vocally say how you are feeling and have open discussions about topics that are often stigmatised, so finding a different way to express those feelings should definitely be encouraged.
"I also found it was so much easier to just give my books to people for them to read instead of explaining all the struggles I've been through," she explains.
She says she loves the quote, 'you have survived 100% of your bad days' because Elizabeth knows that the bad times pass and ensures people that the positives will prevail.
"I think you have to accept that happiness isn't permanent, and you are going to feel horrible sometimes. In those moments when you do, you must look after yourself and try your best to keep going."
The Oldham Sixth form student is now working on new projects including two fiction novels that she would love to one day produce.
She is aiming to publish another poetry book titled, 'To Be A Goddess' by 2022, a piece containing poems about finding self-love.
Read more from the Oldham Reporter