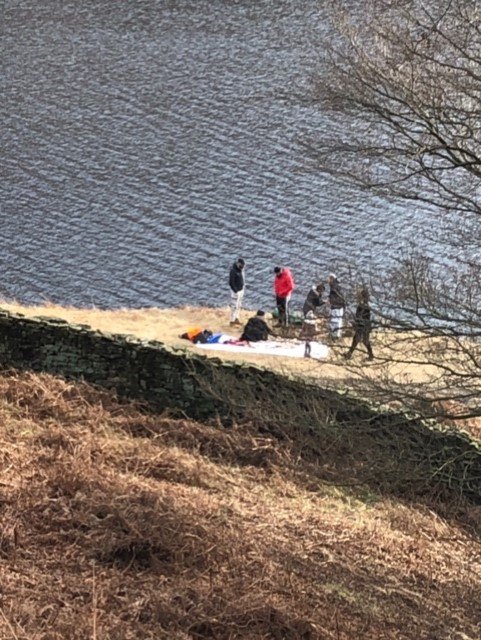 A picture taken at one of Oldham's favourite beauty spots has raised concerns among campaigners fighting to protect valuable moorland.
It shows a group standing near Yeoman Hey above Dovestones, which was a magnet for hundreds of visitors over the festive period and weekends.
Farmers also reported random dogs off leads had been seen wandering loose near sheep.
A Greater Manchester Fire and Rescue Service (GMFRS) team from Mossley made their way to the scene of the fire on foot, after being alerted by a member of the public.
Later, separately, a walker who took the picture said: "I noticed a group of around six people having an open fire on the lower path.
"There wasn't a massive sign of smoke but a smell of seasoned wood. I definitely saw open flames in a restricted area."
GMFRS confirmed they attended the scene but the incident had raised worries of a return to fires which ravaged moors near the beauty spot and lead to a national inquiry.
Dr Andrew Taylor, chair of the influential Greenfield and Grasscroft Residents Association (GGRA), hosted a summit meeting at Dovestone last year.
It was attended by agencies and partners, Mayor of Greater Manchester Andy Burnham, MP Debbie Abrahams and Sean Fielding, leader of Oldham Council.
Speaking after the latest scare, Dr Taylor said: "Several residents are rightly concerned the guardianship of the area is still - obviously - not up to the task."
But he stressed: "This is not to belittle the massive efforts put in by those paid to work in the area and the massive and increased voluntary support responding to the problems of the last two years, nor the willingness of the several authorities to put some money into the protection of the moors.
"But it is obviously not enough. Not only fires, but loose dogs chasing sheep have arrived with the good weather.
"The defence of the area still needs a more active approach and more joined-up arrangements, both in timing and co-operation.
"If we had clear seasons when fires were impossible and when they were likely, then seasonal staff would be reasonable.
"Since we have unpredictably variable weather, we need a re-think timing and availability.
"Perhaps paid staff on the ground from the various responsible authorities could be augmented and divert their attention for the few days of vulnerability from their 'normal' duties?"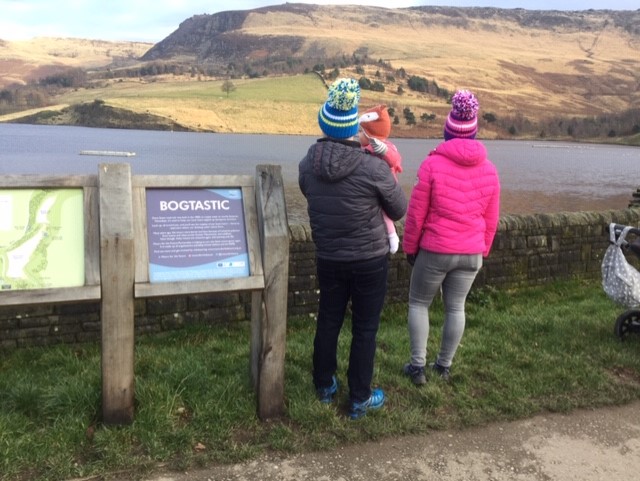 A peaceful scene at Dovestones Reservoir
He added: "Parking chaos returned too with the good weather at the end of 2019, a plan for Spring and Summer marshals being irrelevant here.
"I was informed last summer the RSPB locally do not promote general tourism in the Dovestone area."
Commenting on a social media invitation to visit Dovestones, posted by RSPB, he said: "A survey of tourists reportedly revealed 98 per cent were unaware of the RSPB activity here. Presumably they come from elsewhere?
"No-one wants to prevent visitors to the area but sadly increased attraction must be matched by increased protection.
"Heaven forbid we should allow another £500,000 fire that happened at Marsden Moor just because a short dry spell was unseasonal but sufficient."
A spokesperson for RSPB stressed they had staff and volunteers, backed by staff from United Utilities, and a woodland remembrance garden on duty over the holiday.
A statement read: "We take the risk of fires at the site very seriously and work with our partners to ensure all visitors, locals and residents can enjoy Dovestones.
"Not only have they been undertaking practical nature conservation on the ground, but volunteers and staff are always having meaningful conversations with visitors.
"That includes dog walkers, discussing responsible behaviours and the wonderful wildlife we have to offer.
"In 2019 alone, we had over 2,483 meaningful conversations with visitors - these were conversations longer than 15 minutes."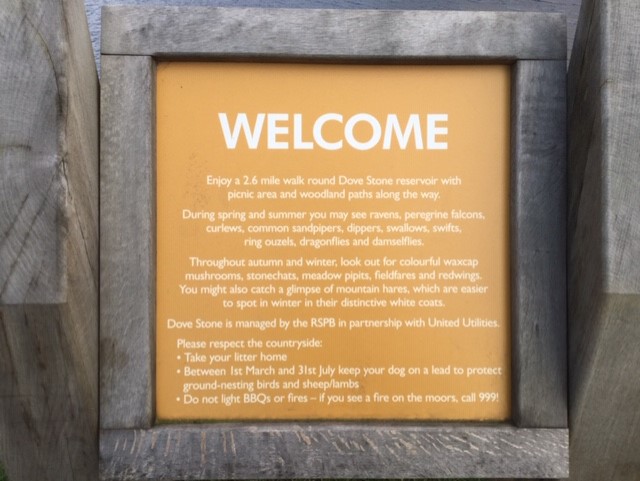 A warning about fires and dogs at Dovestones Reservoir