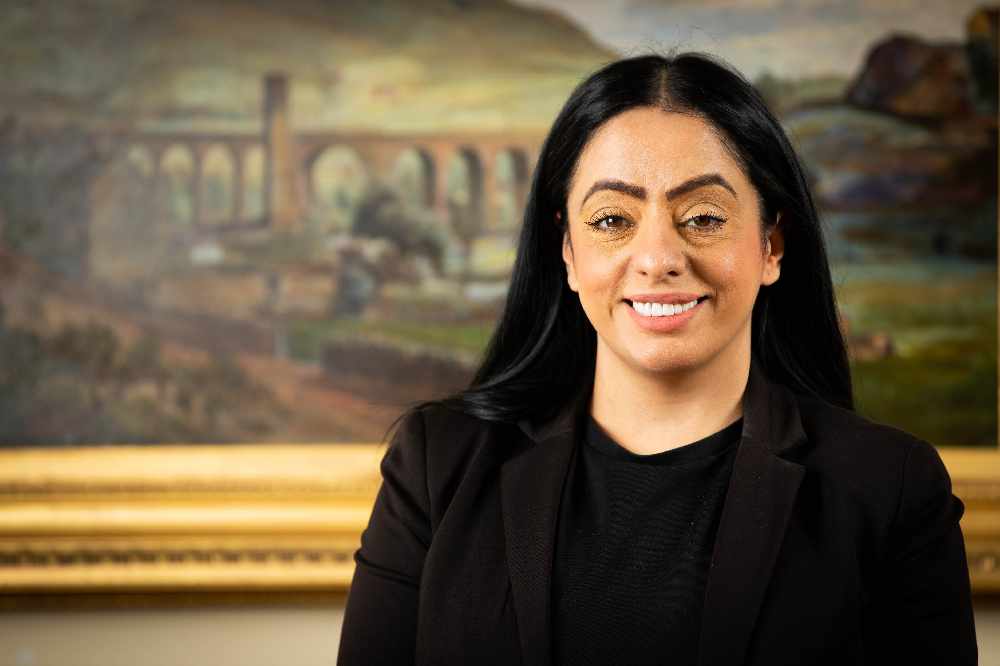 Survivors of domestic abuse joined representatives from organisations across Oldham at a round-table event to discuss how domestic violence can be tackled better across the borough.
The event on Thursday evening (25 March) was organised by Oldham Council's Deputy Leader, Councillor Arooj Shah, in response to the rising number of cases of domestic abuse that have been seen both nationally and locally since the beginning of the coronavirus pandemic.
Those at the virtual event included representatives from Oldham Council, Greater Manchester Police, the probation service, Action Together, charity SafeLives and Oldham-based charity Peaceful Minds, as well as local councillors, GPs, and Oldham East and Saddleworth MP Debbie Abrahams.
Cllr Shah (pictured) described the evening's discussions as "heart-wrenching" and said she was "struck by everyone's commitment and hard work."
She added: "I am absolutely committed to taking this crucial work forward. This is an issue we have to address now, and absolutely cannot wait until we're out of the pandemic.
"In Oldham we are seeing increases in the most serious domestic incidents, including those affecting children. We know that for many the pandemic has brought extra tension and pressure – either through lockdowns and enforced isolation or through changes to finances.
"As a system we need to address this increase and agree what more we can do, both as public services and as a community, to make things better and to support victims and survivors of domestic abuse.
"This round table is just the start of what I know will be a really important drive from a whole range of Oldham organisations, working closely together, to tackle domestic abuse across our borough."
Melanie Senior, from SafeLives, told the meeting that increase in demand for frontline services had been "huge" this year, which had then been reported back to the charity.
She added: "We're delighted to be working with Oldham Council on this. We're going to be looking at the systems already in place and map it out, to see how processes already work and identify new opportunities for reaching in and offering support."
Cllr Amanda Chadderton, Oldham Council's lead for domestic abuse, said that the recent murder of Sarah Everard in London has "played on the mind" on a lot of women.
She added: "I would imagine the majority of women across the country would not describe themselves as vulnerable. But the reality is, we are. We modify our behaviours for fear of being attacked.
"The murder of women may be what captures public attention, but wider harassment and abuse of women and girls are absolutely endemic within society. This is not a new phenomenon, but what worries me is that this is not changing. The reality is, we could do better."
One survivor of domestic abuse told the round table that she thought there needed to be more awareness raised of the various forms of support available, and that she had received help after speaking to her GP.
She added: "Lots of people don't know that speaking to anyone other than the police is an option."
MP Abrahams said: "This is an issue that's very close to my heart, and it was inspiring to hear from survivors of domestic abuse and those working on the front line to support our women and girls. I will be using my voice in Parliament to champion this very important cause."
Oldham already has a team of specialist Independent Domestic Violence Advisors who offer emotional and practical support to victims and survivors. The team can be contacted on 0161 7701572 Monday to Friday, during office hours. Find out more here.
If you are in immediate danger, please call 999 and ask for the police.
If you are not in immediate danger, you can call the freephone 24-hour national domestic abuse helpline, run by the charity Refuge, on 0808 2000247.
Find about more about the charity SafeLives here.
Read more from the Oldham Reporter