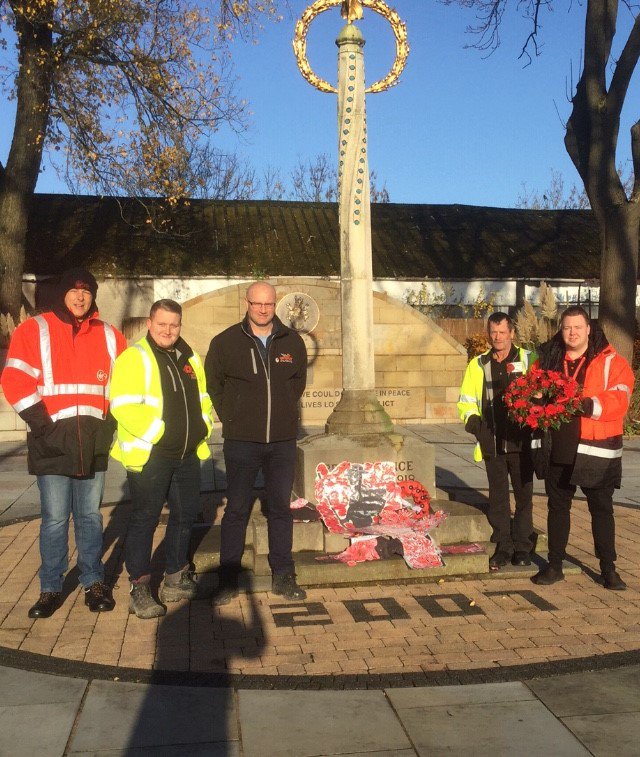 The smooth running of Failsworth's Remembrance Sunday Service was supported this year by volunteers from Virgin Media who are carrying out works in the area.
A dozen volunteers from Virgin Media and their partner firm Wingnut supported traffic management activity during the on-street parade and service.
Failsworth Remembrance Sunday Service is one of the largest in the Borough of Oldham, attracting crowds of up to 4000 local people who wish to pay their respects to the war fallen.
In addition to the traditional service at Failsworth Cenotaph on Oldham Road, local uniformed groups parade from Failsworth District Centre along what are usually busy roads before they arrive at the memorial.
As well as the manpower provided, Wingnut also provided barriers to close side roads and keep the parade route traffic free.
Councillor Sean Fielding, the organiser of the Failsworth Remembrance Sunday Service, said: "Once again Failsworth turned out in huge numbers to the Remembrance Service to pay their respects to those who gave their lives for the freedom we enjoy today.
"The road closures involved in pulling the commemorations together can be a logistical nightmare and in previous years we have struggled with too few volunteers to support the traffic management operation. I am incredibly grateful to Virgin Media and Wingnut for the support that they provided on the day."
Lee Dooley, Community Liaison Officer for Virgin Media, said: "Virgin Media are keen to support community activity in the areas where we are carrying out works as we acknowledge that the installation of our network causes residents some disruption. I was pleased to be able to co-ordinate volunteers and barriers from ourselves and Wingnut to support Remembrance Sunday in Failsworth."
The Remembrance Service was led by Father Paul Hutchins from Holy Family, Lord Lane, Failsworth. The first wreath was laid on behalf of the Mayor of Oldham by Failsworth Councillor and Council Leader, Sean Fielding, followed by a range of other local organisations.