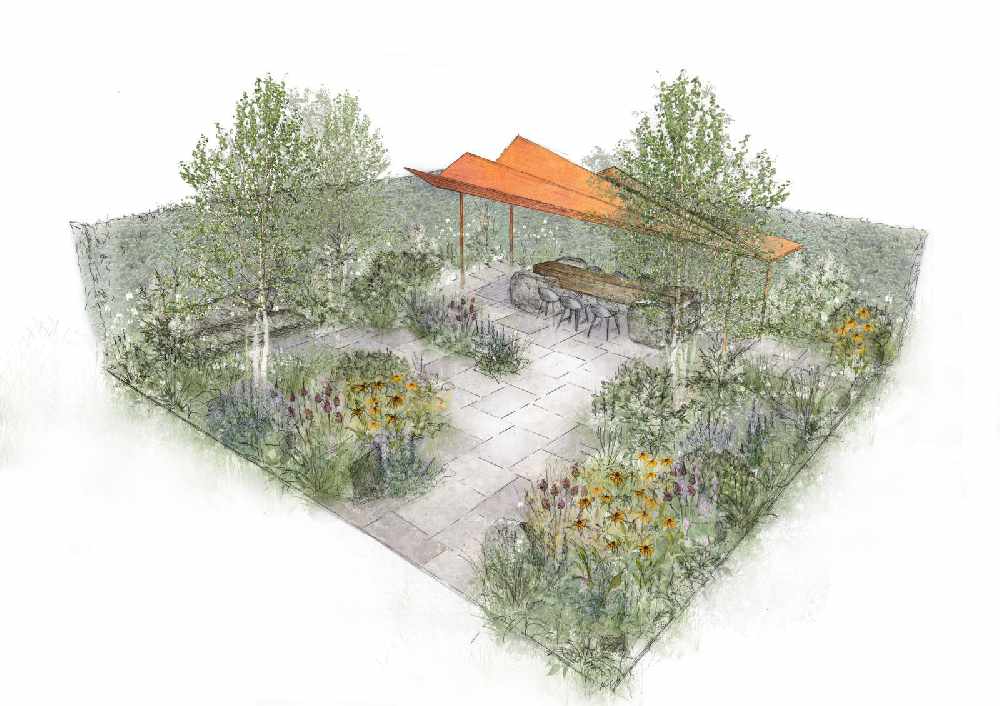 Oldham will be front and centre of this year's RHS Hampton Court Palace Garden Festival, with a special garden showcasing its plans for the UK's largest 'urban farm' and eco-park.
The 'Northern Roots' garden is named after the council's flagship environmental project, which aims to create a one-of-a-kind site on 160 acres of land at Snipe Clough.
It runs from the Grade Two listed Alexandra Park, past Park Bridge and down to Daisy Nook country park.
The Northern Roots project could see music festivals, forest schools, 'market gardening', and woodland weddings take place, and could boast a microbrewery, sports zone and even glamping.
A new artist's impression has been produced showing a vision of bridges between trees, ziplines, tree climbing and biking trails.
The environmental concepts that will form part of the Oldham project will feature at the prestigious horticultural event in London in July.
The Hampton Court Palace garden festival is the largest flower show in the world, attracting 140,000 visitors annually.
A spokesperson said the Northern Roots garden would explore how people can 'utilise vital urban green spaces to provide economic and social benefits to local communities'.
Designed by Peter Donegan, the garden pays homage to Oldham's industrial heritage, incorporating York stone salvaged from the old Town Hall and 19th century mills.
Fabricator Frank Rothwell, of Manchester Cabins who is based in the borough, will construct a futuristic orange roof structure to feature alongside plants and flowers.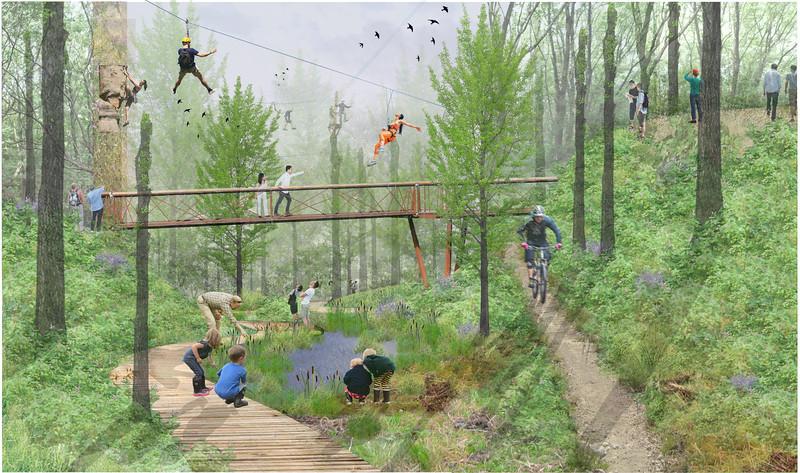 An artist's impression of the Northern Roots Project in Snipe Clough.
Local horticulture students will have the opportunity to attend guest lectures from Mr Donegan, and to use the garden as a learning resource to gain experience.
Bosses say the opportunity to exhibit a show garden at Hampton is a 'unique opportunity to promote the Northern Roots project and Oldham to a national and international audience'.
Once it has been featured at the popular London event, the garden would be relocated back into Oldham to form the 'focal point' of a new centre on Snipe Clough.
Northern Roots project director Anna da Silva said 'something inspirational' is happening in the borough which would lead to a 'green revolution'.
"We're thrilled to be working with Peter on the Northern Roots Oldham Garden, a garden that nods to Oldham's rich industrial heritage and diverse communities, whilst celebrating its current renaissance as a centre of green excellence," she said.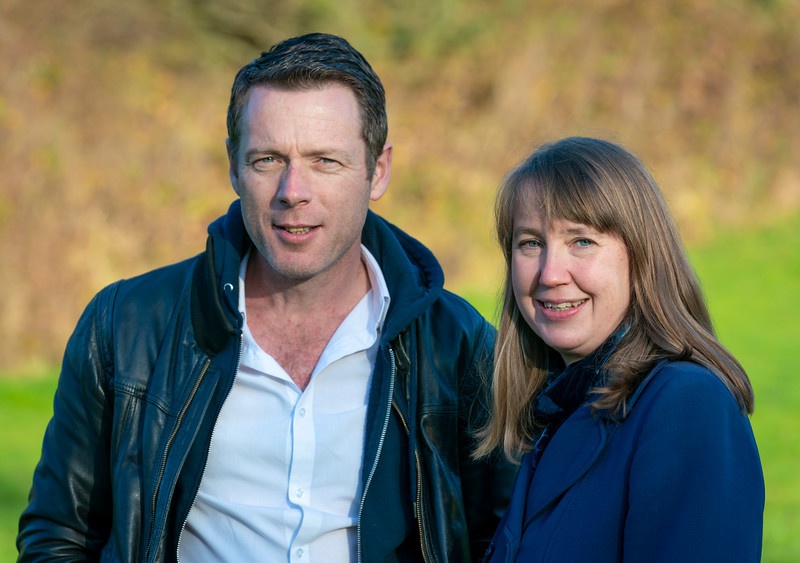 Peter Donegan, garden designer, and Anna Da Silva, Project Director of Northern Roots
The cost of the show garden is being underwritten by Oldham council to the tune of £80k.
It is being sponsored by Ashton Road business Park Cakes, which has been based in the town since 1937.
Other sponsors and supporters include MioCare Group, Manchester Cabins, Walker Simpson Architects and NLTG.
Award-winning garden designer Peter Donegan said: "When I came to visit Oldham, I was really impressed by the way communities are coming together to transform their neighbourhoods.
"Being able to showcase Oldham as a progressive and forward-thinking place, is a real honour."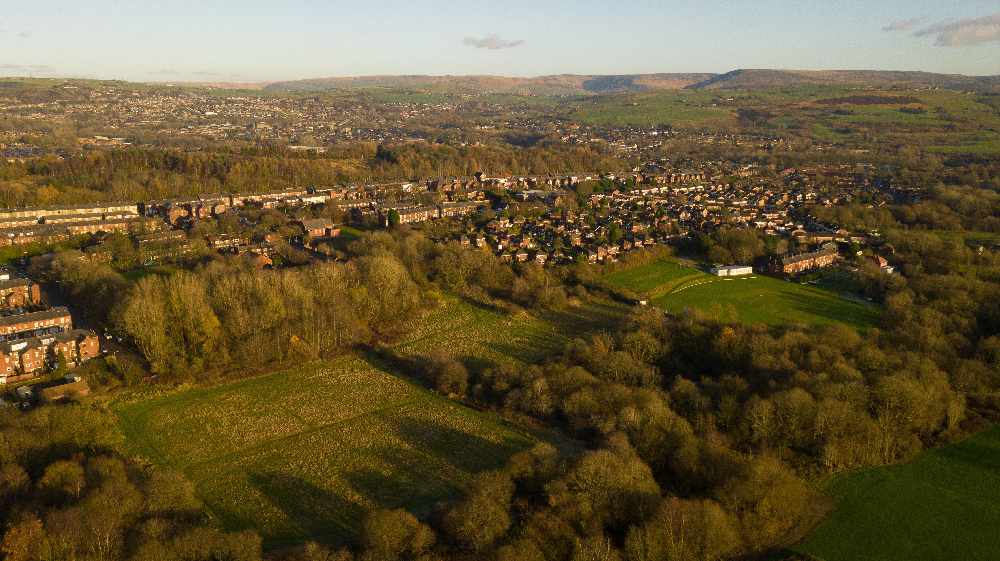 A view of Snipe Clough in Oldham, with Saddleworth Moors in the distance, and the Northern Roots site
The council has so far committed to invest around £700,000 in Northern Roots across two years.
But bosses estimate the total project will cost around £25m, and will need outside investment.
Council leader Sean Fielding said: 'Northern Roots will be developed for and with local communities, in a way that creates jobs, skills and business opportunities for local people, while preserving and enhancing the biodiversity and environmental value of the Snipe Clough site.
"It's really exciting for Oldham, a key project in our commitment to growing our green economy."
Main image:
The Northern Roots Oldham garden design for the RHS Hampton Court Palace Flower Show 2020.